Managing multiple authors in a WordPress blog can be hectic. A good editorial workflow is essential for a multi-author blog to function smoothly. Recently, one of our users asked for tips on how to improve their editorial workflow. In this article, we will share a plugin that we have been using for quite sometime called Edit Flow. It empowers you to collaborate with your editorial team inside WordPress, create an organized editorial workflow, and increase productivity.
First thing you need to do is install and activate Edit Flow. It is one of the best free plugins for WordPress. Once you have activated the plugin, an Edit Flow menu should be added. Here is how we use it:
Define the stages of your workflow
Edit flow comes with a feature called Custom Statuses which lets you define the stages of your workflow. Our workflow on List25 and WPBeginner looks like this:
Draft – Default auto-saves or any un-assigned posts.
Pitch – Author pitches an idea.
Assigned – Editor or Admin assigns a post idea to an author.
In Progress – Author puts it in this mode, so we know that someone is working on it.
Pending Review – Once author finishes, they submit it for an editorial review.
Ready to Publish – Editor reviews it and put it in the ready to publish category for Syed to take a look.
This makes it really easy specially when we have summer interns. To create custom statuses, all you have to do is go to Edit Flow » Custom Statuses.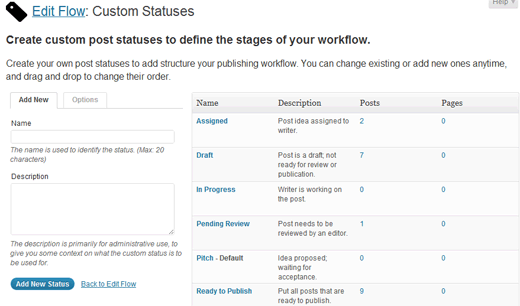 You can sort posts by custom statuses on your posts screen, you have a drop down for each post where you can specify the status. Also you can see in the calendar for the progress. Check out the screenshot below: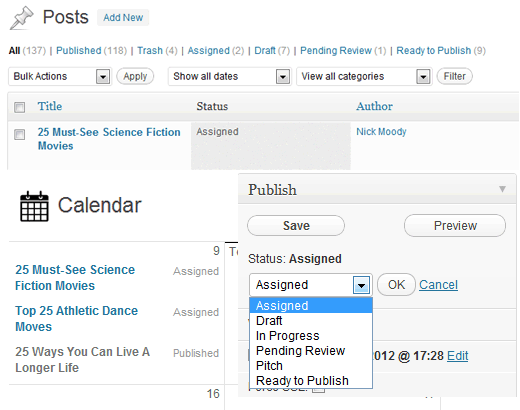 Editorial Comments and Notification
Communication among the team is crucial for all multi-author blogs. Edit Flow has the option for editorial comments as well as notifications. Editorial comments basically allows for threaded commenting in the WordPress admin for private discussion between writers and editors. Notifications allows you to receive timely updates on the content you're following (such as post status being changed, new comment etc).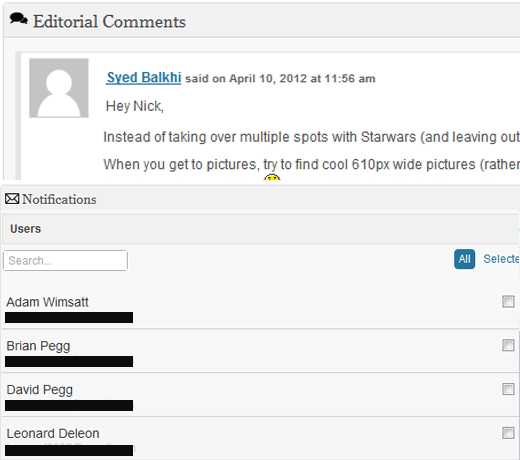 You can choose which users should receive notifications. Mainly the author and editor for that specific post makes sense. These features really helps the communication which ensures that the article gets done right.
Editorial Metadata
There is a neat little feature called Editorial Metadata which keeps track of important details. This can be very very powerful for some blogs. For us, we only use it generally to communicate the deadlines such as first draft date, due date etc.
You can add as many fields to editorial meta data as you want by going to Edit Flow » Editorial Meta Data.
Calendar
Calendar gives you a convenient month-by-month look at your content. Unfortunately, to keep our future content private, we will not be able to share our future calendar screenshot. However, here is a screenshot of our already published content from List25.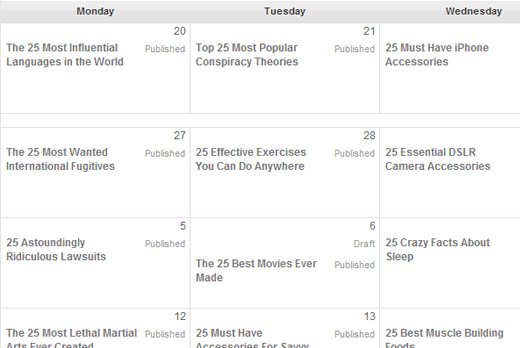 Basically, the calendar view shows you which posts are scheduled for what day and the progress of your team.
Other Features
There are other features such as Story Budget and User groups which we do not use. You have the option to only use the features that you need. This plugin also has hooks to extend all of the functionalities however we haven't had a need to do that.
We can guarantee you that this plugin will certainly improve your editorial workflow in multi-author WordPress blogs. Get Edit Flow plugin.