Are you looking for a way to upload PDF files to your WordPress site?
WordPress allows you to easily upload PDF files and make them available for download. You can use PDF file downloads to grow your email subscribers, or even sell PDF digital downloads in a members-only area.
In this article, we'll share how to upload PDF files to your WordPress site to grow your list, accept user-generated content, or even create members-only area.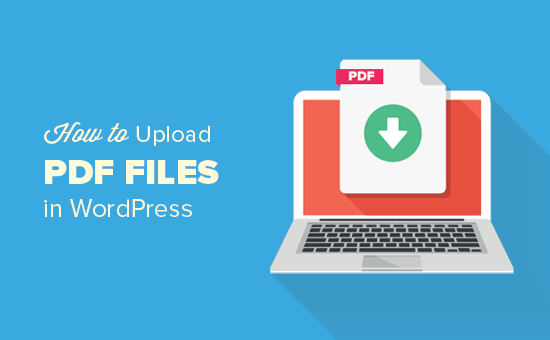 Why Upload PDF Files in WordPress
PDFs are one of the most popular file formats, and there are many benefits of uploading them on your WordPress website.
You can repurpose content by converting long guides and tutorials into PDF files. Then offer them as exclusive content to users or use them to build an email list.
Another benefit of uploading PDF files is that you can use it to boost user engagement and help lower the bounce rate. By allowing your visitors to download PDF files and complete an action, you can easily reduce high bounce rate.
You can even use PDF files to offer exclusive members-only premium content for your paying subscribers as part of your course or membership site.
That being said, let's see how to upload PDF files in WordPress.
Video Tutorial
If you'd prefer written instructions, just keep reading.
Upload PDF Files in WordPress
If you're just looking to upload a PDF file and share it with everyone on your site, then this is the easiest method because it works without installing any plugin.
Uploading PDF files in WordPress is similar to uploading images and other media files on your website.
To get started, login to your WordPress admin area and then go to Media. After that, click the "Add New" button.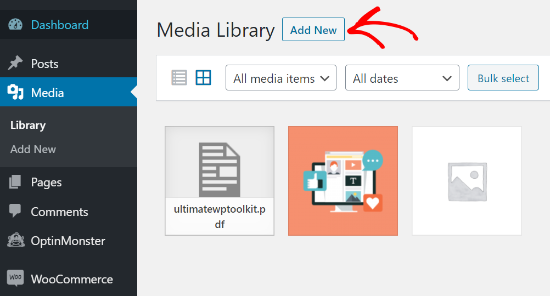 Simply drag and drop your PDF file in WordPress or click the "Select Files" button to upload it.

After that, the PDF file will be uploaded to your WordPress website.
Add a PDF File to a Post or Page in WordPress
Once you have uploaded the PDF file, the next thing to do is add them to your posts or pages.
It's important to note that by default WordPress doesn't let you embed the full PDF documents. Instead, you can add them as download links in your blog posts. But don't worry, we'll show you how to embed PDFs later in this tutorial.
To get started, first you need to open the WordPress block editor and then add a new post or edit an existing one to add the PDF file.
After that, add a File block in the editor.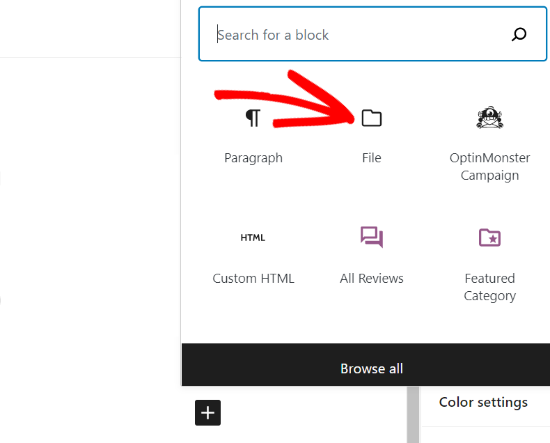 Next, click the 'Media Library' option and select the PDF file you want to add to the post or page.
After that, you need to enter a title and edit the file name. WordPress also allows you to show a download button. You can even change the button text and link it to the PDF file itself or an attachment page.

Once you are satisfied with the changes, preview the PDF file upload, and then publish it.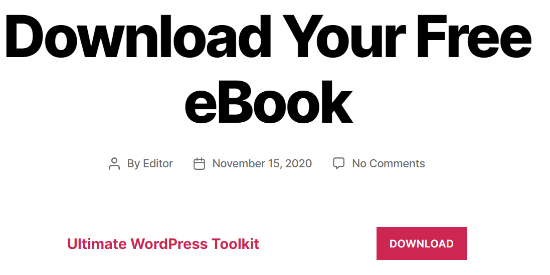 This is the quickest and simplest way of showing your uploaded PDF files on a WordPress site. However, if you want to show full PDF documents then you will need a WordPress PDF plugin.
Follow our detailed guide on how to embed PDF, spreadsheets, and others in WordPress blog posts for more information.
Pro Tips for Making The Most of Your PDF Uploads
After uploading a PDF file, there's a lot more that you can do.
Here are some pro tips on how to can use your PDF uploads to grow your email list, measure the number of downloads, allow users to upload PDF files, or even sell PDF downloads as premium content.
1. Offer Content Upgrades to Build Your Email List
One of the fastest ways to grow your email list is by offering content upgrades to website visitors.
Content upgrades are bonus content that people can download in exchange for their email address. You can turn your blog posts into PDF files and then allow users to download them when they signup for the email list.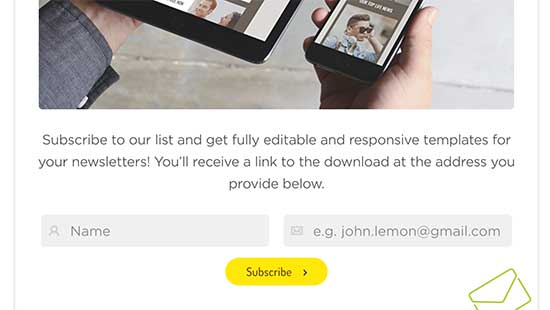 The easiest way to add content upgrades in WordPress is through OptinMonster.
It's the best lead generation plugin that allows you to create beautiful opt-in forms like popups, in-content signup forms, floating bar, scroll boxes, etc.
Using their drag and drop builder and different pre-built templates, you can build and show a content upgrade option in just a few clicks.
Here's an example results of content upgrades from one of our other websites: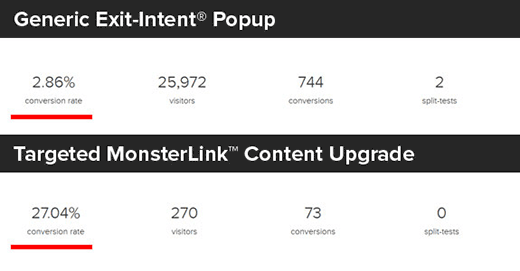 The OptinMonster blog has even more content upgrade ideas that you can use to get more email subscribers.
2. Measure PDF Download Stats in WordPress
As you start to offer different PDF files for downloads, it is important to find out which files are performing and which are not.
To measure PDF file downloads in WordPress, you can use MonsterInsights. It's the best Google Analytics plugin for WordPress used by over 2 million websites.
Once enabled, it automatically tracks file downloads on your site.
MonsterInsights Top Download Links report helps you see which PDF files get the most downloads. You can use this information to create more PDF documents on similar topics.
3. Allow Users to Upload PDF Files
Aside from uploading PDF files in WordPress by yourself, you can also allow users submit PDF files to your site without giving them the admin access.
For this you need to create a file upload form. We recommend using WPForms because it's the best WordPress contact form plugin used by over 4 million websites.
Once activated, you simply need to create a file upload form using WPForms and let users submit PDF documents.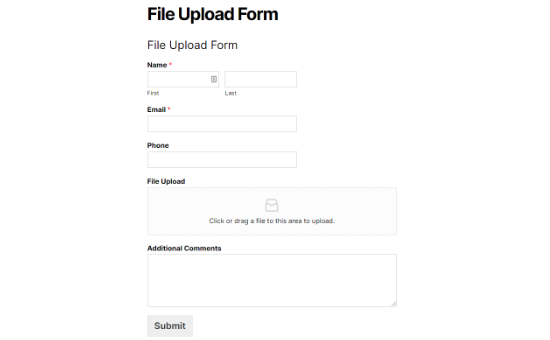 4. Create Members Only PDF documents area
If you want to sell PDFs as digital downloads or upload premium PDF content to a members only area, then you can do it in WordPress by using a membership plugin.
We recommend using MemberPress because it's the leading membership platform that allows you to create courses, add members only content, and more.
We have created a complete step by step guide on how to create a membership site in WordPress.
We hope this article helped you learn how to upload PDF files to your WordPress site. You may also want to go through our guide on how to create an email newsletter, and our comparison of best WordPress SEO plugin and tools to grow your traffic.
If you liked this article, then please subscribe to our YouTube Channel for WordPress video tutorials. You can also find us on Twitter and Facebook.