WPBeginner's exclusive Constant Contact coupon code gets you get 20% off your first 3 months. This means their Core plan is just $8/month instead of the regular $9.99/month. All you have to do is follow the instructions below to properly redeem the Constant Contact promo code. That way, you can get the maximum discount on Constant Contact. Click to Read More »
First, you need to visit the Constant Contact website using our link. Then, click on the 'Buy Now' button.
This will bring you to the signup page.
Now you need to enter your email address and create a password.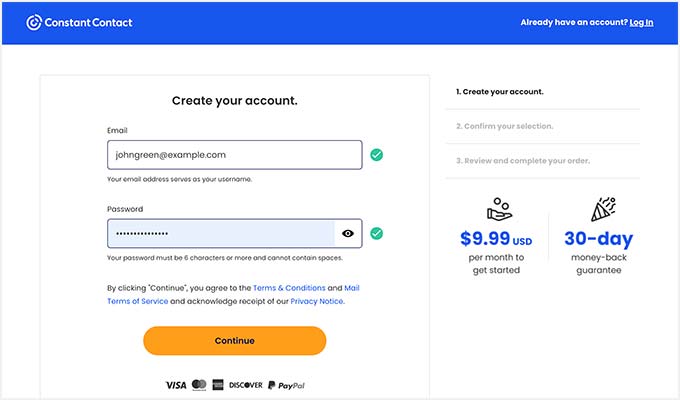 Click on the 'Continue' button to continue.
On the next page, you need to enter all your billing information, including your credit card details. Make sure to double check that your 20% off Constant Contact promo code has been applied before you check out.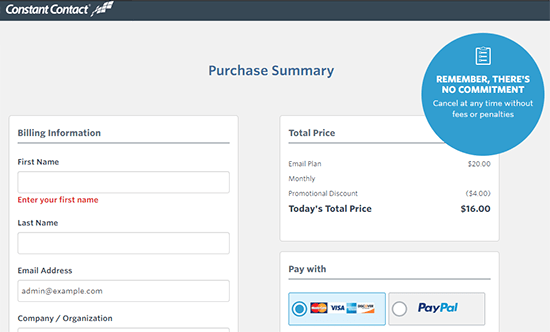 That's it! Your new account has been created.
Next, you can choose your total number of contacts, select a plan, and choose a payment term. You can prepay for the first month or choose from 6-12 months plans.
Click on the 'Continue' button.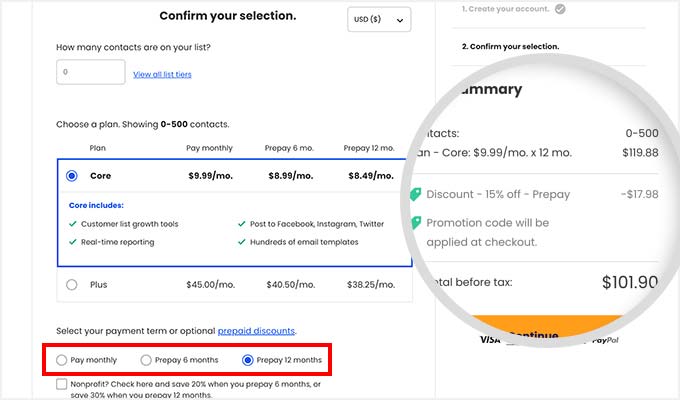 After that, you can review your order details and add payment information.
The Constant Contact promotional code will be applied automatically to your total amount.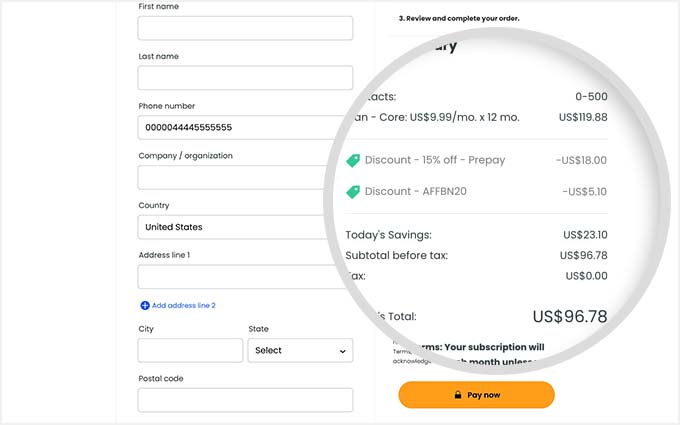 Click on the Pay Now button to complete the purchase. You can then visit your constantcontact.com account to launch your email marketing campaign.
Constant Contact Coupon FAQs
Do you still have questions before you redeem your Constant Contact promo code? Let's tackle some of the most commonly asked questions about Constant Contact.
1. What is Constant Contact?
Constant Contact is an email marketing service. It allows you to store the email addresses of your customers and prospects, and send emails to them.
A good email marketing service like Constant Contact gives you beautiful email template designs. It lets you automate your email marketing and grow your email list faster than ever.
2. What is email marketing and how does it work?
Email marketing is a strategy that consists of sending marketing emails to prospects and customers. A good email marketing strategy can have an ROI of 4400%! That's because it allows you to connect directly with people interested in what you do. You can then turn them into loyal customers.
3. How to use Constant Contact?
Constant Contact is one of the best email marketing services. They offer all the digital marketing tools you need to make money with email marketing. It includes email automation tools, analytics, free templates, email sign-up forms, and more.
It's easy to run your Constant Contact email marketing campaigns. Their drag and drop templates are simple even for beginners. They even have a mobile app so you can manage your email marketing on the go.
They also have a world-class customer support team who are available by phone, live chat, and email.
4. Is there a cashback offer on Constant Contact?
There's not a permanently free version or cashback plan.
However, you can try Constant Contact without spending anything at all during their free 60-day trial. There's no purchase necessary.
5. What does Constant Contact cost?
Constant Contact's pricing starts at $9.99 per month for their Core plan. New customers can get it for just $8/month by going through our special promo link.
Constant Contact also offers an Email Plus plan starting at $45 per month. This includes more advanced features like email automation, A/B testing, and more.
6. Is this the best Constant Contact coupon available? Are there any other Constant Contact offers?
We always make sure we have the best Constant Contact discount code for our readers.
You may sometimes see limited-time Constant Contact Black Friday, Cyber Monday, or Memorial Day offers that are even better. But this Constant Contact coupon code is an amazing deal that is 100% verified and working all year round.
Note that our discounts are often for specific products or plans. The best discount won't always apply sitewide. For example, the Constant Contact discount may not work on their website builder plans.
7. Who uses Constant Contact?
Constant Contact isn't just for technology companies or digital marketers who want to grow a huge email list. It's also a great option for nonprofit organizations, small retailers, Amazon sellers, online marketing agencies, and more.
Because Constant Contact is such good value, it's affordable for even small businesses. If you simply want to send welcome emails and occasional newsletters, you could use Constant Contact.
Perhaps you're currently engaging in social media marketing or advertising. You might not be sure if you need email marketing. But email marketing usually has a very high ROI. Here at WPBeginner, we found that our email list brings in 10x higher conversions than our social media campaigns.
We hope you found our Constant Contact coupon code to be helpful. At WPBeginner, we work hard to negotiate exclusive promotional codes for our users.
Please take a look at our other WordPress top coupons and deals here.