All in One SEO - WordPress SEO Plugin

All in One SEO (AIOSEO) is the original WordPress SEO plugin that helps you improve your website SEO (search engine optimization). Over 2 million smart website owners use AIOSEO to optimize their website for higher search rankings.
We acquired the AIOSEO plugin in 2020 to finally create a beginner friendly WordPress SEO plugin that's both easy and powerful.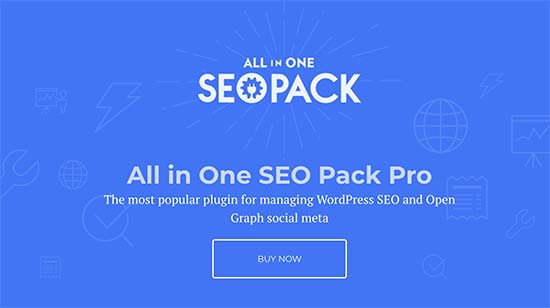 In our opinion, All in One SEO for WordPress is a must have plugin for all websites because it helps you improve your rankings in search engines like Google, so you can increase your website traffic.
What Do You Get with All in One SEO?
With All in One SEO, you get access to all the powerful tools to boost your website's SEO rankings. Our SEO tools help you create website content that Google and other search engines can easily understand.
All in One SEO seamlessly integrates with important webmaster tools and social media platforms: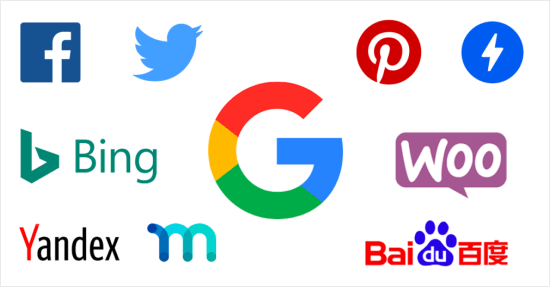 Here are the features that make All in One SEO the best WordPress SEO plugin:
Powerful On Page SEO Optimization Tools – Do you know how to set up your website's posts and pages correctly for search engines? All in One SEO makes it easy to add things like a meta title and description to your page.
Instant Sitemap Creation – It's crucial to have an XML sitemap for your website that search engines can use to easily find all your content. All in One SEO will create one for you instantly when you install it. You can easily customize this to your needs, too.
Automatic Search Engine Notification – Whenever you update content or add something new to your site, All in One SEO pack will instantly notify search engines like Google and Bing.
Easy Connection to Important Webmaster Tools – All in One SEO makes it really easy to connect your website to tools like Google Search Console, Bing Webmaster Tools, and Pinterest Site Verification.
Advanced WooCommerce SEO – With All in One SEO, you can easily optimize your product pages, product categories, and more in WooCommerce.
Image SEO – Many website owners overlook images when it comes to SEO. All in One SEO can automatically generate title text and alt text for your images, based on a specified formula (e.g. using the post title) that you can tweak however you like.
Great Tutorials – All in One SEO comes with lots of video tutorials that walk you through lots of different aspects of SEO. If you have a question, it's easy to find an instant answer. Of course, the support team is also on hand to help you too.
Exceptional Customer Support – The amazing All in One SEO support team will help you through every step of your SEO journey. They're committed to helping you succeed. No question is too big or too small for them.
And Much More – All in One SEO is packed with features to help you skyrocket your site to the top of search engines. You can keep things simple with the default settings, or you can tweak things as much as you want if you're a power user.
It's incredibly easy to install and use All in One SEO. The moment you install and activate the plugin, All in One SEO will do all the hard work for you.
For instance, your sitemap will be generated for you straight away. You can tweak this however you like. For instance, you might want to schedule updates so search engines check your site regularly, or you might want to include/exclude certain types of content from your sitemap.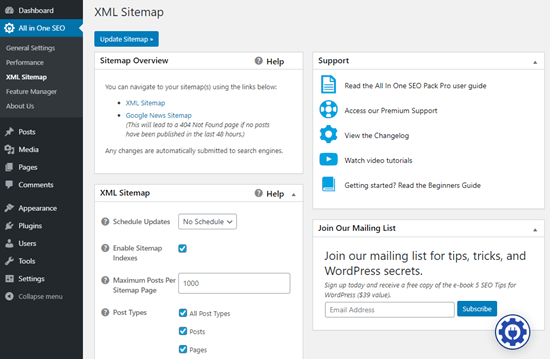 All in One SEO will also automatically set up important features for your whole site, like canonical URLs. These mark your site's content as the original version, so that if anyone scrapes or steals your content, their version can't outrank yours in search engines.
You can use All in One SEO to easily set up things like a custom SEO title for your homepage or an SEO title structure for your pages and posts.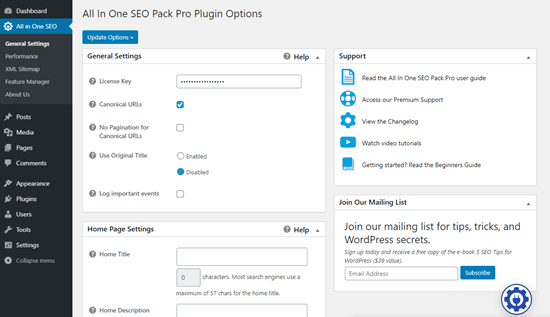 There are lots of extra features for All in One SEO, like the "Bad Bot Blocker" that prevents malicious bots from slowing down your website. You can add these extra features directly from your WordPress dashboard: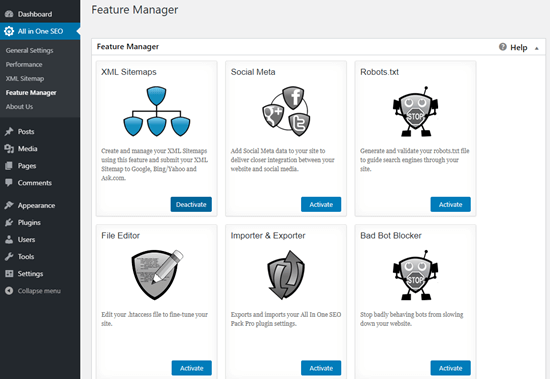 Ready to get more search engine traffic? All in One SEO does all the hard work for you, and offers powerful tools for you to go even further.
→ Click Here to Get All in One SEO Today ←
On a budget? You can try the free version of the All in One SEO plugin. It doesn't have all the advanced features, but it's still a great place to begin.
Note: All in One SEO is maintained by WPBeginner's founder Syed Balkhi and the team at AIOSEO.