WPBeginner's exclusive CSSIgniter coupon code lets you get 30% off their theme club membership. That's dozens of themes for $48.30, which is less than $1 per theme! It's the best deal out there. All you have to do is follow the instructions below to properly redeem the CSSIgniter coupon code. That way, you can get the highest discount on CSSIgniter. Click to Read More »
The first thing you need to do is click a link on this page to open the CSSIgniter website.
You can take a look at some of their gorgeous themes there. Once you're ready, scroll to the bottom of the page and click the 'Pricing & Sign Up' button.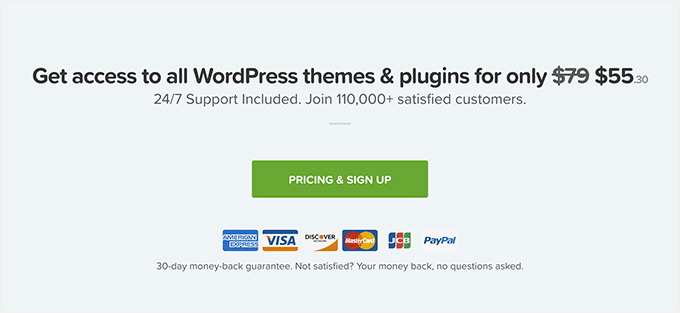 Now you can choose a CSSIgniter plan to purchase and click the 'Buy Now' button.
We recommend the Standard Club plan. If you want access to Elementor Templates, the Developer Club is a fantastic deal too.
If you only want a single theme, you'll still get the 30% discount. The theme will cost you $34.30 instead of $49 per year.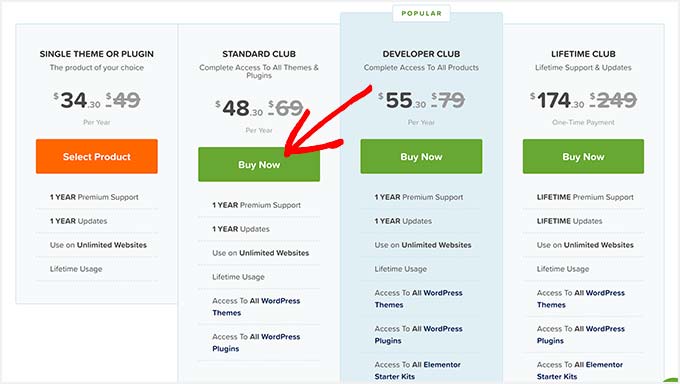 Tip: If you don't see the discounted prices here, don't worry. You can enter the coupon code in a moment.
On the next page, you can fill out your contact information and create a username and password for your new account. Make sure that the Standard Club (or whichever plan you want) is listed at the top.
You should also see your 30% discount automatically listed here. If not, you can enter the coupon code in a moment.

At the bottom of the form, you can fill in your coupon code if the discount hasn't already been applied to your purchase.
Simply enter the discount code WPB30. This will give you the full 30% discount. Then click the green Next button to complete your purchase.

You'll then be taken to a secure payment processor where you can pay. You should see the discounted price of $48.30.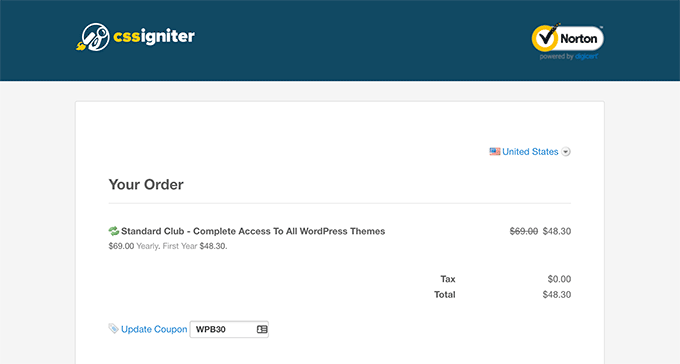 That's all! You have successfully purchased a CSSIgniter membership with a 30% discount. That means you've paid less than $1 per theme, with CSSIgniter's plugins for free.
FAQs About CSSIgniter and the CSSIgniter Coupon Code
Do you have questions about CSSIgniter or the CSSIgniter discount? Here are some common questions our readers ask:
1. What does CSSIgniter's Standard Club include?
CSSIgniter's Standard Club plan includes all the CSSIgniter themes. You also get 24/7 premium support in case you have any difficulties.
You even get access to all future themes that CSSIgniter creates, plus access to all their plugins.
2. Does CSSIgniter have a money-back guarantee?
Yes, CSSIgniter offers a 30-day 'no questions asked' money back guarantee. If you buy their themes and later change your mind, just let them know, and you can get a full refund.
The refund applies even when you've used our CSSIgniter coupon to get a discount.
3. Should I buy one theme or all the themes?
With CSSIgniter, a single theme is $49 ($34.30 with our CSSIgniter discount). However, the Standard Club gives you access to all CSSIgniter's themes for just $69 (which is reduced to only $48.30 with our discount).
Even if you only plan to use two different themes, the Standard Club is of great value. We highly recommend the Standard Club if you might want to create two or more websites.
4. What does CSSIgniter's Lifetime Club include?
If you want to use CSSIgniter for more than 3 years, then we recommend the Lifetime Club. This costs just $249, which is reduced to $174.30 with our CSSIgniter deal. It gives you lifetime access to support and updates for your themes.
It also includes CSSIgniter's WordPress plugins, future themes, and all Elementor templates.
We hope you found our CSSIgniter coupon code useful. At WPBeginner, we work hard to negotiate exclusive discounts for our users.
Please check out some of our other great WordPress coupons, promo codes, and deals too.