WordPress is a powerful blogging platform, but the default installation is not fully equipped for multi-author websites. In the past, we have written about improving editorial workflow on sites with multiple authors. One challenging aspect of managing a multi-author blog is how to allow authors to revise published posts. You might not want to allow authors to make changes to an already published posts without an editorial review. In this article, we will show you how to allow authors to revise published posts in WordPress.
Video Tutorial
If you don't like the video or need more instructions, then continue reading.
First thing you need to do is install and activate the Revisionary plugin. Upon activation, a new options menu will be added under Settings » Revisionary. The default settings should work on most websites, but you can still review the settings and see if you need to change something.
How To Revise Old Published Articles
Upon installation, Revisionary creates a new user role, called Revisor. You can assign this role to a existing user or create a new user with the Revisor role. A user with the revisor role can edit posts as revisions and submit the revisions for review. These revisions can be reviewed and published by an editor, or an administrator.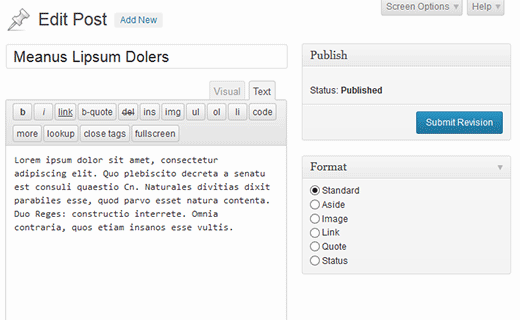 As an administrator you can review the revisions pending review by visiting Posts » All Posts.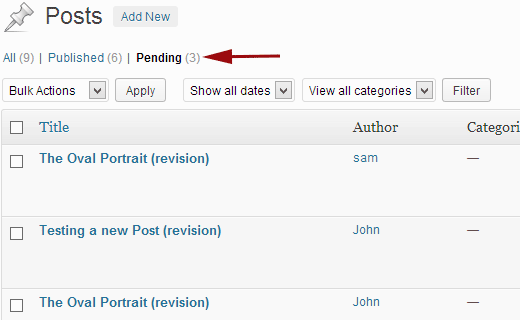 Editing a revision will take you to the revision manager where you can see the changes. As an editor or administrator, you can also edit the revision. On the top right corner of the screen is the time that the revisor, or the contributor has recommended for the publication of this review. You can change that to either publish the new version right away or schedule it to be published later. Publishing a revision will replace the old post with the new revision.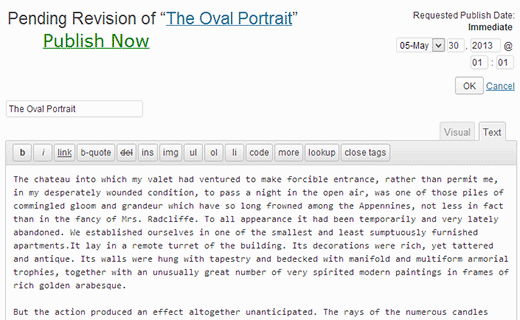 Users with revisor, or contributor user roles can also edit their revisions before they are published. To review the changes, click on the Compare Selected HTML. Revisionary will highlight the differences between different versions.
Permissions for existing and pre-defined WordPress user roles remain unchanged. However, you can manage user roles and permissions using user role management plugins such as Role Scoper or capabilities manager enhanced.
We hope that this article helped you allow authors to revise old published posts in WordPress. For questions and feedback please leave a comment below.