After our writeup about how to create tables in WordPress, we noticed that several users were using tables to create multi-column layouts for their WordPress pages. Ideally you should use HTML and CSS to create column layouts. For beginners who don't know CSS, then this article is for you. In this article, we will show you how to add multi-column content layout in WordPress posts and pages without knowing any HTML or CSS.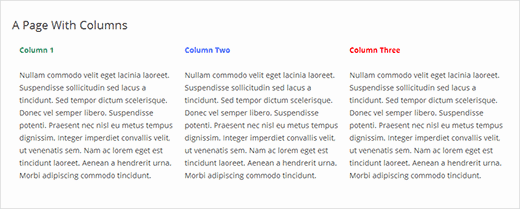 Video Tutorial
If you don't like the video or need more instructions, then continue reading.
First thing you need to do is install and activate Advanced WP Columns plugin. After activating the plugin, you need to go on a post or page edit screen in your WordPress dashboard. There you will notice a new "Advanced WP Columns" button in the visual editor.
When you click on the button, it will bring up the Advanced WP Columns user interface which looks like this: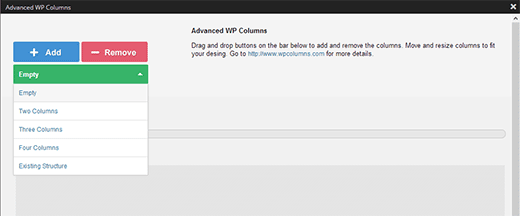 This simple user interface allows you to easily create column layouts. You can click on the Empty button to choose from pre-made, two, three, or four columns layouts. You can also drag the Add button to the columns bar to create new columns and then adjust the column width by dragging the handles on the column bar.
To delete a column, you can drag and drop the Remove button to the column you want to remove.
You can directly add text into your columns from WP Advanced Columns user interface. It allows you to perform some basic formatting on the content inside columns. Once you are satisfied with the columns, you can click on the Add Columns button to add them into your post or page.
Advance level users can configure the plugin settings from Settings » Advanced WP Columns to use their own custom width and CSS classes for columns.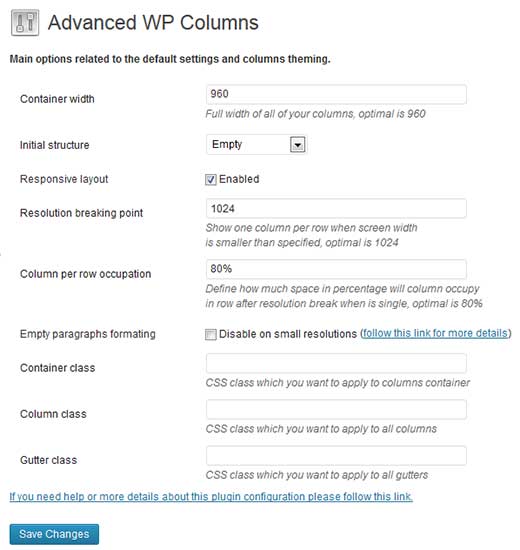 We hope this article helped you add multiple column content in your WordPress posts and pages. For feedback and questions you can leave us a comment below or join us on Google+.