Do you want to avoid accidental publishing in WordPress?
Even the most experienced bloggers and multi author websites have accidentally hit the publish button before an article was ready.
In this article, we'll show you how to easily avoid accidental publishing in WordPress.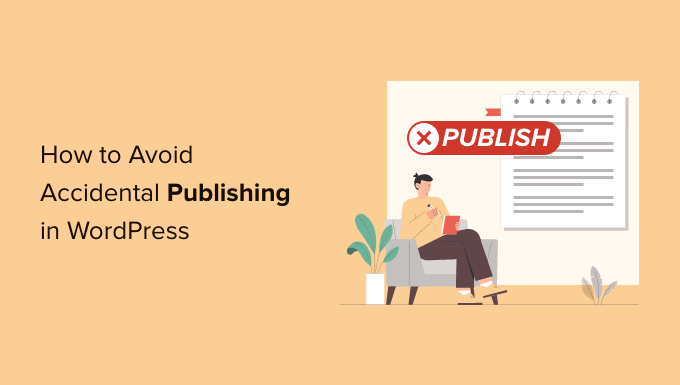 Why Stop Accidental Publishing on Your WordPress Blog?
Many site owners and bloggers set up automatic processes to share blog posts with readers, post to Facebook, and send articles to their email list.
Accidental publishing can be a big problem because your posts can get shared and sent to email subscribers and readers before you get the chance to unpublish them.
If there are some minor errors, then you can just edit a post without unpublishing it.
However, if an incomplete article goes live, then it is a bit embarrassing. Unpublishing the article means your users will see a 404 page when they click on the link from email, social media, push notifications, and more.
If you have a multi-author WordPress blog, then you'll also want to ensure your other authors don't accidentally make a post live before its ready.
With that said, let's take a look at how you can easily avoid accidental publishing in WordPress.
How to Easily Avoid Accidental Publishing in WordPress
The WordPress Gutenberg block editor automatically includes an additional confirmation message before you publish a post or page in WordPress.
In the past, this feature had to be added to WordPress by using a plugin, or adding custom code snippets, but now it's included automatically.
Now, if you open a post or page and click the 'Publish' button it won't publish the article right away.

Instead, it gives you an additional confirmation box that asks 'Are you ready to publish?'.
Then, you will need to click the 'Publish' button again to actually make the post or page live. You can also click the 'Cancel' button if you clicked publish by mistake.

This additional confirmation message makes it much harder to accidentally publish a post, since you'll need to click the 'Publish' button two times.
To make sure your posts always get published at the right time, you can also use the built-in scheduling feature so your posts will be published in the future. To learn more, see our step by step guide on how to schedule your posts in WordPress.
Alternatively, you may also want to control user role capabilities so only certain users can publish articles. For more details, see our guide on how to add or remove capabilities to user roles in WordPress.
We hope this article helped you learn how to avoid accidental publishing in WordPress. You may also want to see our guide on how to choose the best blogging platform and our expert picks of the best live chat software for small businesses.
If you liked this article, then please subscribe to our YouTube Channel for WordPress video tutorials. You can also find us on Twitter and Facebook.