Have you ever wanted to write a quick note for yourself or other writers on your WordPress site?
Adding notes to the WordPress dashboard is the best way to make sure everyone on the team can see them.
In this article, we will show you the simplest way to add a notepad to your WordPress dashboard.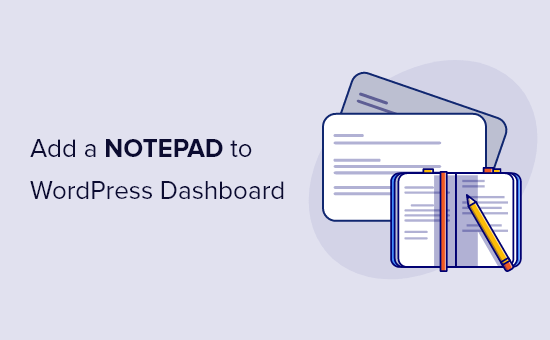 Why Add a Notepad on Your WordPress Dashboard?
When you run a multi-author WordPress blog, there are plenty of ways to improve the editorial process. Clear communication with your other authors becomes very important.
You need somewhere to share information, list your goals, plan out content, and collect ideas.
There are plenty of online tools that let you share information with your team. You could use Slack, OneNote, Evernote, or even email.
The problem is, the notes from those services won't show up on your WordPress website. That's the one place that everyone in your team goes to do their work.
The first thing they'll see when they log in is the dashboard. That's the best place to put any important information you'd like them to see.
For this tutorial, we'll be using WP Dashboard Notes, a free plugin that lets your team add notes right to the WordPress dashboard. It supports multiple notes, colored notes, and public and private notes.
How to Add a Notepad to Your WordPress Dashboard
The first thing you need to do is install and activate the WP Dashboard Notes plugin. For more details, see our step by step guide on how to install a WordPress plugin.
The plugin works out of the box and there are no settings for you to configure. It's available to everyone logged into your site, including Subscribers, and can be used to collaborate with other users.
Upon activation, the words '+ Add Note' will be added to the top right corner of the WordPress dashboard. To add your first note, simply click that button.
Now scroll down on the dashboard page and you will find a New Note widget. When you hover over the note, some icons will appear at the bottom. The pencil icon will let you change the title of the note.
You'll also notice there are five icons at the bottom of the note. The first is for visibility and determines who can see the note. When you click it, your note will become private, and clicking on it again will make it visible to other users.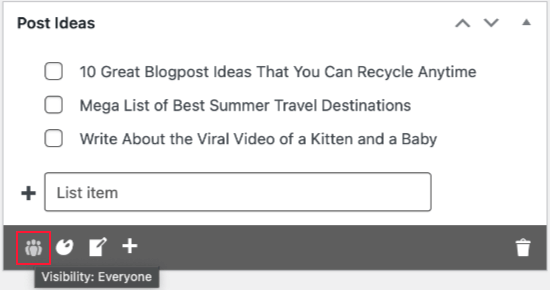 Private notes are a good place to create your own checklists and reference notes without cluttering other users' dashboards.
The second tool is a color palette and allows you to choose from one of seven predefined colors. This sets the background color of your note.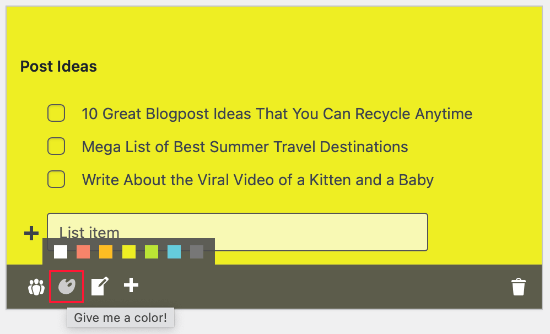 You may want to make your most important notes a bright color to make sure your team sees them. Less important notes can have a plain white background to match the other dashboard widgets.
Next, you'll find a note icon that allows you to choose between two types of notes. By default, your new note will be a list where you can add tasks and reminders. You can change it to a plain note by clicking the notepad icon.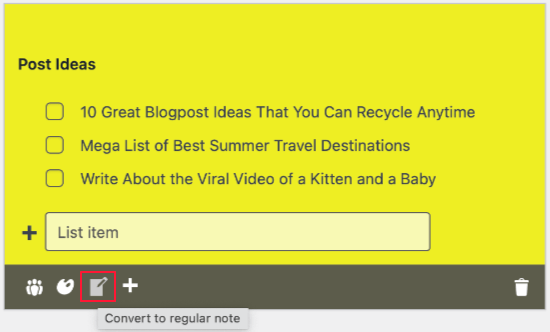 If you already created some checkboxes in list mode, then they will be carried over to the plain note.
Then we come to the '+' icon, which lets you add a new note. It's an alternative to clicking '+ New Note' from the top of the screen.
The fifth and final icon is the trash icon. Clicking it will immediately delete your note without a confirmation. Be careful, because this can't be undone.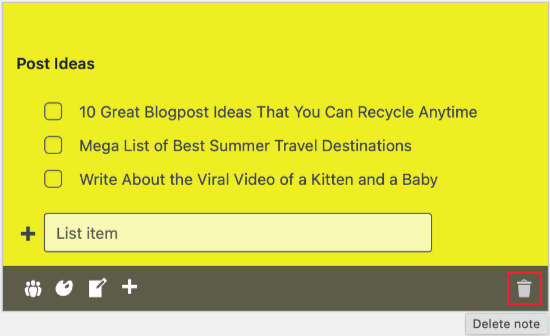 You've probably noticed that all new notes are created at the bottom of your dashboard. That's not always the best place, because your team may not notice that they're there. Luckily, it's easy to move them wherever you like.
When you hover over your note you'll find two arrows at the top. If you can't see them, then try refreshing your dashboard screen. These move your notes individually up and down your dashboard.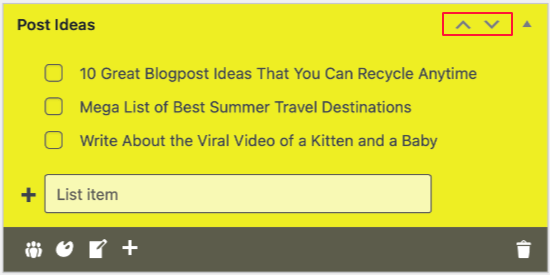 You could place the most important notes at the top of the dashboard, and less important notes at the bottom where they won't clutter your view of the other widgets.
You can also roll up a note so that only its title is visible. To do that, just click the triangle icon at the top right corner of your note.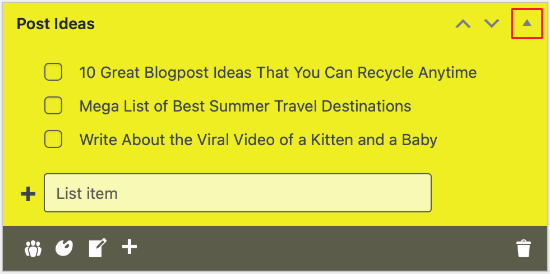 The note now uses much less space on the screen so that you can see more notes at once. Clicking on the same icon will expand the note.

These features make it easy to customize your notes. For example, here's an example of a regular note with a green background.
You'll notice that your notes don't have a Save or Publish button. They're saved automatically.
We hope this article helped you add a notepad to your WordPress dashboard. You may want to learn some more ways to customize your dashboard or check out our list of must have WordPress plugins to grow your site.
If you liked this article, then please subscribe to our YouTube Channel for WordPress video tutorials. You can also find us on Twitter and Facebook.