Do you want to display different sidebars for certain posts and pages on your WordPress site?
You usually see the same sidebar displayed throughout your site. However, you might sometimes want to show different sidebar content on some of your posts and pages.
In this article, we will show you how to create and display different sidebars for each post and page in WordPress.
When Would You Need Different Sidebars in WordPress?
When you created your WordPress website, you may have set up a sidebar with useful widgets that add features to your site and help your visitors find your best content.
The location and appearance of your sidebar depend on the theme you are using, and some don't offer a sidebar at all. If your theme does include a sidebar, then it will look the same on all of your posts, pages, categories, and archive pages.
However, on some specific posts or pages, you might want to display different sidebar widgets. For example, you could feature different content in the sidebar of your most popular posts, add different email signup forms, or display ads that are more relevant to the post.
Having said that, let's see how to create and display different sidebar for each post and page in WordPress.
Note: The default Twenty Twenty-One theme does not include a sidebar, so for this tutorial, we'll be using the Twenty Sixteen theme.
If you'd like to add a custom sidebar to a theme that doesn't display one by default, then scroll down to the section on creating a different sidebar with a page builder plugin.
Displaying Different Sidebars for Each Post and Page in WordPress
The first thing you need to do is install and activate the Easy Custom Sidebars plugin. For more details, see our step by step guide on how to install a WordPress plugin.
Upon activation, you need to visit the Appearance » Sidebar Replacements page to create custom sidebars.
First, you need to provide a name for your custom sidebar. We'll call it 'Custom Sidebar'. After that, you should select which theme sidebar will be replaced by your custom sidebar.
Next, you'll need to select where on your website you wish to display the custom sidebar. You will see your posts, pages, categories and tags listed in the left column of the screen.
Simply select the areas where you want the custom sidebar to be displayed and then click on 'Add to Sidebar' button. For this tutorial, we'll select a single post.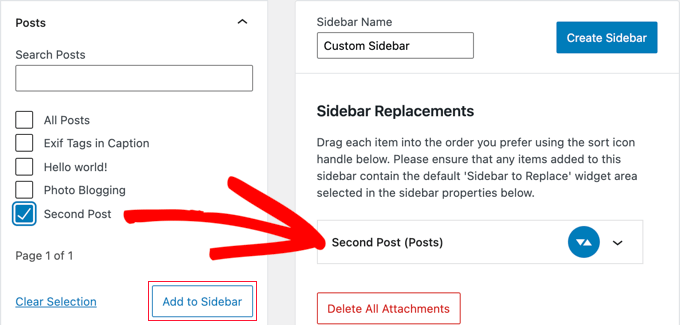 You'll notice the items you selected appear in the Sidebar Replacements section. You can now click the 'Create Sidebar' button to create your first custom sidebar.
Easy Custom Sidebar allows you to create as many custom sidebars as you like and assign each sidebar to different posts or pages on your WordPress site.
Adding Widgets to Your Custom Sidebars
Once you have created custom sidebars and assigned them to different areas of your website, it's time to add widgets to your sidebars.
Head over to the Appearance » Widgets page. You will notice your newly created custom sidebars among your theme's default sidebars.
You can go ahead and add widgets to your custom sidebars. For more details, see our step by step guide on how to add and use widgets in WordPress.
The plugin will now show the sidebars based on your settings. You can visit your selected posts and pages to see it in action.
Creating a Different Sidebar with a Page Builder Plugin
Another way to display a different sidebar is with a drag and drop page builder plugin. This is the easiest method if your theme doesn't already display a sidebar.
If your theme does include a sidebar, you can learn how to remove it from individual posts in our guide on how to remove the sidebar in WordPress.
SeedProd is a premium drag and drop landing page builder plugin for WordPress. In our opinion, it is by far the best WordPress page builder in the market when it comes to speed and ease of use.
When designing a custom page, it lets you easily choose a layout with a sidebar.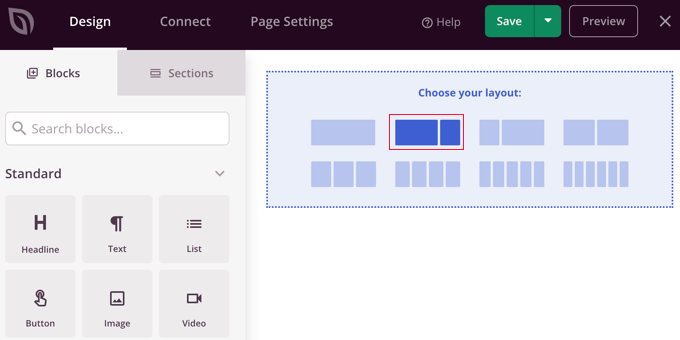 You then simply drag the blocks you wish to use right onto the sidebar.
You'll find all the blocks and features that you'd expect from a powerful page builder such as optin forms, social profiles, countdown timers, contact forms, buttons, various content blocks, and more.
The best part is that some of the blocks even have pre-made templates, so you can speed up the design process by adapting your favorite block templates with a single click.
To learn more about how to use the SeedProd page builder plugin on your website, see Method 1 in our guide on how to create a custom page in WordPress.
We hope this article helped you learn how to add different sidebars to each post or page in WordPress. You may also want to learn how to choose the best WordPress hosting, or check out our list of must have plugins to grow your site.
If you liked this article, then please subscribe to our YouTube Channel for WordPress video tutorials. You can also find us on Twitter and Facebook.