Have you ever found a need to add a milestone widget on your site? Maybe it was for your birthday or wedding or something else? Well in this article, we will show you how to add a milestone countdown widget in your WordPress posts, pages, and the sidebar.
Video Tutorial
If you don't like the video or need more instructions, then continue reading.
Milestone Widget like WordPress.com
If you have used WordPress.com blog, then you know that there is a widget called Milestone. Recently a new plugin was launched to clone that functionality. The plugin is called Milestone. All you have to do is install and activate the plugin.
Go to Appearance » Widgets. Then drag the Milestone Widget to the appropriate sidebar. Add your dates and you are good to go.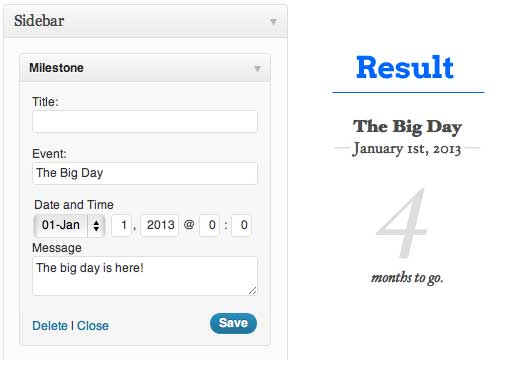 Countdown Widget in WordPress
The milestone widget above doesn't have the way for you to include the milestone in your post. Secondly, it doesn't have a live countdown. Thankfully, there is no shortage of plugins for WordPress. We found a plugin that is written by one of WPBeginner readers and works very well. It is called WordPress Countdown. Install and activate it.
Then open your post or page and paste the following shortcode:
[wpc_countdown targetdate="2012-10-17″]
The output would be a live counter that would look something like this:

Unfortunately, there is no sidebar widget for this. However, you can use our technique: how to use shortcodes in your WordPress sidebar widgets to use the above shortcode.
We hope that you find these plugins helpful for the next time you want to add a milestone on your WordPress site.