Have you ever visited a popular site only to land on a page that says "Our site is going through Maintenance"? Popular sites use maintenance mode page to improve user experience because no one likes to visit a broken site. On the other hand, new websites use maintenance mode as a coming soon page. In this article, we will show you how to put your WordPress site in maintenance mode for visitors while allowing administrators (you) to access the admin area and the full website.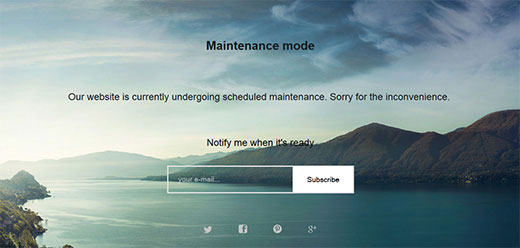 First thing you need to do is install and activate WP Maintenance Mode plugin. Upon activation, you need to go to Settings » WP Maintenance Mode to configure the plugin.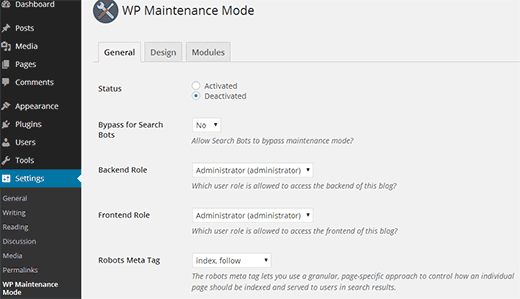 The plugin's settings screen is divided into three tabs. By default you will see the General options tab.
The first option under General is Status, which is set to Deactivated. In order to put your WordPress site into maintenance mode, you need to set it to 'Activated'.
If you want search engines to be able to see your website while it is in maintenance mode, then you need to set 'Bypass for Search Bots' option to Yes. If you are unsure about this option, then we would recommend you to skip it.
WP Maintenance Mode allows you to have full access of your website during the maintenance mode. This means you can see the working website and login to your WordPress dashboard. However, you need to choose the user role allowed to access front and backend. By default it is set to Administrator only.
Other options on the page are self explanatory. Once you are satisfied with the settings, you need to click on the Save settings button to store your changes.
Creating Your Own Splash Page for Maintenance Mode
WP Maintenance Mode allows you to create beautiful splash pages to display during maintenance mode. To create your splash page, simply click on the Design tab on the plugin's settings page.
First you need to provide a title, heading and content to display on your maintenance page. You can also choose colors for the displayed text.
The next part is to choose a background for your maintenance mode page. WP Maintenance Mode provides you three choices. You can choose a background color, upload an image to be used as background, or choose from some predefined images. Here are some examples of beautiful maintenance page design.
After choosing your background, click on the save settings button to store your settings.
Adding Countdown and Newsletter Signup on Maintenance Page
If you are creating a coming soon page or just want to let users know when your site will be up, then you can use countdown timer module packed with the plugin. Simply go to the Modules tab on the plugin's settings screen.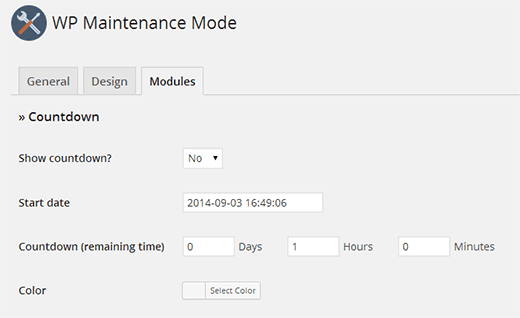 Set 'Show Countdown' to Yes and then choose a start date and remaining days. You can also choose a color for the timer.
WP Maintenance Mode also allows you to display signup form where users can provide their email address to receive updates. You can then export the list of your subscribers and import it into your email list.
You can also show icons to your social networks. Simply select Yes next to Social Networks option and then provide URLs to your social media profiles.
The last option on the modules tab is to display contact information. You can enable this option and then provide an email address where users can reach you.
Click on the save settings button, before previewing your website.
We hope this article helped you put your WordPress site into maintenance mode without affecting your access to the admin area or the front end.
If you liked this article, then please subscribe to our YouTube Channel for WordPress video tutorials. You can also find us on Twitter and Google+.