Are you wondering where to get a custom logo for your WordPress website?
A custom logo helps establish your brand and makes your website stand out. However, creating a logo alone can be difficult and time-consuming, and the final image may not look professional.
A simple workaround is to use a logo maker or hire a professional to create a custom logo for your business.
In this article, we will share some of the best places to get a custom logo for your WordPress website within a small budget.
Why You Should Get a Custom Logo?
Logos are representative images used by businesses and organizations. They depict a visual representation of an organization's business, values, and mission.
They also play an important role in how customers see a brand. Look at the top big name brands, chances are that you can recognize most of their logos quite easily. Brand recognition helps you win customer trust and loyalty over time.
Most WordPress themes come with the option to upload a custom logo. This logo can also be used as a site icon or favicon.
Now the problem is that not all of us are graphic designers. You can try to create a custom logo by using an image editing program, but it may not look professional.
If you want a professional image for your brand, then it helps to hire someone to create your custom logo for your website.
That being said, let's take a look at some of the best places to get a custom WordPress logo within budget.
Tailor Brands is an AI-powered logo design and branding platform that makes it very easy to create professional logos.
Using its logo maker, you can create amazing logos within minutes without needing any design experience. You can simply start by entering your brand name and a tagline, and the logo maker guides you every step of the way.
It lets you choose different logo types, such as icons, shapes, wordmarks, or lettermark. It also offers a studio editor where you can customize your logo and change the font style, size, color, layout, and more.
Tailor Brands gives you great looking logo ideas for inspiration. Select an industry such as real estate, restaurant, or fitness and view different logos.
Do note that Tailor Brands let you download your logo for free for certain platforms, like Pinterest.
However, if you want to download the logo in high resolution and for other platforms, you'll need a paid plan starting from $9.99 per month.
Looka, formerly known as LogoJoy is easy to use DIY logo maker for non-designers. Just like Tailor Brands, Looka also uses artificial intelligence and advanced learning algorithms to create logos, just like a designer would do.
Its simple wizard helps you select your industry, different logos for inspiration, colors, and symbols. After that, it generates designs that look well-crafted and professional.
You can then select from any one of the designs and customize its logo size, font, and more.
To download the logo, Looka offers a brand kit in which you get 28+ versions of your logo. Its pricing plans start from $20 (one-time purchase).
99designs is a design contest marketplace with a large community of designers. It acts as a middleman between you and the designers.
When you place an order, 99designs outsources it to designers, who then submit their designs.
You can select the design you like the most, and only that designer gets paid. This gives you the advantage of getting different custom logo ideas from designers of different backgrounds and skill levels.
In addition to starting a contest, you can also work directly by hiring a designer. 99designs will help you find the right professional with the right skill set, and then you can collaborate with them one-on-one on a project.
Prices for starting a contest for logo design start from $299, and you get approximately 30 design concepts.
Constant Contact Logo Maker is the next custom logo tool on our list. It's a powerful tool that lets you create logos without hiring a professional and offers features like email marketing, website builder, and more.
Like many other tools on our list, Constant Contact also uses artificial intelligence to generate logos for your business. You can start by entering your brand name and slogan, and the tool will take care of the rest.
Select from different logo designs and then customize each element. For example, you can change the font size, capitalization, letter spacing, and line height. The tool also gives you different logo variations in the editor.
You can then download the logo for free, but if you want multiple high-resolution images in different file formats, then you'll have to upgrade to the premium plan (starting from $9.99 per month).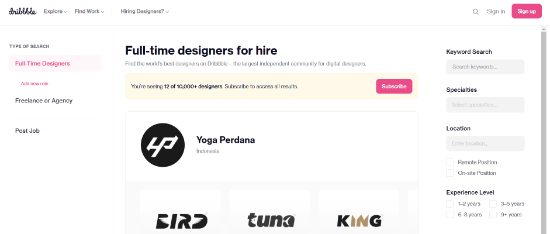 Dribble is an online community of designers and artists. Think of it as Pinterest for professional graphic designers, artists, and illustrators, where they share their works, and other users can like, favorite, and reshare them.
Dribble is not just a source of inspiration. It also acts as a platform to hire designers for freelance work. You can browse designers, check out their portfolios, and contact them directly to hire them.
The job cost will depend on the freelancer you approach, their expertise, and their skill level. Dribble may not be the place to find the cheapest custom logo for your website, but it can help you get much better quality.
Fiverr is one of the largest online communities of freelancers from all over the world. Due to competition among freelancers, you can hire a designer to create a logo design for much less money than in other places.
Fiverr's community is organized based on customer feedback. Freelancers with higher positive feedback tend to charge more than new freelancers who don't have enough reviews yet.
While the logo may only cost a few bucks, it's important to know that often these freelancers are using logo templates with minor tweaks.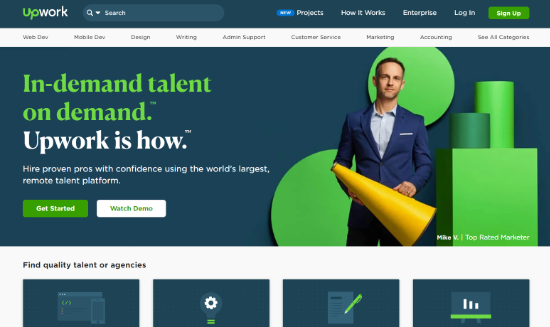 Upwork is another online community like Fiverr where you can find freelancers, entrepreneurs, and designers. It allows you to post a job and accept offers from freelancers.
You can then review those freelancers, interview them, and hire the one you want to work with. Upwork has a robust community with screening tools for both freelancers and clients.
Freelancers can participate in online tests to prove their proficiency and skills. Upwork also offers various payment methods and invoices and allows clients to only pay for the work they approve.
Freelancer is a large global community of freelancers. You can find web designers, developers, graphic design, audio/video, and online marketing experts from every corner of the planet with varying skill levels.
Like many other freelancing websites, Freelancer allows you to post your custom logo project as a job and start accepting offers from freelancers. You can review freelancer profiles, past jobs, feedback, and ratings.
Once you find the right freelancer, you can hire them. Upon completion of a project, you'll be able to review and accept the work and release the payment.
PeoplePerHour is a curated community of freelancers and professionals. You can browse hourlies (fixed-price jobs), post a job, or run a contest. You can also browse freelancers by categories and view their profiles and portfolios.
Once you post a job, you'll get access to your Workstream dashboard. This is where you'll manage and review the work, communicate with freelancers, and get support from PeoplePerHour staff.
After you are satisfied with the logo design, you can pay the freelancer.
Which is the Best Place to Get a Custom Logo?
After going through our list, you might wonder which is the best place to get a custom logo for your business.
We believe Tailor Brands is the best logo maker, as it uses artificial intelligence to generate professional logo design ideas.
It is very easy to use, even for absolute beginners and gives you tons of choices to customize your logo.
However, if you're interested in hiring a professional designer to create a custom logo, we recommend 99designs. It lets you run a contest, which gives a large pool of designs to choose from.
Plus, 99designs also helps to hire a designer who works one-on-one with you.
We hope this article helped you find the best places to get a custom logo for your WordPress website. You may also want to see our comparison of the best website builders for creating a website and the best email marketing services to grow your business.
If you liked this article, then please subscribe to our YouTube Channel for WordPress video tutorials. You can also find us on Twitter and Facebook.