WPBeginner's exclusive Semrush coupon code gives you a 14-day free trial on their powerful all-in-one marketing platform. This is a great tool for keyword research, traffic analytics, competitive research, link building, and more. You simply need to follow our instructions below to properly redeem the Semrush coupon code. That way, you will get the best discount on Semrush.
Click to Read More »
First you need to visit Semrush.com using our link on WPBeginner and click on the 'Start Now' button.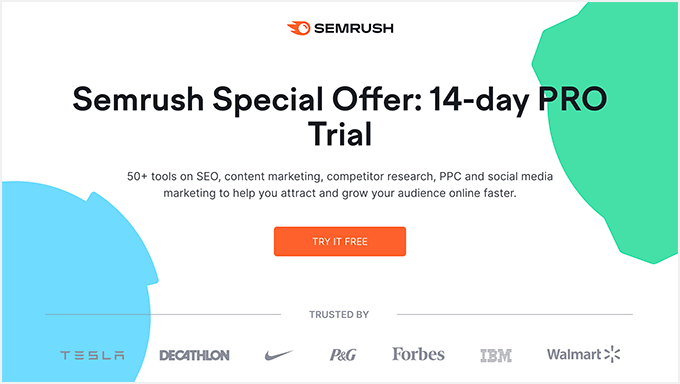 This will take you to the signup page. Simply enter your email and choose a password.
Then, click 'Create Account' to continue.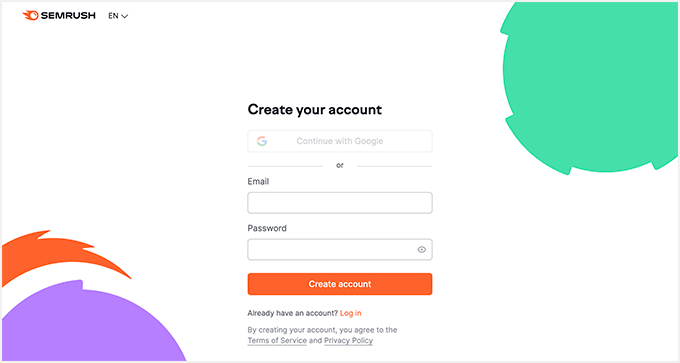 This will take you to the Semrush purchase summary page.
The Semrush Pro plan is selected automatically, and you can review your Semrush plan details on the right side of the screen. You will also need to enter your billing information.
The Semrush Coupon code is applied automatically. You don't need to pay anything for the 14-day trial.
Go ahead and click on the 'Place the Order' button to successfully buy Semrush for a month without paying any money.
We hope you found our Semrush coupon code to be helpful. At WPBeginner, we work hard to negotiate exclusive discounts for our users.
Please take a look at our other WordPress coupons and deals for more great promo codes and coupons.