Do you want to create a WooCommerce contest to boost loyalty and engagement?
Contests are an easy way to get new visitors to your WooCommerce store, build brand awareness, and keep customers engaged. They can also encourage customer loyalty, improve conversion rates, and get you more sales.
In this article, we'll show you how to easily create a WooCommerce contest to boost loyalty and engagement.
Why Run a WooCommerce Contest?
As an online store, you need to bring new customers to your website.
However, most visitors leave a site without making a purchase. In fact, only 30% of customers who add products to their cart actually complete the checkout process. That's why we've created a complete guide on how to recover abandoned cart sales in WooCommerce.
The good news is that there are ways to get shoppers to come back to your site, including creating an online giveaway.
A competition gives people a fun reason to come back to your store, so you get another chance to turn that visitor into a paying customer. Giveaways also allow you to do lead generation by collecting email addresses.
You might even use a contest to grow your social media following or get more subscribers for your email newsletter. You can then use these channels to build relationships with those visitors and convince them to buy from your online store.
With that being said, let's take a look at how to easily create a WooCommerce contest to grow your business.
Creating a WooCommerce Contest Giveaway
The easiest way to create a WooCommerce giveaway is by using RafflePress. It's the best WordPress giveaway plugin and lets you create all kinds of contests using a simple drag and drop editor.
RafflePress comes with lots of actions that can help reach new customers, grow your email list, get more followers on social media, encourage customer loyalty, and more.
First, you need to install and activate the RafflePress plugin. For more details, see our step by step guide on how to install a WordPress plugin.
Note: There is a free version of RafflePress that makes it easy to run giveaways and competitions no matter what your budget. However, in this guide we'll be using the premium version since it has more integrations and features.
Upon activation, you'll see the RafflePress welcome screen in the WordPress dashboard. You can now go ahead and enter your license key.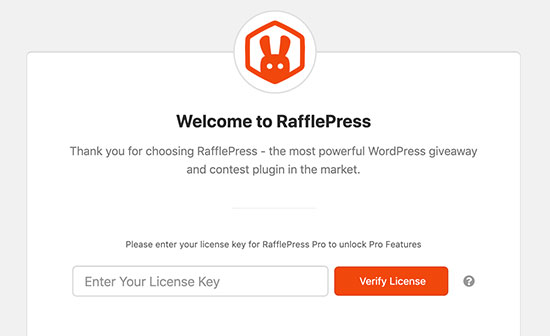 You'll find this information in your account on the RafflePress website. Once you've done that, click on the 'Verify Key' button.
After entering the license key, you're ready to create your first WooCommerce contest by going to RafflePress » Add New.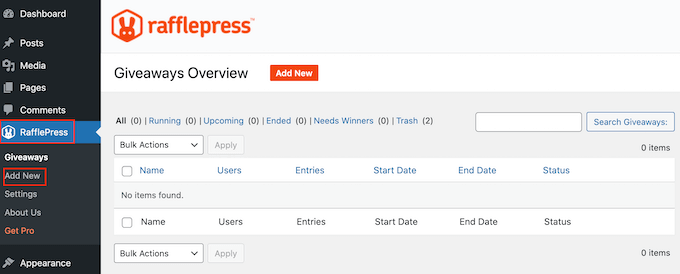 On the next screen, you'll need to give your WooCommerce giveaway a name.
This is just for your reference so you can use anything you want.
Next, choose the template that you want to use. RafflePress has ready-made templates for specific goals such as using a Facebook giveaway to boost engagement or getting more followers on Instagram. You can select the template that best suits your goals.
For this guide, we'll use the Classic Giveaway template as it lets us create a contest from scratch. Simply hover your mouse over the Classic Giveaway template and then click on the 'Use this Template' button when it appears.
This opens the template in RafflePress' drag and drop builder.
Add a Prize to Your WooCommerce Contest
Let's start by setting the prize for your WooCommerce contest. Simply click to select the headline area, which shows 'My Awesome Prize' by default.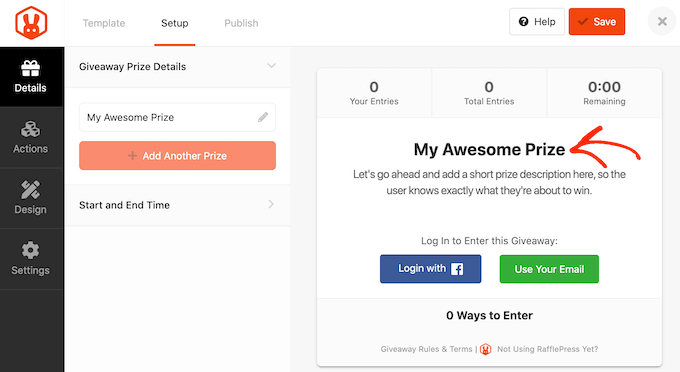 You can now go ahead and type a title into the 'Name' field. You'll typically want to talk about your prize, but you can use any title you want.
Once you've done that, type in a description, which will appear below the headline. For example, you may want to add some more information about your WooCommerce contest, such as why participants will want to win this prize or how much it's worth.
It's also a good idea to add a photo of the prize, so visitors can see what's on offer.
To do this, simply click on 'Select Image' and then either choose an image from the WordPress media library or upload a new file from your computer.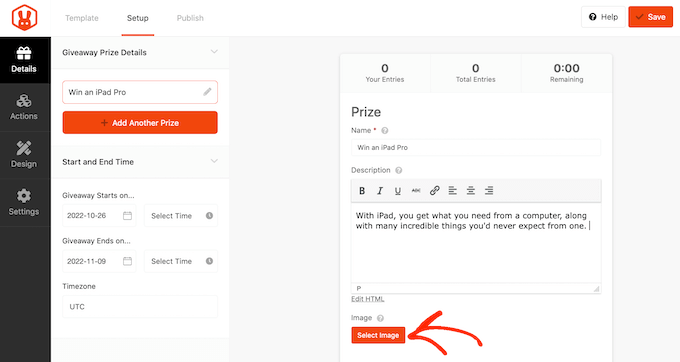 Next, you need to choose the start and end date for your contest. If you plan to run lots of giveaways, then this allows you to schedule them in advance. It also also guarantees that your contests will start and end on time, no matter how busy you get.
Where ever possible, we recommend leaving enough time before the start date so you can promote the giveaway properly.
To schedule the WooCommerce contest, simply enter a date and time into the 'Giveaway starts…' and 'Giveaway ends…' sections.
When you've finished making changes to this section, click on the 'Done Editing' button.
Add Actions Users Need to Perform to Join The Contest
Giveaway actions are the ways that users can participate in the contest, such as subscribing to your podcast or leaving a comment on your WordPress blog. RafflePress comes with lots of different actions that you can add to your contest.
You'll want to use actions that engage your existing customers and help you reach new customers. For example, if you run a fashion eCommerce store then you may want to choose actions that will grow your Instagram following. You can then show these new followers photos and stories featuring your products.
To see all the actions that you can add to your WooCommerce contest, simply click on the 'Actions' tab.
To add an action to your campaign, simply give it a click. The action will now appear below the prize description.
You can then click on the action to see its settings in the left-hand menu.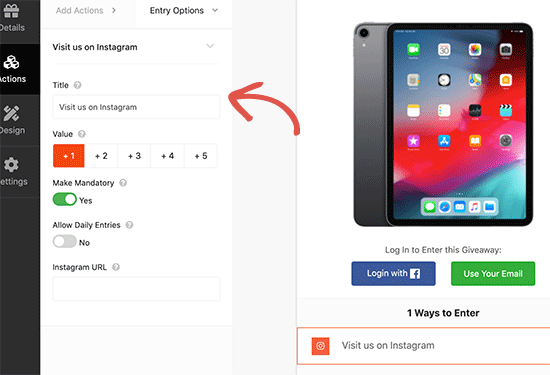 Each action has some basic settings. You can type in a title, which will be shown to your visitors, and make the action mandatory so that visitors must complete this action in order to enter the contest. This is useful if you're planning to offer multiple entry methods, but want to encourage visitors to complete one action over all the others.
By default every action is worth one entry, but you can change this to make some actions more appealing than others. Again, this will encourage visitors to complete a particular task, even if your contest has multiple entry methods.
Apart from these general options, there are some settings related to specific actions. For example, if you want users to enter the contest by visiting your Instagram, then you will need to enter your Instagram profile URL.
Once you've filled in these settings, you can click on the 'Add Actions' tab and add more entry methods to your competition.
You can add as many actions as you like, which can often get you more entries. For example, some of your shoppers may have a Facebook account but not an Instagram account. If 'Follow us on Instagram' is your competition's only entry method, then these customers can't participate, even if they want to.
It's smart to prioritize actions based on your campaign goals. For example, if you want to grow your Twitter following, then it's a good idea to put the 'Follow us on Twitter' action at the very top of the 'Ways to Enter' list.
Simply hover over the action in the editor and then grab the dotted button that appears to the left of the action. Then, move the entry method using drag and drop.
When you're happy with how the giveaway is setup, don't forget to click on the 'Save' button to store your settings.
Customize WooCommerce Contest Design
Now that your giveaway is set up, you'll want to make it stand out to the people who visit your online store.
To change how the contest looks, simply click on the 'Design' section from the left column.
You can then change the fonts, select a new button color, change the background color, and more. You can even customize the giveaway widget using custom CSS.
RafflePress will show a live preview of your giveaway as you make changes. When you're happy with the preview, go ahead and click on the 'Save' button to save your progress.
Configure Contest Settings
RafflePress has lots of settings that control how your giveaway runs, including showing and hiding options, setting up tracking, and more.
To get started, switch to the 'Settings' tab from the left-hand menu and then click on the 'General' tab. Here, you can set basic options for your giveaway including showing the winners and the total number of entries, limiting signups per IP, and more.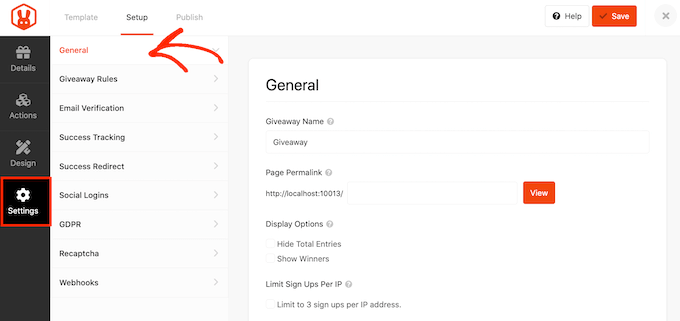 RafflePress also comes with a Rules Generator that you can use to quickly and easily create giveaway rules for your campaign.
In the left-hand menu, select 'Giveaway Rules' and then click the 'Generate Rules' button. This will bring up a form where you can enter your giveaway details.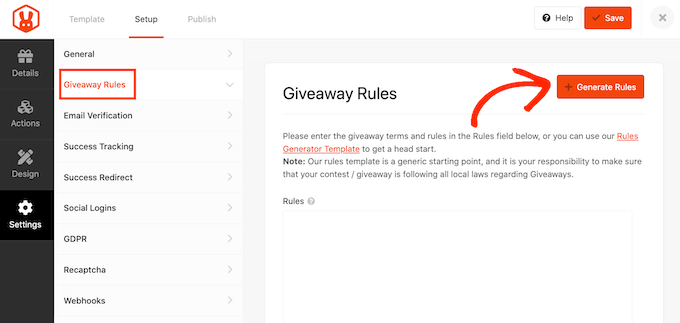 In most cases, you or your company will be contest's sponsor. This means you'll need to type in the company name, business email address, country, and eligible locations information.
RafflePress will then use this information to create some basic giveaway guidelines and rules.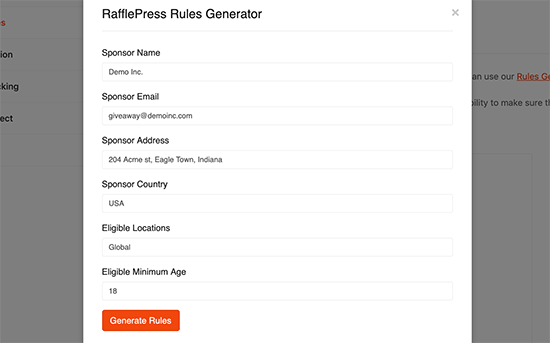 Every country and area has different rules for giveaways, so it's a good idea to review these guidelines carefully and then add any missing information.
After that, switch to the 'Email Verification' settings. Here, you can turn on the 'Contest Must Confirm Their Email' toggle so your contest only accepts entries from people who verify their email address.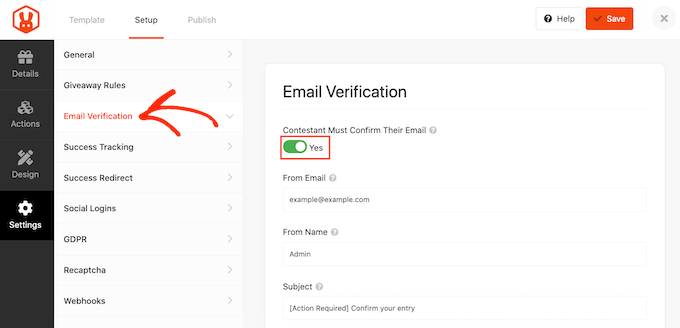 You'll typically want to enable this setting if you're using the contest to grow your mailing list or get more subscribers to your mailing list.
Next, click on 'Success tracking.' If you use Google Analytics to track user engagement on your WooCommerce store, then you can add Google Analytics scripts to this section.
When a customer submits an entry, it's not the end of the process. You may want to redirect the visitor to a particular page such as your most popular WooCommerce products, a landing page, or a custom thank you page.
To set up a redirect, select the 'Success Redirect' tab and click to activate the 'Enable Success Redirect' slider. You can then add the page to the 'Redirect URL' field.
Next, you may want to allow shoppers to join the contest by signing in with their Facebook account. This will make it easier for customers to enter your competition, which could get you some extra participants.
To allow logging in with Facebook, simply select the 'Social Logins' tab and then activate the 'Allow logging…' slider.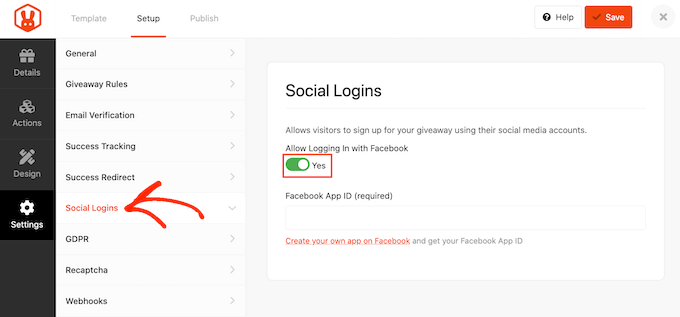 The General Data Protection Regulation (GDPR) is a European Union (EU) law that gives EU citizens more control over their personal data. If you break GDPR then you could get a fine or even jail time.
RafflePress can help you comply with GDPR by asking for consent before each customer enters your giveaway. To add this checkbox to your contest, select the 'GDPR' tab and then activate the 'GDPR Consent' slider.
For more on this topic, please see our ultimate guide to WordPress and GDRP compliance.
Fake entries and spam can make it harder to achieve your goals and pick a genuine winner. With in mind, you may want to protect your conest using an invisible recaptcha.
Unlike regular captchas that ask visitors to complete a puzzle, invisible recaptchas run in the background. This allows them to block spam and bots without adding any friction to the customer experience.
To add an invisible recaptcha to your WooCommerce giveaway, just click on the 'Recaptcha' tab. Then, activate the 'Enable Invisible Recaptcha' slider.

For a closer look at recaptcha, see our guide on how to how to add recaptcha to WordPress.
When you're happy with how the WooCommerce contest is set up, click on the 'Save' button to save your changes.
Publish and Add Contest to Your WooCommerce Store
Now that your contest is ready, it's time to add it to your WooCommerce store. RafflePress gives you a few different options:
Add the giveaway to any page or post using the RafflePress block
Use shortcode to add the giveaway to any post, page, WooCommerce product pages, or widget-ready area
Create a giveaway landing page
Let's check out each of these methods.
1. Adding Contest Block to Blog Posts / Pages
You can add the competition to any WordPress post or page by clicking on the '+' icon to add a new block. Then, simply type in 'RafflePress' and select the right bock when it appears.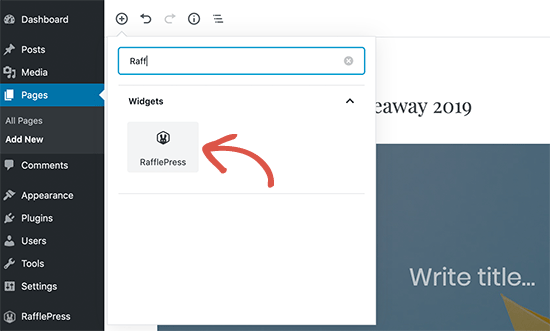 The RafflePress block will now appear in the editor.
Next, simply open the dropdown and choose the WooCommerce giveaway we created earlier.
After that, simply update or publish the page and the giveaway will appear on your site.
2. Add Contest Using Shortcode
Shortcodes allow you to add the contest to any widget-ready area, post or page.
If you're using a page builder plugin that supports WooCommerce such as SeedProd, then you can even add the shortcode to other areas of your store such as your WooCommerce checkout page or your cart page.
To find this shortcode, open the 'Publish' tab in the giveaway editor.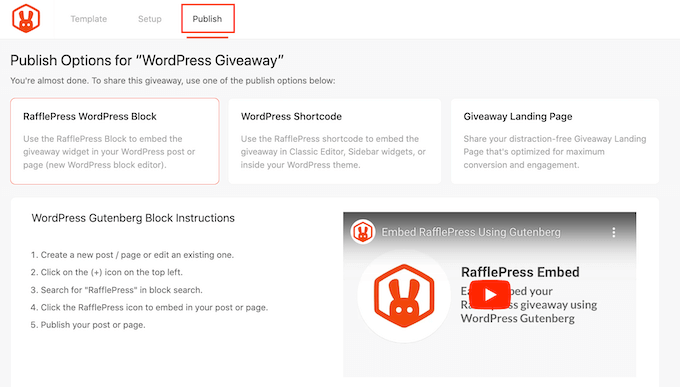 From here, click on 'WordPress Shortcode' and RafflePress will show the shortcode that you can use.
You can now go ahead and paste this shortcode into any page, post, widget-ready area, or even your custom WooCommerce pages such as your WooCommerce login page.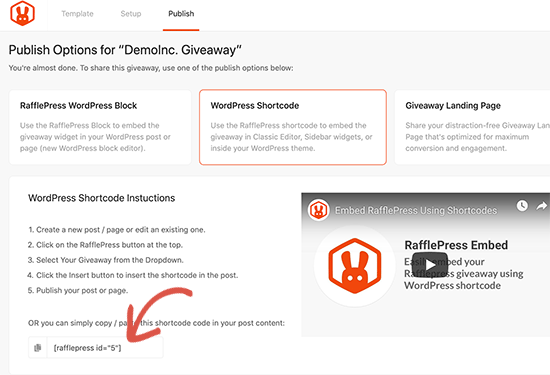 3. Create a Contest Page in WooCommerce
RafflePress also allows you to publish the giveaway as a landing page. This makes your content easy to share on social media, or you might add a link to your email newsletter.
You can find this option under the 'Publish' tab in the giveaway editor. Here, choose 'Giveaway Landing Page' and then select the 'Click here…' link.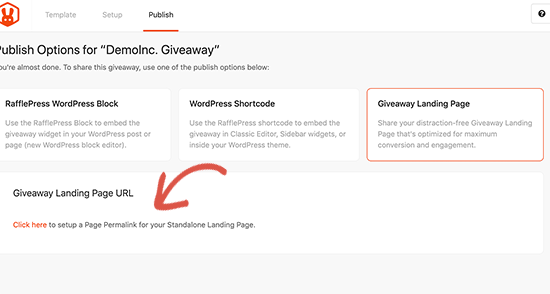 Now, create a URL for your giveaway landing page by typing into the 'Page Permalink' field.
After that, go ahead and click on 'View' to see your landing page in action.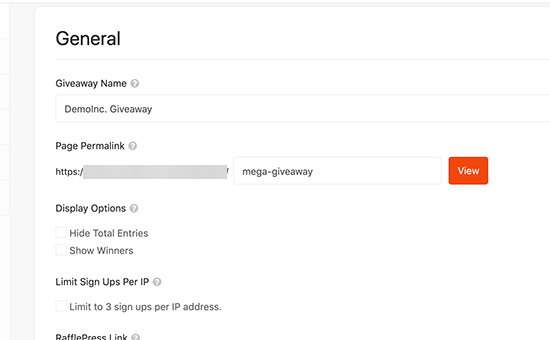 RafflePress will now publish your giveaway as a landing page.
You're now ready to copy the URL and start promoting the contest.
Promoting Your WooCommerce Contest
After creating a giveaway, you'll want to promote it so more people can enter. Wherever possible, it's a good idea to start promoting a contest before publishing it, so you can build anticipation and excitement for the contest.
To start, you can announce the contest in your email newsletter and spread the word on your social media profiles. You might also reach out to influencers in your industry and promote the competition on relevant online communities and forums.
Next, you'll want to make sure that the people who visit your store know about the contest. The best way to do this is by using OptinMonster.
It allows you to create lightbox popups, floating banners, countdown timers and other tools that you can use to promote the giveaway on your website.
Sending web push notifications can also get you more participants. For example, you might ask your push notification subscribers to enter the competition, or to refer any friends or family members who might be interested in participating.
Choosing Contest Winners
Once your giveaway closes, RafflePress can help you pick a random winner.
In your WordPress dashboard, go to RafflePress » Giveaways and hover your mouse over the giveaway. When it appears, click on the 'Need Winners' link.
On the following page, RafflePress will show all the people who entered your giveaway, along with how they entered, their total entries, and more.
Here, simply type in the number of winners that you want to pick.
After that, go ahead and click on the 'Choose Winners Now' button. RafflePress will then show the winner highlighted at the top of the list.
You can now send this person an email to let them know the good news.
We hope this article helped you learn how to easily create a WooCommerce contest and build customer loyalty. You may also want to see our expert pick of the best social proof plugins and how to create a WooCommerce popup to increase sales.
If you liked this article, then please subscribe to our YouTube Channel for WordPress video tutorials. You can also find us on Twitter and Facebook.