Do you want to create "buy one get one" (BOGO) offers in your WooCommerce store? BOGO deals are a great way to get more sales and win new customers.
While WooCommerce doesn't support "buy one get one" by default, you can add support using a plugin.
In this article, we'll show you how to easily create a WooCommerce buy one get one free offer to drive more sales.
Why and When to Offer BOGO Deals in WooCommerce?
Buy One Get One Free deals are an effective way to get more sales on your online store.
Many online stores use BOGO deals to sell older products or inventory that they no longer want to stock. Some even use BOGO to recover abandoned cart sales by offering customers an exclusive discount if they complete their purchase.
BOGO is also a way to acquire new customers. Once you have the customer's information you can turn them into repeat buyers using methods such as email marketing and newsletters.
Considering the cost of online advertising like PPC and social media ads, BOGO discounts can be a cheaper way to build a loyal customer base.
You can also use BOGO deals to offer a big discount on the second product instead of giving it away for free. Retailers typically use this technique to create offers like Buy One Get One 50% off, or Buy 2 Get 1 free.
That being said, let's take a look at how to easily add 'buy one get one' offers to your WooCommerce store.
Creating a Buy One Get One Offer in WooCommerce
The easiest way to add a buy one get one free offer in WooCommerce is by using Advanced Coupons. It is the best WooCommerce coupon code plugin on the market and allows you to easily create coupons and deals for your eCommerce store.
First, you'll need to install and activate both the free Advanced Coupons plugin and the premium Advanced Coupons addon. For detailed instructions, see our guide on how to install a WordPress plugin.
Upon activation, head over to Coupons » License.
You can then enter your license key into the 'License Key' field. You can find this information in your account on the Advanced Coupons website.
You'll also need to enter your 'Activation Email' which is the email you used when you purchased Advanced Coupons. Once you've done that, click on 'Activate Key.'
To create a BOGO deal, go to the Marketing » Coupons page.
Here, click on the Add Coupon button.
On the next screen, you need to provide a title for your WooCommerce coupon.
This will also become the actual coupon that customers will use.
You'll notice a button to automatically generate a coupon code below the title. This button generates a random string of letters and numbers, but this can make the coupon harder to remember and more difficult to type.
With that being said, it's a good idea to type out your own coupon code.
Next, scroll down to the 'Coupon Data' section. If it isn't already selected, then select the 'General' tab.
Here, you can open the 'Discount type' dropdown and choose 'Buy X Get X Deal (BOGO).'
In the 'Customer Buys' section you can create a range of different BOGO deals by setting up specific triggers. These activate the deal and determine what products should be added to the customer's shopping cart.
There are three types of triggers that you can use:
Specific Product: This is for simple, straightforward deals on a single product.
Any Combination of Products: You can use this for products that have variations, or deals that apply to multiple products.
Product Categories: Great for running a sale on a range of products from a category or even several categories.
Any Product: The customer can claim a BOGO discount for any product.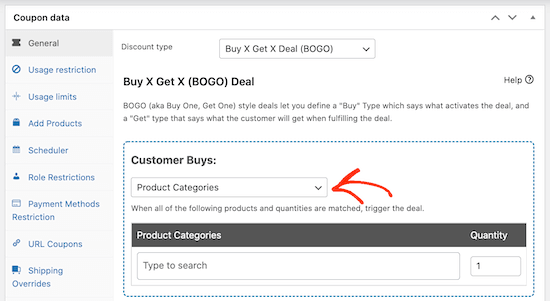 Once you've chosen the trigger type, you'll need to pick what products will trigger the deal.
Simply click 'Add Product' and then select the product(s) that you want to use as the trigger.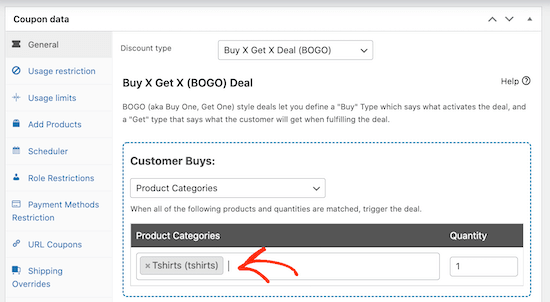 You can use more than one product or category here. For instance, the customer might need to buy 2 products from the category 'T-Shirts' to get a 3rd t-shirt for free.
It's important to note that you don't necessarily have to make the second product free. You could create a deal where the second t-shirt is significantly discounted such as 50% off.
All of these deals are easy to create with Advanced Coupons.
Once you've set up your trigger, you'll need to pick what product the customer gets for free, or at a discounted price. This could be the same product as before, or it might be a different product or even a range of products.
In the 'Customer Gets' section, repeat the same steps to choose the product or products that the customer can get as part of the BOGO discount.
If you choose a specific product, then that product will be added to the customer's shopping cart automatically.
If you set the dropdown to 'Any Combination of Products,' 'Product Categories' or 'Any Products' then the customer will need to choose a product from your store and add it to their shopping cart.
If you want to create a deal where the item is discounted rather than free, then you can use the dropdowns beneath the 'Price/Discount' heading.
Here, you can offer a percentage or a fixed discount.
Under 'Additional Settings', you can choose whether the customer can only use this coupon once, or whether they can use it multiple times.
Reusable coupon codes can get you more sales but they can also reduce your profit margins.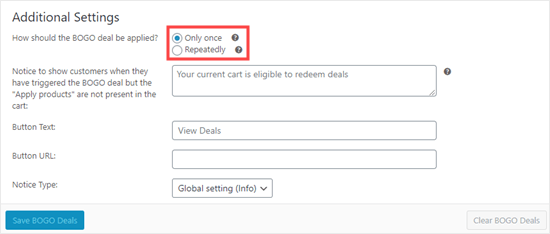 You can also type in a notice that customers will see if they trigger the BOGO deal but don't add the free or discounted product to their cart.
In this way, you can improve the customer experience.
To create a message, type some text into the 'Notice to show customers…' box.
When you're happy with how the BOGO deal is set up, don't forget to click on 'Save BOGO Deals' to save your settings.
Applying The Buy One Get One Free Coupon
Customers can now add the BOGO deal coupon code and get a discount on any eligible items in their shopping cart.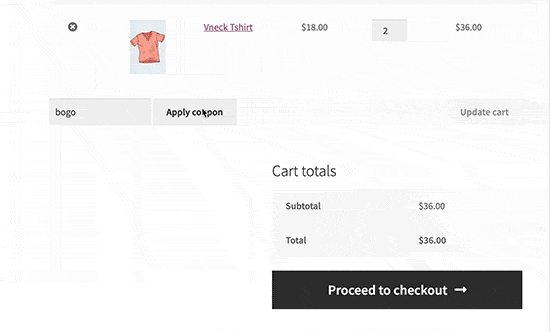 The coupon code will apply the deal based on the settings you selected. For instance, in the GIF you can see that the customer gets a 100% discount on the second t-shirt, so they get that product for free.
How to Promote Your BOGO Deal in WooCommerce
Now that you have created a 'buy one get one' offer, the next step is to promote that offer across your online store so shoppers can find and use it.
The easiest way to do this is by using OptinMonster. It is the best conversion optimization tool on the market and allows you to easily convert website visitors into paying customers.
It comes with beautiful lightbox popups where you can show your coupon codes. You can even use its smart page targeting features to display the coupon on specific products.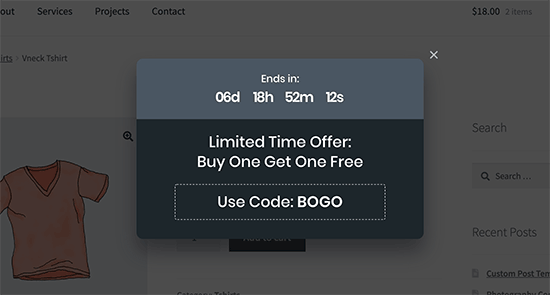 For details, please see our tutorial on how to create a coupon popup in WordPress.
Apart from popups, OptinMonster also allows you to promote your BOGO deals using floating bars, countdown timers, inline optins, and slide-in popups.
We hope this article helped you learn how to create a WooCommerce BOGO 'Buy One Get One' free offer. You can also go through our guide on the best live chat software for small businesses and how to track website visitors to your WordPress site.
If you liked this article, then please subscribe to our YouTube Channel for WordPress video tutorials. You can also find us on Twitter and Facebook.