Do you want to schedule coupons on your online store?
Scheduling coupons allows you to easily run seasonal or time-sensitive sale campaigns without having to worry about turning the coupon on and off at specific times.
In this guide, we'll share our step by step process on how to easily schedule coupons in WooCommerce and save time.
Why Create Scheduled Coupons in WooCommerce?
Coupons are a great way to promote your online store and get more sales.
However, publishing all the different coupons at the right time, and then turning them off at the deadline can be a lot of work. There's also a chance that you may forget to turn a coupon on, which can be frustrating for your visitors and cause you to miss out on sales.
If you forget to turn a coupon off, then it may reduce your profit margins.
This is why smart store owners schedule their coupons. By using automation to set a start and end date, your campaign will run smoothly without any manual input from you.
For instance, you can schedule coupons for popular holidays like Black Friday, Christmas, New Years, Mother's day, Valentine's day, and more.
This will save you a lot of time, so you can focus on promoting your offer and driving as many sales as possible.
That being said, let's take a look at how to easily schedule coupons in WooCommerce.
Creating a Scheduled Coupon in WooCommerce
For this guide, we'll be using the Advanced Coupons plugin. It is the best WooCommerce coupon code plugin on the market, and it adds tons of powerful features to WooCommerce.
First, you'll need to install and activate both the free Advanced Coupons plugin and the premium Advanced Coupons addon. For detailed instructions, see our guide on how to install a WordPress plugin.
Upon activation, go to Coupons » License.
Then, enter your license key into the 'License Key' field. You can find this key in your account on the Advanced Coupons website.
You'll also need to enter your 'Activation Email' which is the email address you used to purchase Advanced Coupons. After that, click on 'Activate Key.'
To schedule a coupon in WooCommerce, you need to visit the Marketing » Coupons page in the WordPress admin area.
Here, click on the 'Add coupon' button.
On the next screen, type in a title for your coupon.
This will also become the actual coupon that customers will type in, so it's a good idea to use something that's easy for shoppers to remember and type. You may also want to use a coupon that reflects the offer you're creating, such as 'BlackFriday20%' or 'SummerSale.'
Another option is to use the 'Generate coupon code' button to generate a random string of letters and numbers. However, this can make the coupon complicated and difficult to remember, so it isn't recommended.
For this guide, we're going to create a percentage discount by scrolling to the 'Coupon data' section. Here, open the 'Discount type' dropdown and click on 'Percentage discount.'
Next, we need to click on the 'Scheduler' tab and type in the date and time when the coupon will go live so that shoppers can start using it.
In 'Coupon expiry date' go ahead and enter the date and time when customers will no longer be able to use the coupon.
By default, Advanced Coupons will show an error message if the coupon has expired, or the sale hasn't started yet.
You can change these two error messages by typing some new text into the 'Coupon start error message' and 'Coupon expire error message' boxes.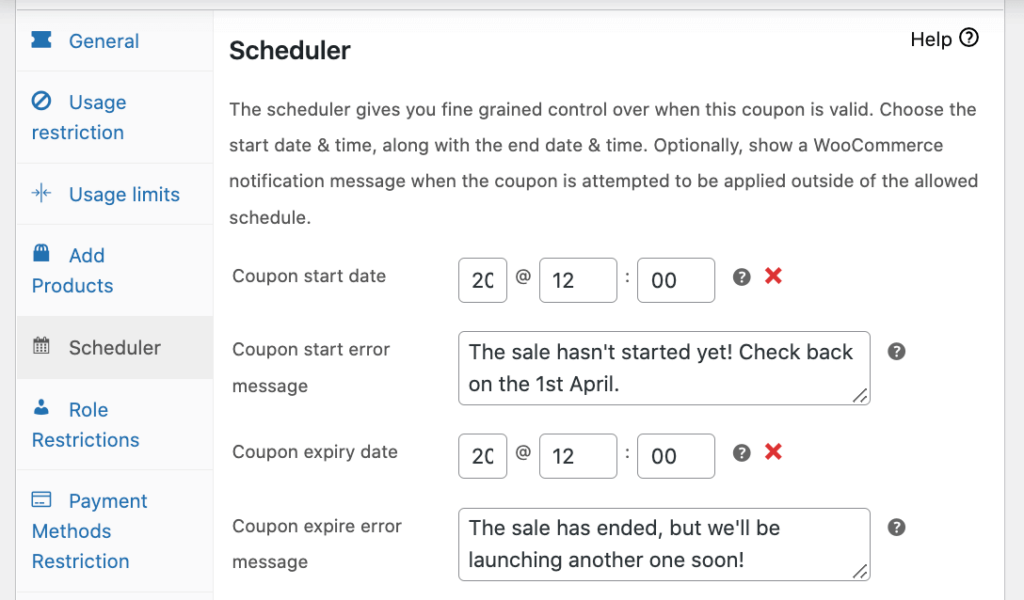 Tip: By default, the coupon will go live at 12:00:00 on the start date and will expire at 23:59:59 on the day before the scheduled end date. Advanced Coupons uses the timezone that you've set in WordPress. For more information, please see our guide on how to change the date and time format in WordPress.
Once you're done, you can go ahead and publish the coupon.
Now, if a customer tries to use the coupon before the scheduled start date, they'll see an error message on the WooCommerce cart page.
As well as saving you time, another benefit of scheduling coupons is that you can use it to boost your marketing efforts.
For example, you can use your email marketing service to send a bulk email to all your affiliates and partners, letting them know about the upcoming promotion and the coupon code. They can then share the code with their audience, which can get you more visitors and sales for your online store.
With the Advanced Coupons WooCommerce plugin, you can schedule as many coupons as you want, simply by following the process described above.
For our eCommerce sites, we plan our sales calendar at the beginning of the year. Since we run many of the same sales, this saves us a lot of time throughout the year.
Promoting Your Scheduled Coupons in WooCommerce
Once you've scheduled coupons for different campaigns, it's a good idea to promote them.
Many online stores use dynamic content like floating header bars, exit intent popups, and slide-in scroll boxes to promote their sales and coupon codes.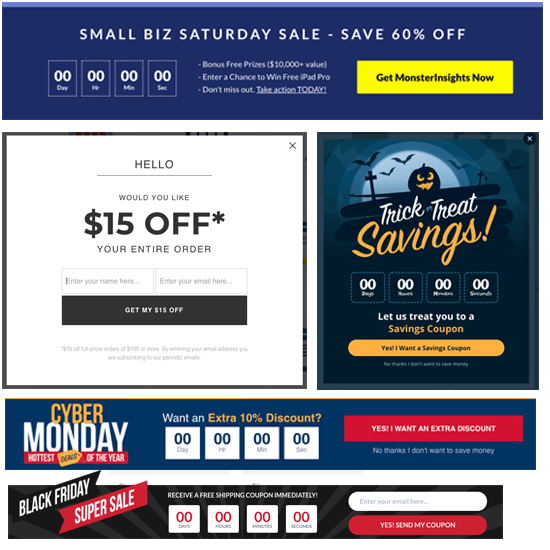 This can help draw attention to your sales and discounts. Even better, you can automate all of this dynamic content using OptinMonster.
OptinMonster is the best conversion optimization software on the market. It comes with countdown timers, coupon code popups, slide-in boxes, and other tools that help you promote your sales and boost conversion rates.
You can use OptinMonster's powerful display rules technology to schedule each campaign in advance and save yourself a ton of time.
You can even use these display rules to personalize each campaign based on the shopper's location, for example you can automatically schedule a Christmas Sale for the US and schedule a Diwali sale in India.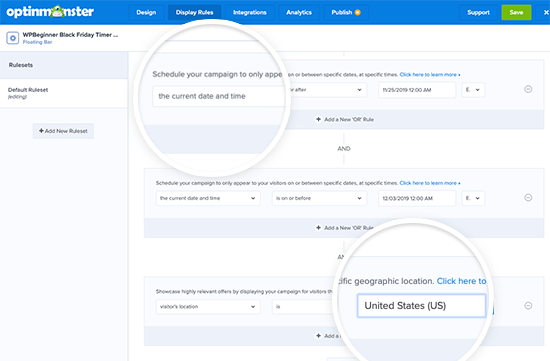 We hope this article helped you learn how to create a scheduled coupon in WooCommerce, so you can automate your sales. You can also go through our guide on the best live chat software for small businesses and how to increase your blog traffic.
If you liked this article, then please subscribe to our YouTube Channel for WordPress video tutorials. You can also find us on Twitter and Facebook.