Do you want to offer your WooCommerce customers a free gift along with their purchase?
Free gifts are a great way to get more sales, increase the average order value, and encourage customers to keep coming back to your online store.
In this article, we will show you how to create a free gift coupon in WooCommerce.
Why Offer Your Customers a Free Gift?
Offering a free gift is a great way to get more sales and encourage shoppers to spend more on your WooCommerce store.
You can even offer a free gift when the shopper spends a minimum amount or buys a particular product, as you can see in the following image.
This can increase the average order spend and encourages people to complete their purchase. In this way, free gifts can help you recover abandoned cart sales.
It can also help grow your email list faster.
More than 70% of people who visit your website will never come back. Getting these people to sign up for your email newsletter is a great way to keep in contact with them, and encourage them to return to your site.
Offering customers a free gift coupon if they subscribe to your mailing list is a popular way to capture more email addresses and turn one-time visitors into loyal customers.
If you want to add some fun to your online store, then you could even use a "spin to win" coupon wheel so customers have to play a game to win their free gift coupon.
What Should I Give Away as a Free Gift?
Free gifts don't have to be expensive, but they must be useful or valuable to the customer.
Many popular online marketplaces and stores use branded merchandise as a free gift. That way, the free gift will remind the customer about your brand. Merchandise such as T-shirts can also help build brand awareness by introducing your company to people who may not have heard about it yet.
For more on this topic, please see our guide on how to make a print on demand shop.
Other online stores offer complimentary accessories as a free gift. For example, many skin care brands use samples or travel-sized products as a free gift. As an added bonus, the customer may enjoy the sample so much they decide to buy the full-size product.
You don't even have to offer physical products as a free gift. Many stores reward customers with free digital downloads such as an ebook, helpful PDFs, or even an exclusive video.
That said, let's see how you can create a free gift coupon for a WooCommerce store.
Creating a Free Gift Coupon in WooCommerce
The easiest way to create free gift coupons is by using Advanced Coupons. It is the best WordPress coupon code plugin on the market and allows you to create all kinds of deals, discounts, loyalty programs, and free gift coupons.
First, you'll need to install and activate both the free Advanced Coupons plugin and the premium Advanced Coupons addon. For more information, please see our guide on how to install a WordPress plugin.
Upon activation, head over to Coupons » License.
You can then enter the license key into the 'License Key' field.
To find this information, log into your account on the Advanced Coupons website. You'll also need to enter your 'Activation Email' which is the email address you used when you purchased Advanced Coupons.
Once you've done that, click on 'Activate Key.'
To create a free gift coupon, go to the Marketing » Coupons page.
Here, simply click on the 'Add coupon' button.
On the next screen, you need to type in a title for your coupon.
This will also become the actual coupon that customers will use to claim their free gift, so it's a good idea to use something that's easy for shoppers to remember and type.
If you don't want to create your own code, then you can click on the 'Generate coupon code' button. This will create a code using a random string of letters and numbers.
After that, scroll to the 'Coupon Data' section and click on the 'Add Products' tab.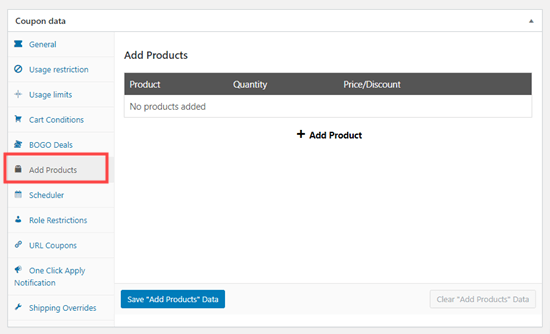 You can now click on the '+ Add Product' button.
In the 'Type to search' field, start typing the name of the product that you want to offer as a free gift. When the right product appears, click on it.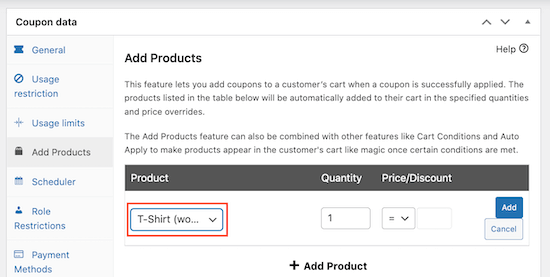 Next, open the dropdown below the 'Price/Discount' heading and click on '$: Override price.'
Then, click on the 'Add' button to save your product.
To give away more than one free gift, simply repeat the process described above.
When you're happy with how the coupon is set up, click on the 'Publish' button. Now, the customer simply needs to enter the coupon code and the product will be added to their cart for free.
Offering a Free Gift if the Customer Spends Enough
You may want to set a minimum amount that shoppers will need to spend to qualify for the free gift coupon. Many popular eCommerce sites do this to encourage customers to spend more thus boosting average order value.
To do this, create your coupon following the same process described above. However, before publishing the coupon make sure you click on the 'Usage restriction' tab.
In the Minimum Spend field, type in the amount that shoppers must spend before they can use the free gift coupon.
In the image above, customers can only use the free gift coupon when their shopping cart is worth $20 or more.
If a customer tries to apply the coupon before reaching the minimum spend, then they'll see an error message.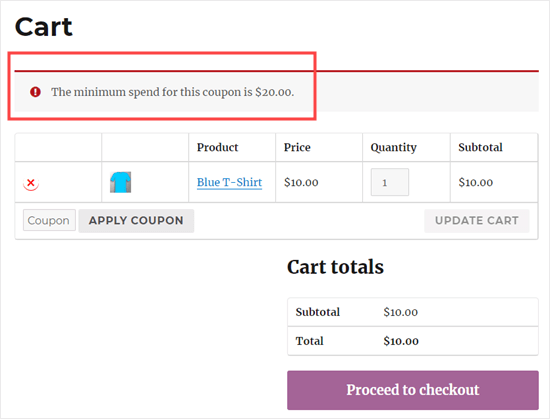 Promoting Your Free Gift Coupon in WooCommerce
Customers love a free gift, so it's a good idea to promote your coupon.
You can use OptinMonster to create floating header bars, exit intent popups, slide-in scroll boxes, or even gamified spin a wheel popups. In this way, you can let shoppers know about the coupon, and how they can claim their free gift.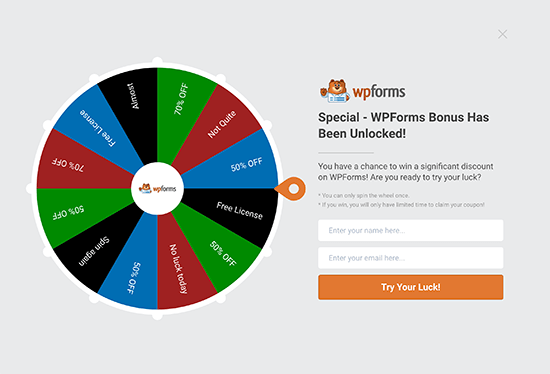 You can even use these display rules to personalize each campaign and offer different free gifts based on factors like the shopper's location.
We hope this article helped you learn how to create a free gift coupon in WordPress. You may also want to see our list of the best WooCommerce plugins for your store, and our comparison of the best email marketing services.
If you liked this article, then please subscribe to our YouTube Channel for WordPress video tutorials. You can also find us on Twitter and Facebook.