Do you want to build customer loyalty in WordPress with gamification?
Gamification lets you reward your loyal customers and users with points and other incentives. This can get you more engagement and conversions, and keep people coming back to your site or online store.
In this article, we'll show you how you can build customer loyalty with gamification.
Why Build Customer Loyalty with Gamification in WordPress?
Adding gamification to WordPress lets you reward visitors with different incentives when they take certain actions on your website, like leaving a product review, posting a comment, or buying a product.
This can help to improve customer loyalty, since your customers will feel more engaged with your WordPress website when they're rewarded with discounts, redeemable points, and more.
Using gamification to reward customer loyalty can be a great way to get more sales in your online store or increase conversions on any type of website.
With that said, let's show you two different ways you can build customer loyalty with gamification in WordPress. Simply use the quick links below to jump straight to the method you want to use.
Method 1. Add a Gamified Customer Loyalty Program to Your Online Store in WordPress
Before getting started, you need to have set up a WooCommerce store. If you're still building your store, then check out our step by step guide on how to start an online store.
You'll also want to make sure you choose high quality WooCommerce hosting and a professional WooCommerce theme.
After that, you're ready to add a gamified customer loyalty program to your store.
The easiest way to do this is by using the Advanced Coupons plugin. It's the best coupon code plugin for WordPress used by over 10,000 online stores. You'll also need the Advanced Coupons Loyalty Program plugin.
Note: You can purchase the Advanced Coupons and Loyalty Program plugins together by getting the 'All-In-One Bundle'.
The first thing you need to do is install and activate the plugin. For more details, see our beginner's guide on how to install a WordPress plugin.
Once you've done that, simply go to Coupons » Loyalty Program in your WordPress admin dashboard and click on the 'License' tab.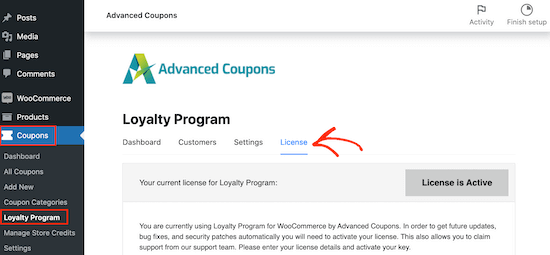 You can now enter your license key and the email address you used to purchase Loyalty Program. You can find this information by logging into your account on the Advanced Coupons website.
Once you've done that, click on the 'Settings' tab.
This brings you to a screen where you can change how much your reward points are worth. In the 'Price to points earned ratio,' we can see that the Loyalty Program plugin gives customers 1 point for every $1 spent.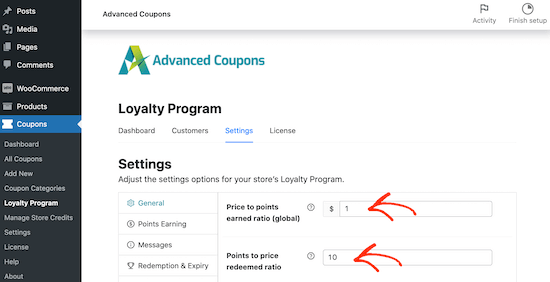 'Points to price redeemed ratio' is how many points it takes to earn a dollar. By default, customers earn $1 for every 10 points.
You can change these values to anything you want.
You can also change the name if you want 'points' to be called something else in your store, by typing into the 'Points name' field.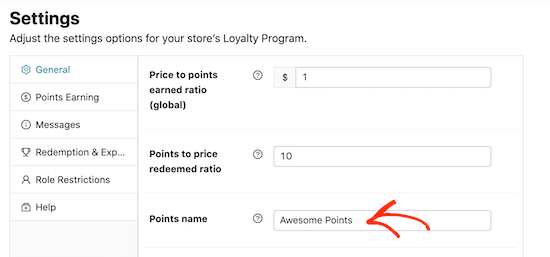 Once you've done that, click on the 'Points Earning' tab and scroll to the 'Actions that earn points' section.
Here, you can choose how visitors will earn points. For example, you might want to reward visitors for registering with your membership site, posting a review, or purchasing a product.
Simply click the toggle for any action you want to earn points.
You can also set the amount of points a user can earn per action on this page as well.
For example, in the following image customers get 2 points for reviewing a product.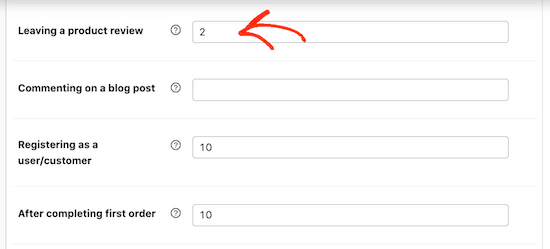 After that, click the 'Redemption & Expiry' tab.
Here, you can customize the minimum number of points the customer must have before redemption, the expiry time for points, and more.
If you're unsure, then the default settings should work for most online stores.
Any changes you make to the rewards program will be save automatically, so you don't have to worry about saving your changes.
Now, WordPress will notify visitors every time they earn points on your site.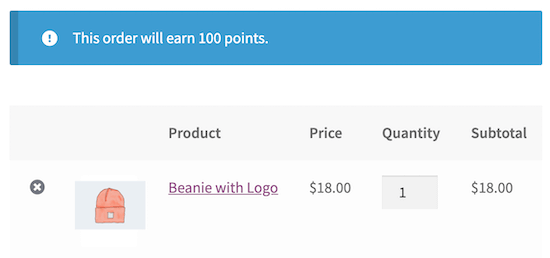 Method 2. Build Loyalty with Gamified Popups in WordPress
Another way you can add gamification to your WordPress site and reward your loyal customers is with a spin to win popup.
You can use these popups to share discounts, special offers, and other perks as a reward.
This type of popup can encourage your visitors to take action in your online store or website by enticing customers with an exclusive discount code or deal.
The easiest way to add spin to win and gamified popups to WordPress is with OptinMonster. It's the best lead generation plugin for WordPress used by over 1.2 million websites.
For more details, please see our step-by-step guide on how to add spin to win optins in WordPress and WooCommerce.
After you activate and setup the plugin you can fully customize what your gamified popups will look like, and who they will display for.
We hope this article helped you learn how to build customer loyalty in WordPress with gamification. You may also want to see our expert picks of the best WooCommerce plugins for your store and how to run a contest / giveaway in WordPress.
If you liked this article, then please subscribe to our YouTube Channel for WordPress video tutorials. You can also find us on Twitter and Facebook.