Do you want to build customer loyalty in WordPress with gamification?
Gamification lets you reward your loyal customers and users with points and other incentives. This can get you more engagement and conversions, and keep people coming back to your site or online store.
In this article, we'll show you how you can build customer loyalty with gamification.
Why Build Customer Loyalty with Gamification in WordPress?
Adding gamification to WordPress lets you reward visitors when they take certain actions on your website, like leaving a product review, posting a comment, or buying a product.
This can create customer loyalty, since visitors feel more valued when you reward them with discounts, points, free gift coupons, and more.
Using gamification to reward customer loyalty can be a great way to get more sales in your online store or increase conversions on any type of website.
With that said, let's show you different ways to build customer loyalty with gamification in WordPress. Simply use the quick links below to jump straight to the method you want to use.
Method 1. Add a Gamified Customer Loyalty Program to Your Online Store in WordPress
If you have a WooCommerce store, then a loyalty program is a great way to reward your best customers and keep them coming back to your store.
Note: If you don't already have a WooCommerce store, then check out our complete guide on how to start an online store. You'll also want to make sure you choose high-quality WooCommerce hosting and a professional WooCommerce theme.
The easiest way to add a gamified customer loyalty program to WordPress is by using the Advanced Coupons plugin. It's the best coupon code plugin for WordPress and allows you to create all kinds of coupons codes, discounts, and other rewards.
To create a loyalty program, you'll also need the Advanced Coupons Loyalty Program plugin. For the best deal, we recommend buying the 'All-In-One' bundle.
The first thing you need to do is install and activate the Advanced Coupons and Loyalty Program plugins. For more details, see our guide on how to install a WordPress plugin.
Once you've done that, simply go to Coupons » Loyalty Program in your WordPress admin dashboard and click on the 'License' tab.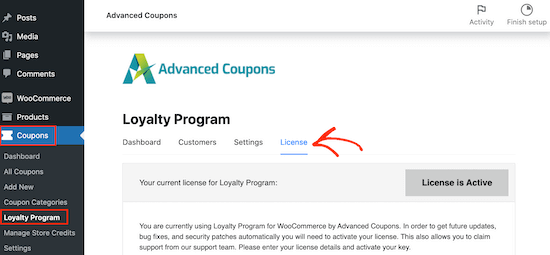 You can now enter your license key and the email address you used to purchase Advanced Coupons. You can find this information by logging into your account on the Advanced Coupons website.
After that, go ahead and click on the 'Settings' tab. This brings you to a screen where you can build the loyalty program.
In the 'Price to points earned ratio,' we can see the Loyalty Program plugin gives customers 1 point for every $1 spent.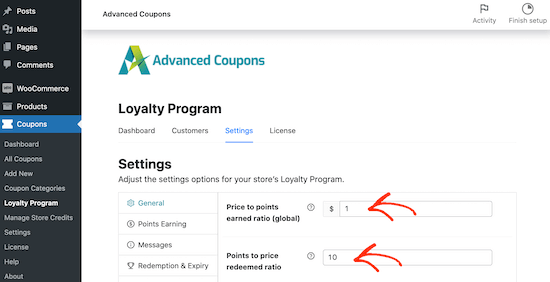 If you want your WooCommerce loyalty program to look more impressive, then you give customers more points. For example, members might earn 2 points or 10 points for every $1 they spend.
'Points to price redeemed ratio' is how many points it takes to earn a dollar. By default, customers earn $1 for every 10 points. You can change these values to anything you want.
You can also change the name of your loyalty scheme by typing into the 'Points name' field. We've gone with 'Awesome Points' for our loyalty program, but you might want to use something branded like Starbucks does with their 'Stars.'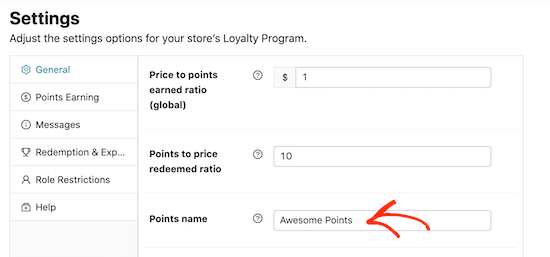 Once you've done that, click on the 'Points Earning' tab and scroll to the 'Actions that earn points' section.
Here, you can decide how your points are calculated. Many online marketplaces only reward customers for spending money. However, there may be other actions that benefit you, so it's a good idea to reward customers for taking these actions.
For example, you might reward visitors for registering with your membership site, posting a review, or commenting on a blog post.
Simply scroll to the 'Point Amounts' section and then click the switch for any action that will earn the visitor points.
After that, you can set the amount of points the user will earn for each action.
In the following image, customers get 2 points for posting a product review.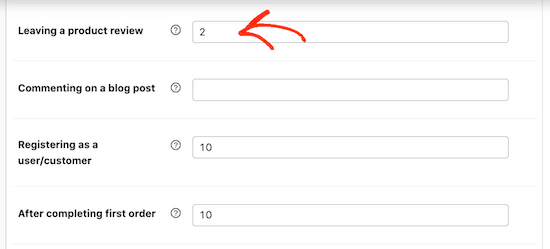 You can also encourage shoppers to spend more by awarding points for orders that exceed a certain amount.
To do this, enable the 'Spending over a certain amount' toggle and then type a value into the 'Spending over a threshold' field.
During busy shopping periods, you may want to give shoppers an extra reason to buy from your store. For example, you might award additional points during Black Friday, so customers aren't tempted to shop with any other store.
To award extra points during a specific period, enable the 'Extra Points To Earn During Period' toggle. Then, enter a date and time range into the 'Extra points to earn during period' section and type in how many points customers will earn.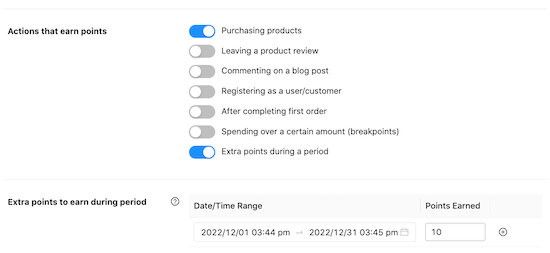 After that, click the 'Redemption & Expiry' tab.
Here, you can set the minimum number of points the customer will need before they can redeem them, how long these points will last, and more.
If you're unsure, then the default settings should work for most online stores.
There are some more settings you may want to look at, but this is enough to create a loyalty program in WooCommerce. When you're happy with how the program is set up, scroll to the bottom of the page and click the 'Save changes' button.
Now, WordPress will notify visitors every time they earn points on your site.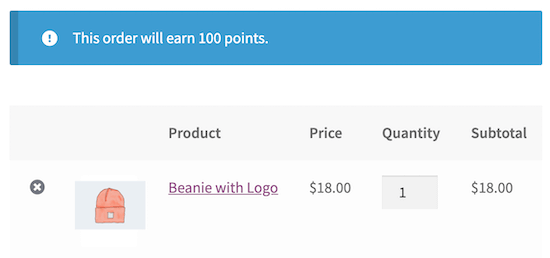 Method 2: Add Gamified Milestone-Based Cart Rewards in WooCommerce
Another way to add gamification to your WooCommerce store is by adding milestone-based rewards to the cart page.
This not only helps build loyalty with your customers, but it also encourages them to buy more.
The easiest way to add gamified cart rewards in WooCommerce is by using FunnelKit.
FunnelKit, which is one of the best WooCommerce sales funnel plugins, offers a powerful WooCommerce cart feature that allows you to create beautiful sliding side carts with rewards.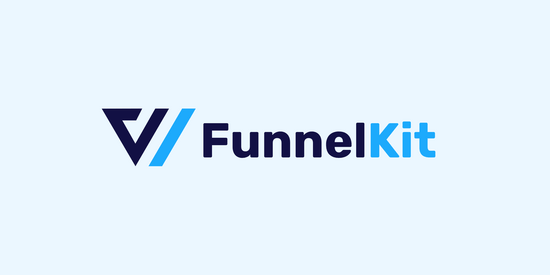 There are 3 different types of milestone-based rewards you can add, including discounts, free gifts, and free shipping.
You can apply just one of these rewards to the cart, or all of them, and decide the amount customers will have to spend to unlock the rewards.
Plus, you can also add one-click upsells and cross-sell offers based on what customers are buying directly to the side cart.
This makes it easier for customers to unlock their milestone rewards and helps you increase your average order value.
For step by step instructions, you can follow our tutorial on how to easily add a sliding side cart in WooCommerce.
Method 3. Build Loyalty with Gamified Popups in WordPress
You can also add gamification to your WordPress website and reward your loyal customers, using a spin to win popup.
You can use these popups to share discounts, special offers, and other perks.
This method doesn't require you to create and run a loyalty program, so it's also a great choice if you're looking for a quick and easy way to add gamification to your site.
The easiest way to add spin to win and gamified popups to WordPress is with OptinMonster. It's the best lead generation plugin for WordPress used by over 1.2 million websites.
You can also use OptinMonster with any WordPress blog or website, and not just online stores. With OptinMonster, you can grow your email list, get more leads, convert website visitors into members, and more.
In fact, you could even create a loyalty program using Advanced Coupons, and then promote that program using a gamified OptinMonster popup.
For more details, please see our guide on how to add spin to win optins in WordPress.
Once OptinMonster is installed on your site, you can choose from a wide range of professionally-designed templates, fine-tune how every part of the gamified popup looks, and control where the popup appears.
We hope this article helped you learn how to build customer loyalty in WordPress with gamification. You may also want to see our expert picks of the best WooCommerce plugins for your store and how to run a contest / giveaway in WordPress.
If you liked this article, then please subscribe to our YouTube Channel for WordPress video tutorials. You can also find us on Twitter and Facebook.