Do you want to add videos, images, files, and other content to your WordPress comments?
Allowing users to upload files, add YouTube links, embed a Tweet, or share images in the comment section helps increase engagement and builds a sense of community.
In this article, we'll show you how to add videos, images, and more in WordPress comments with oEmbed.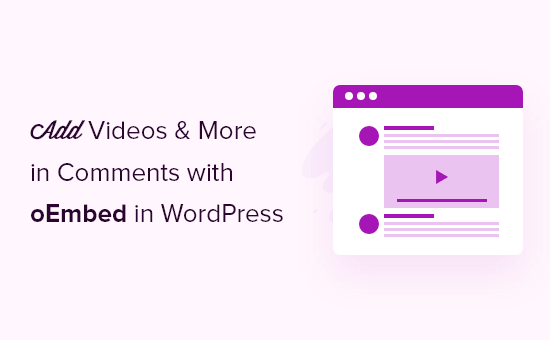 Why Add Videos and Other Content in WordPress Comments?
Letting your visitors attach files in comments can improve the user experience in lots of different ways. For example, visitors may share more information about the issue they're having by recording a video or sharing screenshots.
This makes it easier for your support team and other people in the comment thread to understand the problem and suggest the best solution.
Besides that, adding videos and other content in the comment section can create engagement on your WordPress site. It gives commenters the flexibility to upload different types of content such as their own photos or a link to their favorite YouTube video.
That being said, let's find out how you can add videos, images, and other content in WordPress comments with oEmbed.
Add Videos and More in WordPress Comments
WordPress doesn't allow users to upload videos, images, PDFs, and other files in the comments by default. It also doesn't let you embed videos from YouTube, Facebook, and other social platforms.
However, there is a WordPress plugin that lets your visitors upload content in WordPress comments using oEmbed, and without having to deal with ugly embed codes.
For this guide, we'll be using the DCO Comment Attachment plugin. It's a free plugin that lets users attach images, videos, documents, audio, and other files in the comment section.
The best part about DCO Comment Attachment is that it automatically embeds links from Facebook, Twitter, and other social media platforms.
First, you'll need to install and activate the DCO Comment Attachment plugin on your website. If you need help, then please see our guide on how to install a WordPress plugin.
Upon activation, head over to Settings » DCO Comment Attachment in your WordPress admin panel to customize the plugin's settings.
To start it's a good idea to set a maximum upload file size, as this can stop people from uploading huge files that increase the page loading times and affect your site's performance. For more information, please see our step-by-step guide on how to boost WordPress speed and performance.
You can also make the attachment mandatory, automatically embed attachments, and choose from different thumbnail options.
After that, you can allow visitors to upload multiple files and support different file types for images, audio, video, documents, and spreadsheets.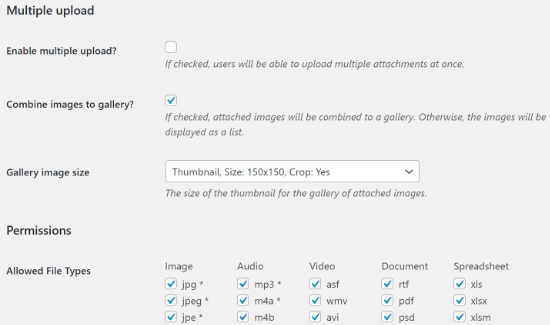 If you scroll down, you'll find more settings. For example, if you run a WordPress membership site then you may only want to allow logged-in users to upload attachments in the comments.
Most of these settings are self-explanatory, so it's worth taking the time to go through them.
When you're happy with how the plugin is setup, you can go ahead and click the 'Save Changes' button.
Now, you can visit any WordPress blog post and you'll see the options to add videos and attachments in the comments section.
Users can also embed videos from other platforms like YouTube.
They simply need to paste the URL into their comment, and the plugin will handle the rest.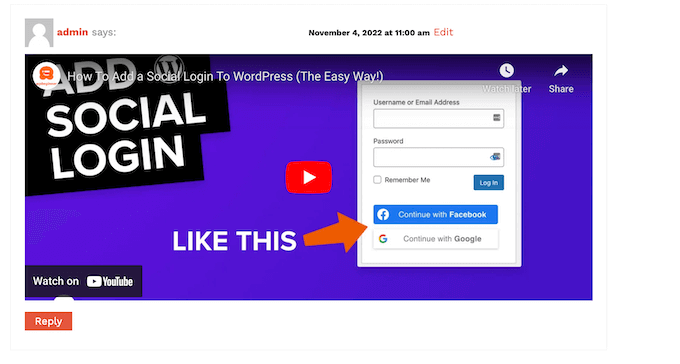 We hope this article helped you learn how to add videos and more in WordPress comments with oEmbed. You can also look at our guide on how to allow user registration on your WordPress site and our expert pick of the best contact form plugins.
If you liked this article, then please subscribe to our YouTube Channel for WordPress video tutorials. You can also find us on Twitter and Facebook.