Do you want to allow your users to subscribe to comments in WordPress?
By subscribing to comments, users will get email alerts about any new replies. This can encourage discussion or even heated debates, and get more engagement on your website.
In this article, we will show you how to allow users to subscribe to comments on your WordPress website.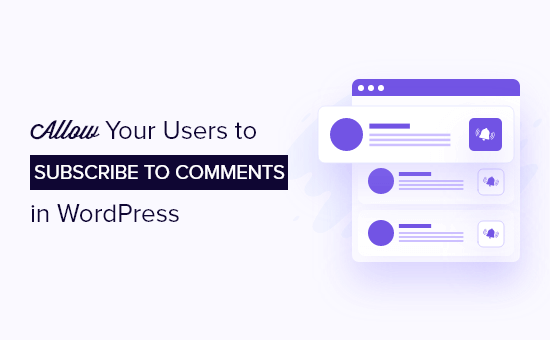 Why Let Users Subscribe to Comments?
Allowing people to comment on your WordPress blog is a great way to get feedback and learn about your audience's problems.
However, most of the time your users will visit your website, leave a comment, and never return. That is because they forgot about their comment.
By allowing users to subscribe to comments, they'll get email alerts whenever someone comments on the blog post. This will remind them about their comment, bring them back to your website and increase engagement.
Comment subscription also allows people to follow comment threads that generate a lot of discussions or heated debates.
Sadly, WordPress doesn't allow visitors to subscribe to comments by default. However, you can easily add this missing feature using a WordPress plugin.
That said, let's look at how to allow users to subscribe to comments in a WordPress website.
Allow Users to Subscribe to Comments in WordPress
The easiest way to set up a subscription to comments is by using the Subscribe to Comments Reloaded plugin.
It's a free WordPress plugin that allows your users to sign up for email notifications for a particular comment thread. It also gives you full control over managing your subscribers and disabling comment subscriptions for specific articles.
The first thing you need to do is install and activate the Subscribe to Comments Reloaded plugin. If you need help, please refer to our guide on how to install a WordPress plugin.
Upon activation, go to StCR » Comment Form.
You'll now see a list of options. To start, make sure the 'Enable default checkbox' option is set to 'Yes'.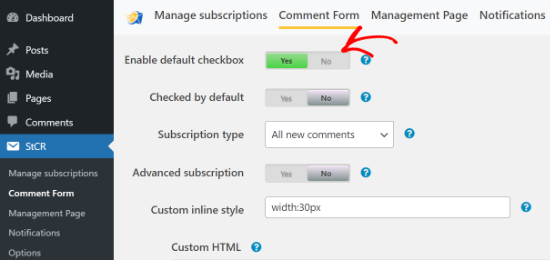 With this option enabled, visitors will see a text box that allows them to subscribe to comments on your WordPress blog post.
By default, the plugin will show the following message to visitors: Notify me of followup comments via e-mail. You can also subscribe without commenting.
To change this message, simply type some new text into the 'Default label' box.
Just make sure not to change the 'subscribe' link as this gives visitors the option to subscribe without commenting.
In this section, you can also change the text that visitors will see when they subscribe to comments in a blog post and when their subscription still needs to be confirmed. You can also change the text that will be shown to WordPress adminsitrators.
When you're happy with how the plugin is setup, scroll to the bottom of the screen and click on the 'Save Changes' button.
Now if you visit your website, you'll see the comment subscription checkbox below the comment form.
If you click on the 'subscribe' link, then you can get email alerts without posting a comment.
Additional Comment Subscription Options
The Subscribe to Comments Reloaded plugin offers more settings that you can use to customize your comment subscriptions.
There are options to safely remove the plugin without losing your subscribers. You can also change the date format and enable the double-check option to send an email to confirm the comment subscription.
Besides that, you can edit more settings under the 'Options' tab.
For example, you can track users who subscribe without commenting, enable subscriptions for blog posts only, or even for only logged-in users. This is useful if you run a WordPress membership website.
If you scroll down, the plugin also offers a few security options that can help combat comment spam.
You can set up a challenge question on the subscription form and also enable reCAPTCHA.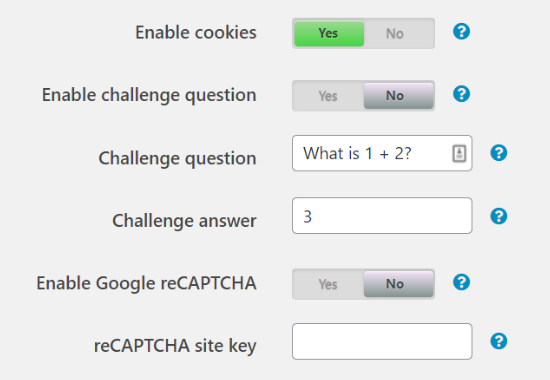 Managing Comment Subscriptions
Subscribe to Comments Reloaded plugin comes with tools that can help you and your users manage subscriptions.
As the admin you can visit StCR » Manage subscriptions to manage your subscribers.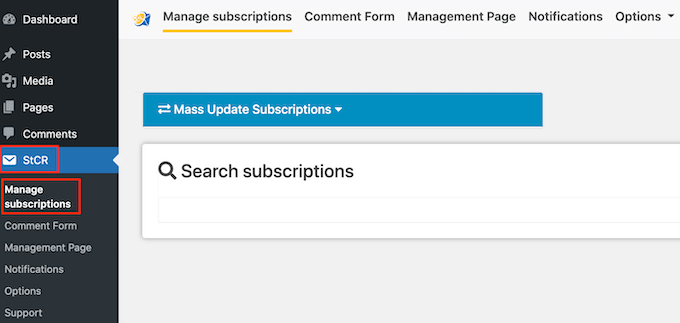 Here you can add new subscribers manually by entering the post ID and the email address where you'll send the alert.
Then, open the 'Status' dropdown and choose 'Active.'

Users can manage their own subscriptions by going to:
http://www.example.com/comment-subscriptions/
They simply need to replace example.com with your own domain name. This URL is also included in all of the subscription email alerts, so they can easily manage their subscriptions and cancel them at any time.
To change the email notifications, simply click on the 'Notifications' tab. You can now edit the sender email address, the subject line, and even the email wording.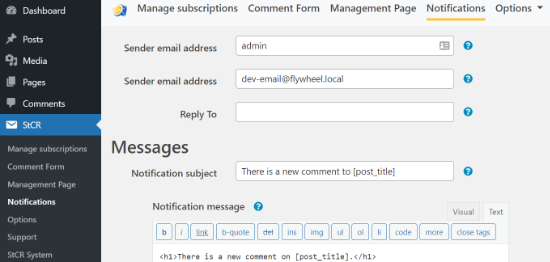 After setting up the plugin, it's a good idea to subscribe to a comment thread to check that WordPress is sending the emails correctly.
If you don't get any email notifications, then check out our guide on how to fix WordPress not sending email issue.
We hope this article helped you allow your users to subscribe to comments in WordPress. You may also want to check out our guide on how to allow user registration on your WordPress site and our expert pick of the best email marketing services for small businesses.
If you liked this article, then please subscribe to our YouTube Channel for WordPress video tutorials. You can also find us on Twitter and Facebook.