Are you receiving a lot of spam comments on your WordPress blog? You're not the only one. Thankfully over the years, we have learnt several ways to combat comment spam in WordPress. In this article, we will share some of the most valuable tips, and WordPress plugins to combat comment spam in WordPress.
1. Activate Akismet
Akismet is one of the most valuable plugins for WordPress. You do not need to download it as it comes pre-installed with all WordPress installation. But you do need to activate it and get an API key. You can find out more about Akismet in our Akismet 101 Guide for WordPress Beginners. Without this, you have no chance against SPAM. Akismet does a great job in catching SPAM comments. Although sometimes good comments get filtered as SPAM, but you can always recover them by going through your SPAM comments regularly.
2. Nofollow Comment Links
Sometimes new bloggers add plugins to remove nofollow attribute from comment author links. They think that by making these links dofollow they will be able to encourage more users to leave comments. This results into a very high number of spam comments. Even non-spam comments are usually submitted by users who are not interested in the discussion but the link back. Remember, its always about quality not quantity. It is always a bad idea to use plugins that share link juice via comments. If you are not using any such plugin, then thats great you can move on to the next step.
3. Reduce Comment Spam Using Cookies
To use this method you will need to install and activate the Cookies for Comments plugin. Most spam bots are automated scripts, and in order to spam more sites in less time they don't download any images or stylesheets. This plugin sends users a stylesheet or image file whenever they access a page with the comment form. If a user's browser automatically downloads those files then the plugin sets a cookie identifying them as legit users. To learn more how to use this clever solution, checkout our guide on how to reduce comment spam using cookies.
4. Block Spam Comment Bots Using Honeypot
Honeypot technology is an effective method to trick spambots into identifying themselves. First you need to install and activate the WP Spam Fighter. Upon activation simply go to Settings » WP Spam Fighter and enable the honeypot protection. This will add a hidden form to your comments area visible only to bots. These spam bots are usually programmed to fill out all fields in a form. Learn more about how to block spam comment bots in WordPress using honeypot.
5. Add Captcha Verification
Using WP-reCAPTCHA plugin, you can enable recaptcha challenge on your comment forms. Recaptcha shows an image containing characters, users need to type those characters to prove that they are human. While recaptcha is an effective way of blocking spam bots, it does nothing to prevent your site from manually submitted spam comments. Another concern with recaptcha is that they make it difficult for users to submit comments. On the other hand, reCAPTCHA is a quick and effective way to block spambots. See our guide on how to block spam comments in WordPress with CAPTCHA.
6. Removing Website URL Field from Comment Form
The URL field in the comment form attracts not only spammers (both automated and human) but it also invites people who have absolutely no interest in discussion at all. These comments usually contain a line of two of irrelevant non-sense, the comment author name will contain a keyword or a combination of real name with keyword like Sally from Dunder Mifflin, or John @SEOconsultants, etc. Removing the URL field from comment form will discourage this kind of behavior on your website. See our guide on how to remove URL field from WordPress comment form.
7. Disable Comments on Media Attachments
WordPress automatically creates image attachment pages where users can see an image and even leave a comment for it. IF you are linking your images to the attachment page, then after a while you will have lots of attachment pages with comments enabled on them. If images are the central part of your content then that's fine. But if you don't want users to comment on images instead of posts then you should turn off comments on media attachments. Here is a tutorial on how to disable comments on WordPress media attachments.
8. Disable HTML in Comments
Another handy tip to discourage links in comments is disabling HTML in comments. The easiest way to do this is by using Peter's Literal Comments plugin. Simply install and activate the plugin and any comments submitted to your site after that will get all HTML parsed through WordPress filters. This will change double quotes, less than and greater signs into HTML entities. Learn more about disabling HTML in WordPress comments.
9. Less Annoying Captcha
As we mentioned earlier that many users find CAPTCHA annoying and disruptive. A less annoying alternative to CAPTCHA is the Math Quiz plugin, which asks users to solve a simple math problem to prove that they are human. Simply install and activate the plugin, and then visit Settings » Math Quiz to configure it. The plugin allows you to modify comment form CSS, though in most cases you wouldn't need to. It also allows you to choose where you want an image based math quiz or simple plain text quiz. Plain text quiz is easy to read but also easy to solve by spambots. The image based math quiz is not that readable, but is slightly difficult to solve by spambots.
10. Disable Trackbacks
A big portion of comment SPAM is trackbacks. For some blogs it is not even necessary to have trackbacks. You can choose to disable trackbacks on your entire blog, or in an individual post. This can prevent comment SPAM and it is very easy to do so.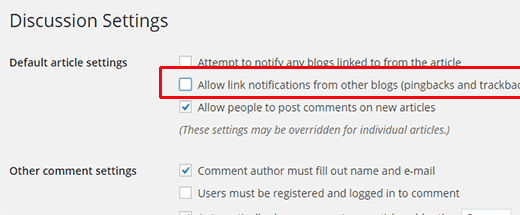 You can find the above option by visiting Settings » Discussion. This will turn off trackbacks for your entire site. But if you want to turn off trackbacks on specific posts, you will need to specify it either when writing a post, or edit a post and change this option.
11. Turn off Comments on Old Posts
WordPress allows you to set a comment closure deadline. Simply go to Settings » Discussion, under 'Other comment settings' you will see the option 'Automatically close comments on articles older than'. Check the box next to this option and enter the number of days you want comments to be displayed on a post.

WordPress will now automatically close comments on posts older than the number of days you defined for this option. If you need, you can override comment deadline in WordPress for individual posts where you would like comments to remain open.
12. Switch Off Comments
In case you feel that you don't need comments on your WordPress site, or comment moderation goes out of your hands, remember that you can always switch off comments in WordPress. All you have to do is go to Settings » Discussion and uncheck the box next to 'Allow people to post comments on new articles'.
You can also make comments for registered users only by checking the box in your Settings ~ Discussion page.
Frequently Asked Questions by Users
Why are they spamming me?
They want to get a better pagerank or lure unsuspecting visitors to dubious and malicious sites. They think that by spamming they can get more links and it will some how positively affect their pagerank. It is nothing personal against you for the most part, and many blogs face this issue, you are not the only one.
What happens to comments that are marked as "Spam"?
The comments that you mark as spam, are not displayed and are listed on a separate page when you have Akismet installed. You can delete Spammed comments in batch and/or recover good comments from the SPAM list.
Why is every comment going into the moderation queue?
Go to the Settings ~ Discussion panel and make sure that "An administrator must approve the comment" is unchecked. With that option selected, all comments are sent to the moderation queue to await approval. Make sure that Hold a comment in the queue if it contains more than x links is not blank and contains a number higher than zero.
We hope this article helped you find useful tips and tools to combat comment spam in WordPress.
If you liked this article, then please subscribe to our YouTube Channel for WordPress video tutorials. You can also find us on Twitter and Google+.