Do you want to allow blog users to moderate comments in WordPress?
It can be difficult for large blogs with lots of visitors to moderate comments. A lot of blogs solve this problem by creating a separate user role just to manage all the comments.
In this article, we'll show you how to allow blog users to easily moderate comments on your WordPress blog.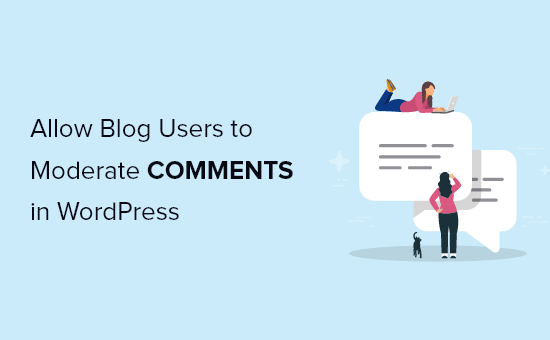 Why Allow Blog Users to Moderate Comments in WordPress?
Comment moderation can be a challenging task for larger blogs. If you're slow to approve comments or delete spam, then visitors may stop interacting with you.
By giving blog users the power to moderate comments, you can respond to questions more quickly, combat spam, and deliver a better experience for your visitors.
These blog users can be a member of your customer support team, your community manager, or even an active and trusted commentor on your WordPress blog.
WordPress has a built-in commenting system, but there's no way to create user accounts that are only responsible for comment moderation. In order to moderate comments, the user would need Editor access to all of your content. This can be a big security risk, especially if you're giving the comment moderator role to a visitor or user.
Thankfully, you can create a separate comment moderator user role with a WordPress plugin, and keep your site safe.
That being said, let's take a look at how you can easily allow blog users to moderate comments in WordPress.
How to Add a Blog Comment Moderator Role to WordPress
The best way to add a comment moderator user role is with the Comment Moderation Role plugin. This plugin creates a new WPB Comment Moderator role that allows users to approve, decline, or edit any comments on any post, without giving them access to other parts of the WordPress dashboard.
This plugin also allows your Authors and Contributors to moderate comments on the posts they wrote. This makes it easy for your guest bloggers to interact with their readers, without them needing access to posts by other authors.
For more information, see our guide on how to add new authors to your WordPress blog.
The first thing you need to do is install and activate the plugin. For more details, see our step by step guide on how to install a WordPress plugin.
Upon activation, you'll have a new user role called 'WPB Comment Moderator.'
To assign this role to an existing user, simply go to Users » All Users. Then, check the box next to that person's username.
After that, simply open the 'Change role to…' dropdown menu and select the 'WPB Comment Moderator' role.
You can then go ahead and click on 'Change.'

Now, when this person logs into their account they'll only have access to the comment moderation panel.
You can also create a new user and assign them the comment moderator role.
To do this, go to to Users » Add New and enter the new user's information, such as their email address and username.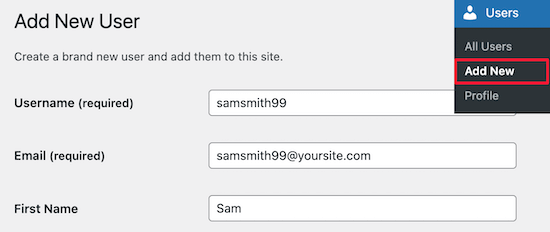 Then, open the 'Role' dropdown and select 'WPB Comment Moderator.'
After that, make sure you click on the 'Add New User' button to save the changes and create your new user.

Now, when this person logs into their account, they'll see a comment moderation dashboard similar to the image below.
Notice how this person can only moderate comments and edit their profile. All other WordPress admin dashboard features are hidden.

For more details on user roles and permissions, please see our beginner's guide to WordPress user roles and permissions.
We hope this article helped you learn how to allow blog users to moderate comments in WordPress. You may also want to see our expert pick of the best email marketing services for small business and how to allow user registration on your WordPress site.
If you liked this article, then please subscribe to our YouTube Channel for WordPress video tutorials. You can also find us on Twitter and Facebook.