Do you want to allow users to edit their comments in WordPress?
By default, WordPress doesn't allow users to edit their comments, which can be frustrating if the person spots a spelling or grammar mistake after posting their comment.
In this article, we'll show you how to allow users to easily edit their comments in WordPress for a short period of time.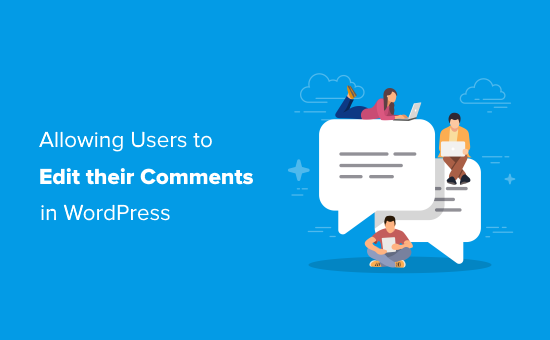 Why Allow Users to Edit or Delete their Comments?
Most WordPress websites allow users to submit comments on their articles after providing their name and email address. However, users can't edit or delete their comment by default.
Sometimes, people want to make changes after clicking on the 'Post Comment' button.
The most common scenario is fixing simple mistakes like a spelling or a grammatical error. Some users may also want to modify their comments to add or remove something.
There may also be some rare cases where a user changes their mind about posting a comment, and wants to delete it completely.
Whatever the case may be, you may want to allow people to edit or delete their comments for a short period of time, such as the first 5 or 10 minutes.
This time limit is important, as it stops link builders and spammers from abusing the comment section by adding links to comments that you've already approved.
If a comment gets lots of replies, then the time limit stops people from changing parts of the comment thread so it no longer makes sense to other readers.
That being said, let's take a look at how to easily allow users to edit their comments.
Video Tutorial
If you'd prefer written instructions, just keep reading.
Allowing Users to Edit Comments in WordPress
The easiest way to allow users to edit comments in WordPress is by using the Simple Comment Editing plugin. This simple plugin works out-of-the-box and lets you set your own time limit.
First thing you need to do is install and activate the Simple Comment Editing plugin. You can see our step by step guide on how to install a WordPress plugin for detailed instructions.
Upon activation, the plugin will allow your users to make changes to their comments for the first 5 minutes. After 5 minutes, users can no longer edit their comments.
You can change this time limit by going to Settings » Simple Comment Editing in your WordPress admin area.
On the settings page, you can change the time in the text field to anything you like.
However, we recommended setting the limit to under 30 minutes since we want to allow users to fix errors right away.
If you do change the time limit, then make sure you click on the Save Options button to store the changes.
Next, we recommend testing the plugin by posting a comment on any of your posts. After submitting the comment, you'll see a 'Click to Edit' link and a countdown timer below the comment text. The timer shows how much time you have left to edit the comment.
To modify your comment, select the 'Click to Edit' link and make your changes.
Just be aware that this plugin doesn't let you change the name, email, or website URL you originally entered when posting the comment.
When you're done, click on the 'Save' button to update the comment.
If you want to delete the comment, then go ahead and click on the 'Delete' button instead. This will open an popup asking you to confirm that you want to delete your comment.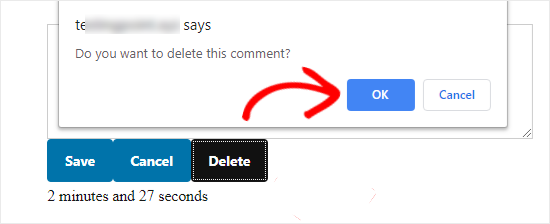 Go ahead to click on 'OK' to remove the comment.
We hope that this article helped you to learn how to allow users to edit their own comments in WordPress for a short period of time. You may also want to see our proven ways to make money online blogging and how to increase your blog traffic.
If you liked this article, then please subscribe to our YouTube Channel for WordPress video tutorials. You can also find us on Twitter and Facebook.