This is a guest post by Jim Wang
Google Analytics is a very powerful tool but for a new blogger, it's very overwhelming. It's all too easy to install Google Analytics tracking code in WordPress and then forget about it. Today, we'll be discussing how to use Google Analytics for your WordPress site. In this beginner's guide, I will show you my favorite Standard Reports, and how I use them to grow my blog and connect better with readers.
Every Google Analytics account has these reports and you don't need to do anything special within Analytics to activate them. Just log into your account and they're available on the left.
Where to start?
Without some business intelligence, Google Analytics will only give you numbers. And numbers are just numbers. You should start with some questions you want Google Analytics to answer because without those questions, you're just looking at numbers.
Here are the ones we will hope to answer with data in this guide:
How do I learn more about my audience?
How are people finding my site?
How do I get more traffic?
What posts do my readers like?
How fast is my site loading?
What's happening on my site right now?
How do I learn more about my audience?
The best way to learn more about your audience is to ask them with a survey. The next best way is to look under the Audience menu of Standard Reports on your Analytics dashboard.
From the audience reports, you can find out the location of your visitor, the technology he or she is using to access your site, and a litany of other interesting information.
For example, do you have a mobile friendly website? Should you? Look under Audience->Mobile->Overview to see how much of your traffic is accessing your site from a mobile or tablet device. If you look under Devices, it'll even tell you what type of device they are using.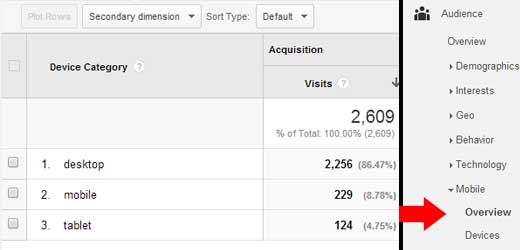 Ever wonder what time you should publish your post? Look under the Geo->Location, and you will see which country/region has majority of your users. Based on that determine the time you want to publish. There are tons of other information on the audience tab.
How are people finding my site?
There are two reports I love for finding this out. They are both under the Acquisition section.
The first is All Traffic and the second is it's close cousin All Referrals.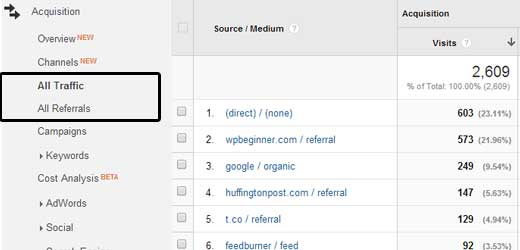 All Traffic tells you how someone discovered your site. It includes everything, from someone typing your domain name into their browser to clicking on a search result to clicking from another website.
All Referrals is a more specific report that only includes visits from people who clicked on a link to your website from another website. It excludes search traffic and direct visitors.
If you do guest posts on another blog, you can use All Referrals to find out whether that guest post has sent you any traffic. If you use social media, it can also tell you whether people are clicking through.
If you really want to dig into social media, look at the Social reports. The Social section will show you every social network that sent you any traffic. This includes social media sites, like Facebook and Pinterest, as well as social news sites, like Reddit and Digg, and news readers that have a social element, like paper.li and Pocket.
How do I get more traffic?
Building on the previous question, once we know how people are finding us, we know how we can get more people. There are two ways to do this – do more of the things that work or re-evaluate the things that don't.
If you're spending hours on Pinterest, but it only sends you a few visitors a month, then you want to evaluate how you're spending your time on the site. If you're spending only a few minutes on Facebook, but it sends you a lot more, them you may want to spend more time.
To get more data, revisit the Social Overview report and click on your best social network. This reveals the Network Referrals report for that tells you which pages were popular on that social network. (You can also track links in WordPress using Google Analytics).
Are there trends in the articles that appeal to users of that network? If so, write more like them and promote those articles to that network.
If there are no trends, are there popular articles you can share across other networks that you may have missed?
What posts do my readers like?
To answer this question, I recommend looking at your All Pages report, found under Behavior->Site Content->All Pages.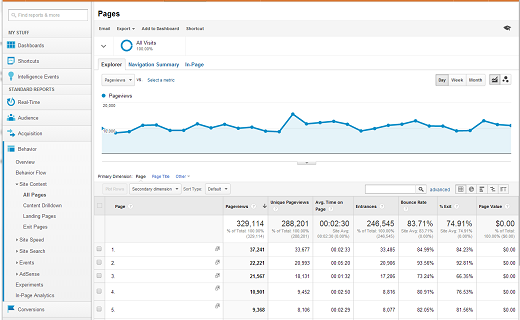 All Pages tells you which posts and pages are the most visited on your site. It also gives you the average time on page, bounce rate, and exit percentages in the Standard Report.
Here's how to interpret each of those metrics:
Pageviews/Unique Pageviews: This is a count of the number of visitors you have. Pageviews is how many times the page was loaded, unique pageviews is how many times a unique individual loaded the page. If someone loads a page up twice, it counts as two Pageviews but just one Unique Pageview.
Avg. Time on Page: This is an average measure of how long a reader stays on the page. The goal of each page is different, so you can't compare one page with another, but you can use this to see which pages capture a reader's interest longer than another. If you see that the average on a page is just a few seconds, it might be a sign that your post is not interesting (or it's simply short, only you will know).
Bounce Rate: Bounce rate is the percentage of readers who only visited one page in their session. Don't read too much into a high number, you need to understand intent first.
While all three are useful metrics, average time on page is the most important one when trying to guess the effectiveness of your articles. The longer, the better.
As a general rule, the average person reads at a rate of 130 words per minute. You can use that as a benchmark to help you decide if people are reading your whole post or skipping out after a while. It's an imperfect measure but time on page is an average, so it should give you a general idea.
This, coupled with pageviews and bounce rate (and non-Analytics factors like social sharing) will give you a good sense of what's working and what's not.
How fast is my site loading?
Site speed should always be important for a blogger, you don't want your readers waiting too long when loading your site. You can always test this with site speed tools but nothing beats real world data.
Under Behavior->Site Speed->Page Timings, you can see how long it's taking your pages to load, as well as how they compare with your site as a whole, based on real world data.
In the menu, right below that report, are Speed Suggestions you can implement to make your site faster. I recommend doing these, or finding someone to make these changes.
What's happening on my site right now?
I would be remiss if I didn't pay a little homage to one of my favorite standard reports – Real-Time. Real-Time tells you who is on your website this very second, what they're reading and how they got here.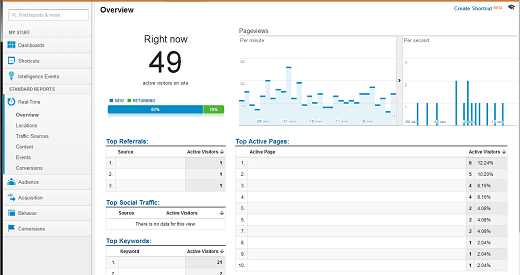 If you suddenly find yourself the beneficiary of a viral post because someone shared it on a popular social media website, this report would tell you. Maybe it's a post on Reddit, you could go to the page and contribute to the discussion. Maybe it's a mention in a major newspaper, you could email the journalist to say thank you and build a relationship.
Having real time information you can act upon is solid gold, and it's all available within the Real-Time report.
Start with these Standard Reports but don't be afraid to expand and look at others. As you review them, think about what questions they might answer about your blog. Once you have the question, the numbers will make more and more sense.
Understand that Google Analytics is a beast. What we just covered here is a small grasp. The more you play with it, the better you will get at it. You can use the secondary dimensions, conversion reports, and so much more. I must warn you that analytics can be addicting, so don't go overboard. I hope this article helped all WordPress beginners on how to use Google Analytics for your site.
Jim Wang built a seven figure personal finance blog powered by WordPress and now shares his thoughts on microblogger.com. For actionable advice on how to build your own business check out his website Microblogger.