Are you looking for the best LMS plugin for your WordPress site?
Learning Management System (LMS) plugins allow you to create and run online courses like Udemy and LearnDesk. A perfect WordPress LMS plugin has everything you need to manage your online courses, run and grade quizzes, accept payments, and more.
In this article, we will compare the best WordPress LMS plugins to help you choose the perfect solution for your online learning website.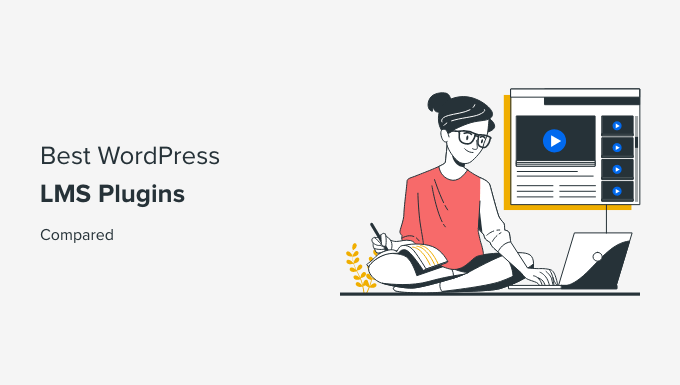 Starting a Learning Website (Training Site, Sell Courses, and More)
There are plenty of website builders and online course platforms that you can use to build an online training website or marketplace. However, we always recommend WordPress because it offers you the maximum flexibility and freedom.
There are two types of WordPress, and it's important not to confuse them.
First, there is WordPress.com which is a hosting service, and then you have the original WordPress.org also known as self-hosted WordPress.
To start a learning website you'll need WordPress.org because it has more features and flexibility. It also allows you to install any WordPress LMS plugin. For a detailed comparison, you can see our guide on the difference between WordPress.com and WordPress.org.
To start a WordPress.org website, you'll need a domain name ($14.99 / year), and WordPress hosting ($7.99 / month). If you want to get paid for doing online courses then you'll also need an SSL certificate so you can accept online payment safely ($69.99 / year).
This is quite a lot of money if you're just starting to create online courses.
If you're working to a tight budget then we recommend Bluehost. They're one of the largest hosting companies in the world, and they're offering our readers a free domain name, free SSL certificate, and a 60% discount on web hosting.
Basically, you can start creating and selling online courses for $2.75 per month.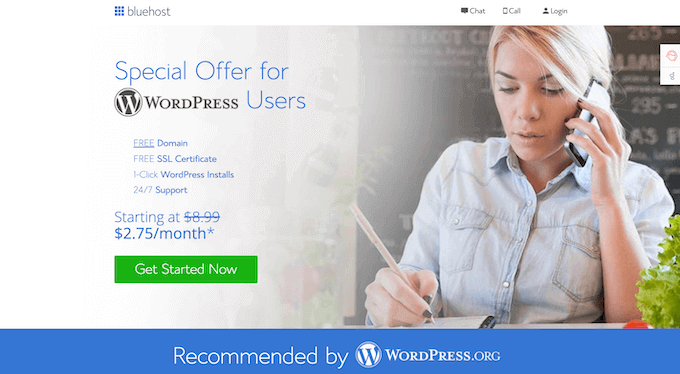 If budget is not an issue and you want the best performance, then we recommend using a managed WordPress hosting provider such as SiteGround or WP Engine.
After purchasing hosting, you will need to install WordPress on your website.
All three hosting providers have a guided one-click install for WordPress, so you should be able to get your training website running within minutes. If you need help, then you can always see our guide on how to install WordPress.
Once you have installed WordPress, you're ready to find the best LMS plugin for your WordPress website. These plugins allow you to create, manage, and make money by selling online classes from your website.
That being said, let's compare the best WordPress LMS plugins so you can choose the one that's perfect for your learning website.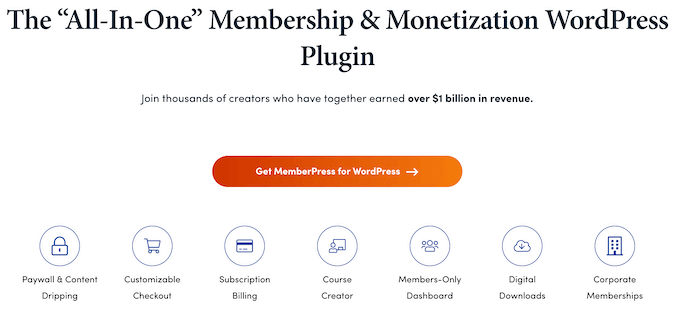 MemberPress is the most powerful WordPress membership plugin. It also has built-in features that allow you to easily create and manage online courses.
MemberPress comes with a special Classroom Mode, so you don't have to spend ages designing a completely custom online classroom. Classroom Mode takes care of the design for you, so your courses always look great.
MemberPress automatically adds an easy-to-navigate style to your online training. In this way, your students will always know exactly what they need to do next and can finish their training without any confusion.
The MemberPress course builder is built on top of the WordPress block editor.
This means you can add lessons, topics, categories, embed videos, images, and more using the WordPress tools that you're already familiar with.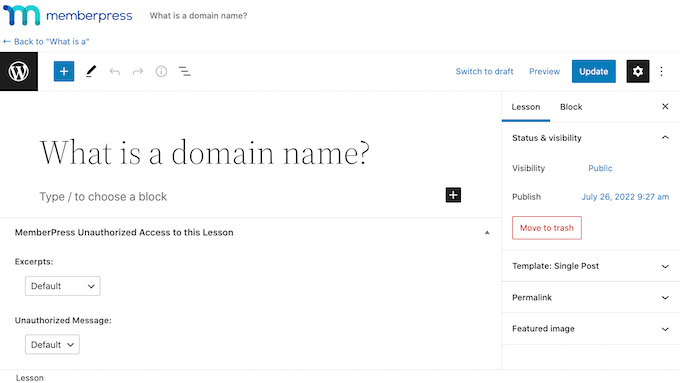 For more advanced users, the course builder has full support for custom CSS so you can give your online courses a completely unique design.
You can see each student's progress and track how far they are from completing their training directly from the WordPress dashboard.
You can also use MemberPress to create free courses or you can make money by selling membership subscriptions.
These subscriptions allow you to control exactly who has access to each course. For example, you might create a single membership level that gives subscribers access to all your courses. This is similar to a Skillshare, LinkedIn Learning, or a Coursera membership.
Another option is to create individual membership levels for specific courses.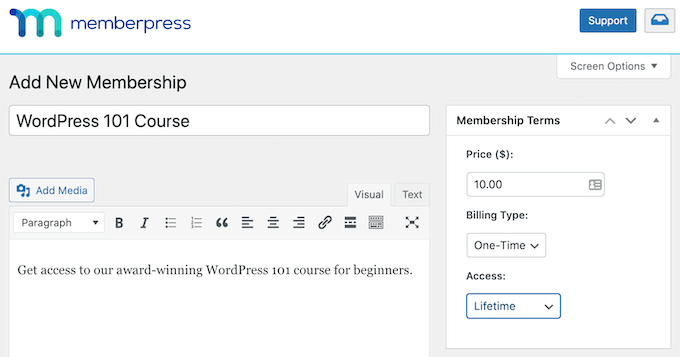 Some MemberPress users increase their sales by creating special bundles and packages.
For instance, you could create a membership package that gives users access to all your beginner-level courses. This can get you more members and may even encourage your existing members to upgrade to a more expensive membership package in order to unlock new perks.
No matter how you monetize your courses, MemberPress can collect payments using PayPal, Stripe, Authorize.net and more.
MemberPress also comes with a powerful content dripping feature so you can show restricted content to members after a certain amount of time. For example, you might release one new lesson a week. This can keep members engaged with your content and encourage them to keep renewing their membership.
MemberPress works with many popular third-party tools that you may already be using to build an audience, capture leads, and get more sales. This includes top email marketing services such as SendinBlue, Constant Contact, Drip, and 1000+ others.
If you want to get more sales and signups then you need a way to see what's working and what's not working on your training website. The good news is that MemberPress works perfectly with Google Analytics.
Price: MemberPress subscriptions start at $179 for a single site licence with 1 year of support and automatic software updates. You'll also get the MemberPress Courses addon included at no extra charge so you create unlimited courses and have unlimited students.
Grade: A+
Review: MemberPress is the best membership site plugin available. With their Courses addon you can create online training courses in just a few moments, and your courses will always look great with no coding required.
The MemberPress plugin's powerful membership rules let you control exactly who has access to your courses. This makes it easy to sell your online courses, reward your members with access to exclusive content, and create engaging drip campaigns.
You can also track your students as they complete the different lessons and classes. This allows you to see the areas where students are getting stuck and may need some extra help.
For a step-by-step guide on how to get started with MemberPress, check out our ultimate guide on creating a WordPress membership site.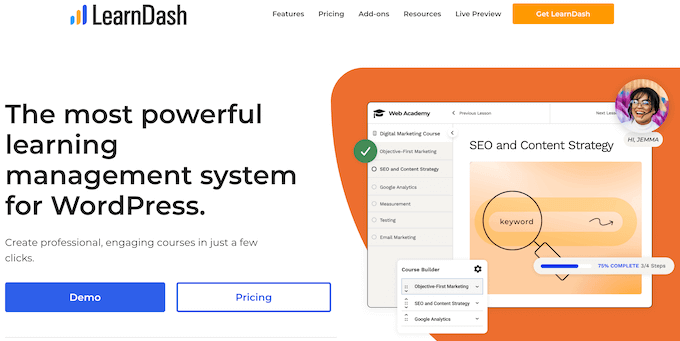 LearnDash is a popular and easy to use WordPress LMS plugin with many powerful features.
It comes with a simple drag and drop course builder so you can create lessons, topics, quizzes, and categories. You can deliver all your lessons at once or schedule them using LearnDash's drip feed feature.
Using LearnDash, you can give your students assignments and then approve or comment on them. It also comes with quiz and test management tools with multiple question types.
LearnDash lets you control exactly how students take your tests and quizzes. For example, you can set time limits, limit attempts, and randomize the questions. This will make it more difficult for students to cheat even when they're unsupervised.
You can easily set rules for students such as requiring them to complete a lesson before moving onto the next lesson.
Another great LearnDash feature is dynamic forums. This lets you create a forum for your individual courses so students can interact with each other.
This can build a sense of community around your online training website, which will encourage students to sign up for more courses.
If you want to make money from your online training then LearnDash gives you lots of options. If you plan to sell memberships then LearnDash works with MemberPress.
LearnDash also lets you sell your courses as a one-time purchase, subscriptions, or even via an online shopping cart powered by Easy Digital Downloads.
Simply create a new digital product using the free Easy Digital Downloads for LearnDash addon, link it to your LearnDash course, and you're ready to start selling courses with Easy Digital Downloads.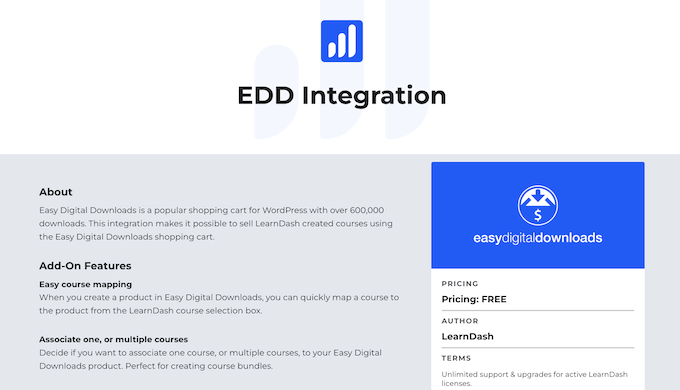 If you run an online store then you'll be happy to know that LearnDash integrates with many popular WordPress eCommerce plugins including WooCommerce.
When it's time to collect your funds, LearnDash can accept payment using multiple popular payment gateways including PayPal, Stripe, and 2Checkout.
If you do choose LearnDash, then you may also want to take a look at their starter WordPress LMS themes, which includes some free LMS themes.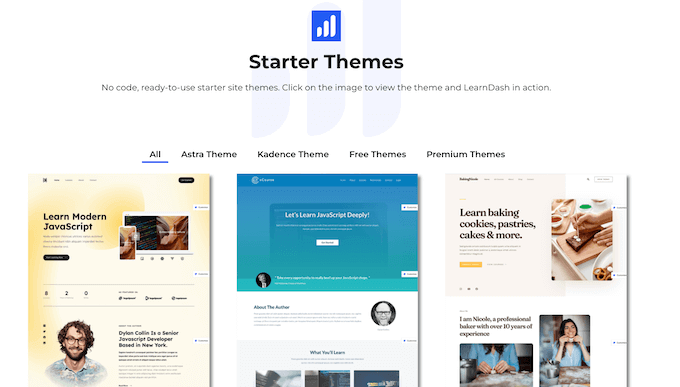 Price: You can buy a LearnDash subscription from $119.40 for a single site license with 1 year of support and updates.
Grade: A+
Review: LearnDash is a user-friendly and flexible LMS plugin for WordPress users. It comes with lots of different features that you can use to manage your online courses.
LearnDash works perfectly with many third-party plugins and tools including popular eCommerce plugins such as Easy Digital Downloads. This makes it easy to sell your online training courses.
LearnDash is a perfect LMS tool for schools, training organizations, entrepreneurs, and anyone who wants to create and sell online courses with ease.
For a detailed LearnDash review and instructions on how to get started, see our tutorial on how to easily create an online course with WordPress using LearnDash.
Bonus Tip: To unlock even more powerful features in LearnDash, try the Uncanny Toolkit Pro for LearnDash. This popular addon for LearnDash has over 20 powerful modules including automated branded transcripts, a course timer, and the ability to automatically mark lessons and topics as completed.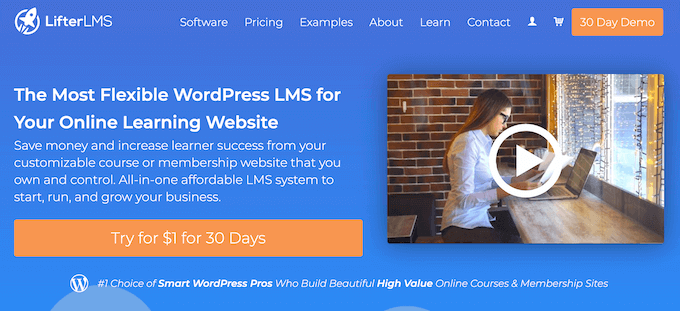 LifterLMS is another powerful all-in-one WordPress LMS plugin. It allows you to create engaging online training using a drag and drop course builder.
You can make your courses more appealing by creating multimedia lessons featuring video, audio, images, and more.
LifterLMS supports multi-tier courses with training modules, lessons, categories, and more. Once a student completes a course, you can test their knowledge with multimedia quizzes.
LifterLMS gives you the flexibility to create smaller courses or complete degree programs. You can even create tracks where students must complete your courses in a particular order. In this way, you can encourage students to take multiple courses on your LMS website.
To keep students engaged and get recurring revenue, LifterLMS has content dripping which allows you to release lessons over time.
You can also set course prerequisites to guide the training experience. For example, students might have to complete a specific course or module in order to unlock more content on your WordPress website.
To keep learners engaged, LifterLMS comes with powerful features including automated emails, gamification with badges, and even certificates that students will get when they complete a course.
Once a student finishes a course, they can leave you a review or testimonial. This is a powerful form of social proof that can get you more sales.
If you need even more features, then LifterLMS has a useful collection of addons that you can use to manage affiliates, integrate with eCommerce plugins, sell group memberships in WordPress, and more.
If you want to make money from your online courses, then LifterLMS can accept one-time or recurring payments via credit card or popular payment gateways including PayPal and Stripe.
Pricing: LifterLMS subscriptions start at $120 for a single site without any addons.
Grade: A
Review: LifterLMS is a powerful and flexible choice for a WordPress LMS plugin. It is easy to use, and the setup wizard creates all the pages you'll need to run a successful online training website including a course catalog page.
It is useful for fitness experts, musicians and bands, leadership trainers, education entrepreneurs, and anyone who wants to earn money by selling online lessons.
However, it is a little more expensive than some other options, and the cost will increase if you need any of the LifterLMS addons.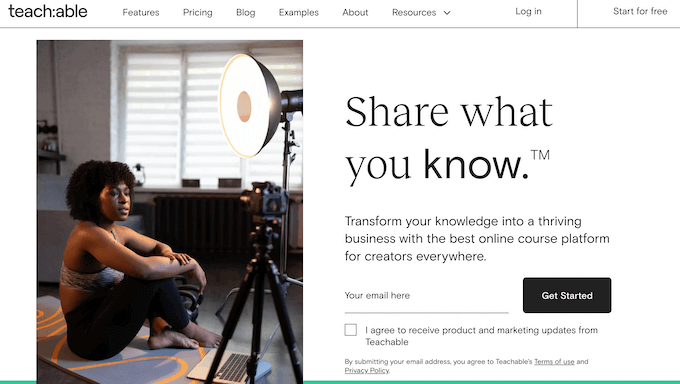 Teachable is a powerful drag and drop course builder. Unlike the other LMS on this list, Teachable is not a WordPress plugin. Instead, you can use Teachable on a sub-domain, a custom domain name, or you can simply add a link to your school's page.
Teachable hosts your course and provides you with all the tools you need to build highly interactive online courses. It also comes with built-in email marketing integration, and a powerful sales page builder that you can use to promote your new training business.
To help fine-tune your training, Teachable comes with built-in analytics and advanced data reporting. This helps you monitor student engagement and adjust your courses to get more sales, signups, and course completions.
Teachable works with many popular third-party marketing tools including Mailchimp, Zapier, and ConvertKit.
To help grow your training business, Teachable has a student referral feature and advanced affiliate marketing tools.
When it comes to payments, Teachable will handle all the course fees for you. You will then get your payment via a gateway such as PayPal, Stripe, Google Pay, Apple Pay, and more.
Payment periods may vary depending on your pricing plan.
Pricing: Starting from $29 per month
Grade: B+
Review: Teachable has everything you need to to create and sell online courses. You can create as many different courses as you want and enroll an unlimited number of students.
Since Teachable is a standalone platform, you aren't responsible for updates and backups. This means you can run a successful training business without lots of extra admin work.
The downside is that Teachable is more expensive compared to your typical WordPress LMS plugin. There may also be some additional fees. For example if you buy a Basic plan, then you will be charged a 5% fee on each transaction.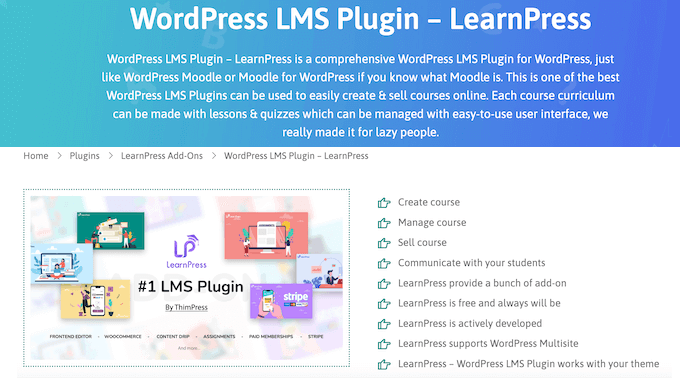 LearnPress is a free WordPress LMS plugin. This plugin aims to provide a similar experience to using a Moodle LMS, and even promotes itself as 'Moodle for WordPress.'
With LearnPress it's easy to re-use your content. You can use lessons and quizzes from one course within another course. Even better, you can export your content to any other WordPress site that uses LearnPress.
If you have multiple WordPress sites where you want to sell online learning, then LearnPress' export feature plus built-in WordPress multisite support can save you a lot of time and effort.
After creating a course, you can release it for free or charge a fee, which can either be a one-time or recurring payment. LearnPress also gives you the option to publish some lessons as a free preview, which can encourage people to buy the full course.
The LearnPress plugin is free, but there are paid addons if you want more advanced features.
You can use these premium extras to add support for content dripping, paid memberships, offline payments, bbPress and BuddyPress integration, and more.
Pricing: You can download LearnPress for free. You can buy the premium addons separately or purchase the LearnPress Pro addons bundle for $249.99.
Grade: B+
Review: We found LearnPress to be feature-rich and flexible. The initial setup may be a bit difficult for beginners compared to some of the other WordPress LMS plugins on the list.
LearnPress supports PayPal by default, so this is perfect if you already use PayPal as your preferred payment gateway. Other payment gateways are available as paid addons including WooCommerce payment gateway and Authorize.net.
As a free plugin, support is limited compared to some of the premium LMS plugins. However, you can get some support via the official LearnPress forums.
LearnPress is a free LMS plugin for WordPress that has everything you need to start selling online training courses. However, you may need to buy some of the premium addons to get the most out of this free LMS plugin.
WP Courseware is another great WordPress LMS plugin that comes with a drag and drop course builder. This powerful builder has tons of features that you can use to create big or small online courses.
Whenever you publish a course, WP Courseware will automatically create a listing to display that course on your website and encourage students to sign up.
Each course can have multiple modules, units, and quizzes. To support offline learning, WP Courseware lets students download courses in any format including PDF, media files, or text.
If you want to create a guided learning experience then WP Courseware supports both course pre-requisites and course tracks.
It also has content drip features so you release lessons based on the date or the number of days that have passed since the student enrolled. In this way, you can keep students engaged and motivated. For more information, see our guide on how to add a LMS in WordPress with WP Courseware.
WP Courseware has instructor profiles, student grade books, and many other features that help to create an engaging experience for users. It also comes with a question bank so you can quickly create quizzes for different courses and modules.
If you want to sell your online training then WP Courseware has powerful monetization features. This includes a shopping cart that you can connect directly to PayPal or Stripe and start selling your courses as either a one-time purchase or a recurring subscription.
You can create an unlimited number of courses, and WP Courseware can support an unlimited number of students. This means that WP Courseware can support your online learning business as it continues to grow.
Pricing: WP Courseware licenses start at $129 for 2 sites with 1 year of support and updates.
Grade: B
Review: WP Courseware is a good choice to build your online courses.
It is easy to use and is flexible enough to create an engaging learning environment. Best of all, it works with any WordPress theme without any compatibility issues.
Sensei is a powerful WordPress LMS Plugin created by the folks behind WooCommerce and Jetpack. It is flexible and easy to use and follows the same best practices as both WordPress and WooCommerce.
Sensei lets you create courses directly inside the WordPress editor so you can continue to use the tools you're familiar with.
You can add lots of different content to your courses including images, slideshows, image galleries, and videos. This can help reinforce learning and make the experience more fun for your students.
You can run quizzes, assignments, grade them automatically or manually, and even offer badges and certificates to students using Sensei. There is also an instant messenger so you can communicate with students directly and offer them help in real time.
To sell your courses and accept payments you will need to use WooCommerce. You can then simply create a WooCommerce product and connect it to your Sensei course.
Pricing: A single license of Sensei LMS starts at $149 for 1 year of support and updates.
Grade: B
Review: Sensei is a good solution for anyone who is looking to create and sell online courses using the familiar WordPress tools.
In particular, the Sensei LMS plugin is perfect for anyone who already runs an online store using WooCommerce. Since it's created by the same team, WooCommerce and Sensei work perfectly together.
However, we feel that the WooCommerce integration could be difficult for anyone who isn't already familiar with the WooCommerce plugin. There are also fewer features and addons for Sensei than other LMS plugins on this list.
Which is the Best WordPress LMS Plugin? (Expert Pick)
We believe that MemberPress is the best WordPress LMS plugin. It's very beginner-friendly and lets you create online courses with beautiful designs, and without having to write a single line of code.
Their powerful membership rules make it easy to control who has access to each course. You can also sell subscription plans, course bundles, and more.
By choosing MemberPress as your WordPress LMS, you'll get access to other advanced features including content dripping, group memberships, protected file management, reminder emails, and more.
MemberPress integrates seamlessly with over a thousand different email marketing automation services to help grow your new online training business.
If you're looking for a MemberPress alternative, then we recommend LearnDash. It also comes with great features and lots of useful integrations.
We hope this article helped you compare the best WordPress LMS plugins with their pros and cons. You may also want to see our guide on the must have WordPress plugins to grow your business, and our comparison of the best chatbot software to improve site engagement.
If you liked this article, then please subscribe to our YouTube Channel for WordPress video tutorials. You can also find us on Twitter and Facebook.