Are you looking for the best quiz plugins for your WordPress website?
Many popular websites like BuzzFeed use quizzes to create viral content and boost user engagement on their websites.
In this article, we have hand-picked the best quiz plugins for WordPress that will help you engage your users and increase the time spent on your site.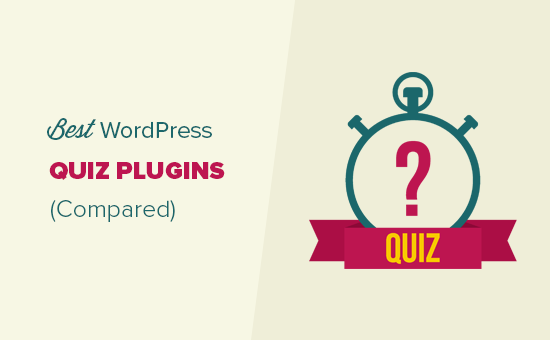 Video Tutorial
If you'd prefer written instructions, just keep reading.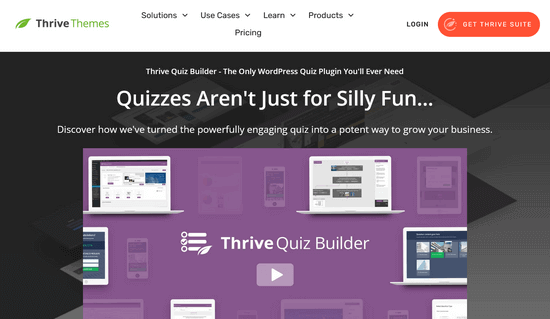 Thrive Quiz Builder is the best quiz builder plugin for WordPress, used by over 21,000+ website owners. It lets you build very complex quizzes with zero coding required.
There are 5 different quiz types including right / wrong, number, percentage, personality, and survey. You can build your quiz from scratch or use one of the pre-made quiz templates to get a head start.
You can quickly lay out all of your questions and answers in the user-friendly quiz builder window. This helps you create a quiz that flows exactly how you want it to.
The quiz builder also makes it easy to create branching questions, where you ask different questions based on the previous answer.
When users complete a quiz, you can display dynamic results to improve engagement. For example, you can show personalized content for each different quiz result.
Plus, it comes with powerful analytics to see how many people are starting and finishing your quizzes. You can even see the exact point where visitors are dropping off so that you can improve your quizzes and increase conversions.
Other important features include a built-in badge editor, question weighting, optin gates, A/B testing, and more.
Formidable Forms is the most advanced WordPress form builder plugin in the market. It comes with a simple but very powerful drag-and-drop form builder that helps you create forms that go beyond simple contact forms.
It's equipped with powerful form templates, or you can start with a blank form and build your quiz from scratch.
You can create quizzes that are scored automatically or create your own grading scale. Once a user submits a quiz, there's the option to email the score or display it in a success message.
Plus, there are multiple ways to format the quiz score, including the total answer count, letter grade, percentage of correct answers, and more.
Note: You'll need to get at least the 'Business' plan, which includes the useful Quiz Maker addon.
For more details, see our guide on how to easily create a quiz in WordPress.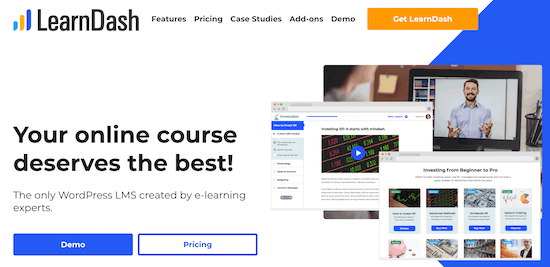 LearnDash is one of the best WordPress LMS plugins in the market. It comes with a powerful quiz feature that allows you to create any type of quiz that you need.
It has multiple question types including single choice, multiple choice, free text, sorting, matching, essay, fill-in-the-blank, and survey.
Some of the other features include timed quizzes, randomized questions, a question bank, multi-page quizzes, limit attempts, and more. You can even add media to any of the question-and-answer choices.
Post-quiz options include redirects, messages, quiz result displays in multiple styles, leaderboards, certificates, and levels.
Whether you are selling online courses or creating viral content, LearnDash is one of the most flexible WordPress quiz plugins for all types of quizzes.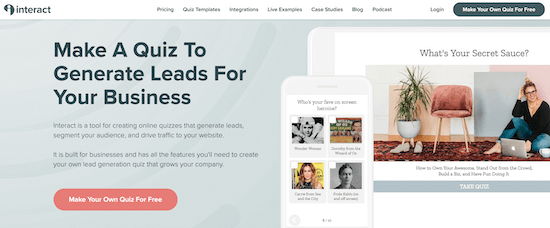 Interact Quiz Maker is a powerful web-based app to generate viral quizzes and use them to generate leads, build social media following, generate traffic, and improve conversions.
It allows you to create highly interactive quizzes with a nifty drag-and-drop quiz builder.
You can choose different styles, colors, designs, and more than 800 ready-to-use quiz templates.
It supports quiz branching, which allows you to show questions based on users' answers to previous questions. You can use their scoring system to easily show results at the end.
It can be easily added to your site using a simple shortcode and integrates beautifully with your email marketing and CRM software.
Related: See this tutorial on how to make an online quiz website like BuzzFeed.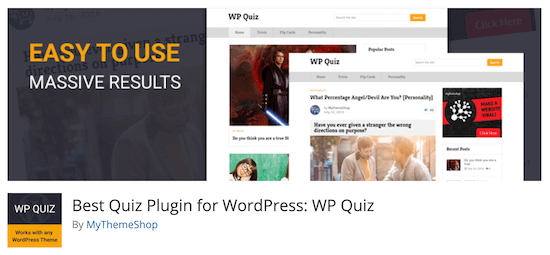 WP Quiz is a flexible and easy-to-use quiz plugin for WordPress. It comes with 3 quiz types: trivia, personality, and flip cards.
You can add images to your questions and answers, allow users to restart a quiz, show results at the end, and more.
WP Quiz comes with two styling options: multi-page or single-page quizzes. You have the ability to auto-scroll and add social sharing buttons.
The pro version of the plugin allows you to force users to perform an action to view results, randomize questions and answers, countdown timers, and display ads.
Quiz and Survey Master is a flexible quiz and WordPress survey plugin. This powerful two-in-one plugin may look a bit rough around the edges, but it makes up for it with excellent features and extensive documentation.
It supports multiple types of questions including multiple choice, true and false, fill in the blanks, and more.
It also allows you to create multiple result pages, so you can customize them based on user score. It comes with email support, certificates, leaderboards, hints, comment boxes, and more.
The pro version of the plugin comes with all kinds of addons that give you reporting and analysis, email marketing integration, funnel optimization, and more.
Quiz Cat is a free WordPress quiz plugin with an easy-to-use interface and great options to create viral quizzes for your website.
It allows you to add images to each question and answer. You can also create a start and finish screen for your quiz.
Each answer can be given a rating and assigned a number of points. If you're creating a right and wrong quiz for visitors, then this can be useful.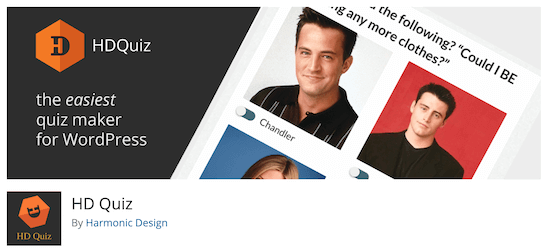 HD Quiz is another awesome free quiz plugin for your WordPress blog. It has a responsive design and allows you to create unlimited quizzes with as many questions and answers as you need.
You can also use GIF images with your questions and answers to make them more interactive and fun.
Other notable features include a quiz timer, question tooltips for hints, social sharing, the use of images as answers, scoring, and more.
ARI Stream Quiz allows you to use quizzes for lead generation by collecting users' email addresses and names.
It supports integration with MailChimp and other email marketing service providers. Apart from lead generation, the actual quiz builder features an easy-to-use interface to build your quizzes.
It uses AJAX for faster performance, has multiple themes, social media integration, Open Graph support, and more.
Which is the Best WordPress Quiz Plugin?
After reviewing each of these plugins, we believe that Thrive Quiz Builder, Formidable Forms, and LearnDash are the most comprehensive quiz-building solutions in the market.
If you want to create a variety of powerful quizzes in WordPress to generate leads and grow your business, then we highly recommend you go with Thrive Quiz Builder.
If you're looking for a solution to add quizzes to WordPress and advanced form-building features, then we suggest you go with Formidable Forms.
If you want a simple way to create interactive quizzes on a course website, then LearnDash is a great option.
WordPress Quiz Plugin FAQs
Below are some of the most frequently asked questions about WordPress quiz plugins.
What is the best quiz plugin for WordPress?
At WPBeginner, we think that Thrive Quiz Builder is the best quiz plugin for WordPress. It's easy to use and it comes with all of the features you need to create powerful and engaging quizzes.
How do I add a quiz plugin to WordPress?
To install a quiz plugin on your WordPress website, simply follow this guide on how to install a WordPress plugin for step by step instructions.
How do I create a personality test in WordPress?
You can easily create a personality quizzes in WordPress using the Thrive Quiz Builder plugin.
Simply select 'Category' as your Quiz Evaluation Type, then create the personality type categories that users will be placed into according to their answers.
How do I create a BuzzFeed quiz in WordPress?
You can create BuzzFeed-style quizzes in WordPress using a quiz plugin like Thrive Quiz Builder or Interact Quiz Maker.
Both of these plugins allow you to create image or GIF-based questions to keep users excited and engaged.
How do I create a quiz in WordPress without plugins?
If you don't want to use a plugin to create a quiz in WordPress, there are online tools like TypeForm and SurveyMonkey that you can use to create quizzes.
But, because online tools like this store their data on external servers, it can be a security vulnerability, as you'll have to trust someone else with your visitors' personal data.
We hope this article helped you find the best quiz plugin for WordPress. You may also want to see our list of the must-have WordPress plugins for businesses and our expert picks of the best webinar software, including free options.
If you liked this article, then please subscribe to our YouTube Channel for WordPress video tutorials. You can also find us on Twitter and Facebook.