Are you looking for the best WordPress survey plugin for your website?
Surveys allow you to collect user feedback, so you can use it to improve your business. You can use survey plugins to add a user survey form in WordPress and share it with your users.
In this article, we will share some of the best WordPress survey plugins in the market.
What to Look for in a WordPress Survey Plugin?
There are many ways you can collect user feedback on your website. You can add a contact form, create polls, ask users to leave comments, and more.
Adding a survey is a little bit more involved than that. You need to make it engaging, fun, and easy to get maximum user participation.
A good survey plugin makes your form look great, and it's easy to use. Reporting is crucial for surveys. That's why you need to make sure that you can store user-submitted data with an option to export it, so you can use it in a spreadsheet or CRM software.
You also need to consider how you want to share the survey results. If you want to display the results on your website, then you will need a plugin that lets you embed survey results in a beautiful format.
Without further delay, let's take a look at some of the best WordPress survey plugins and how they handle all these features.
WPForms is the best WordPress contact form plugin on the market. It comes with a powerful surveys and polls addon, which allows you to quickly create highly engaging survey forms.
You can combine the surveys and polls addon with powerful WPForms features like conditional logic, multi-page forms, custom notifications, email integration, and more.
WPForms lets you add any form field to your survey with a single click, including text fields, checkboxes, radio buttons, ratings, Likert scale, NPS score field, and more.
The best part about WPForms surveys is the reporting section. WPForms automatically creates beautiful reports with graphs and charts based on survey responses. You can show survey results on any WordPress page with a shortcode or redirect your users to the results page after they fill out the survey.
Unlike other WordPress form plugins, WPForms allows you to enable survey reports for any of your existing forms.
You can export beautiful survey graphs as images to share on social media or in your PowerPoint presentations. You can also print the reports to include in your proposals or pitches.
Recently, WPForms launched their conversational forms mode, which boosts form completion by making your form interaction feel more human.
WPForms gives you the enterprise-level features of Survey Monkey and Typeform at an affordable price for small businesses. This is why over 5 million website owners now use it.
For detailed instructions, see our article on how to create a survey in WordPress with beautiful reports.
Formidable Forms is an advanced WordPress form plugin that also offers robust survey and poll features.
You can use their form builder to create any type of form, including surveys. It comes with all the popular field types you'd expect from a popular survey plugin.
Over 300,000 website owners use Formidable as their preferred form-building solution.
The benefit of Formidable is that it also lets you create other advanced form solutions like calculators, quizzes, and more.
CrowdSignal (formerly Polldaddy) is a famous WordPress poll and survey plugin. It is not a contact form plugin and, unlike other plugins in the list, will not be suitable for purposes other than polls and surveys.
It is a free plugin, but you'll need a WordPress.com account to get the API key. The free version is limited in features and will also add its branding logo to your survey form.
CrowdSignal is easy to use with a drag and drop tool to create your survey and polls. You can change survey sharing settings, results sharing, and styling options for each survey you create. It also includes a captcha to block spam and some basic IP filtering to prevent multiple responses.
Gravity Forms is one of the oldest WordPress plugins with many add-ons, including one to create surveys. It is easy to use, and you can create any kind of form using the form builder with many common form fields, including a survey field.
However, the survey results can only be viewed inside the admin area, and there are no charts/graphs. You can export survey results to a CSV file and display the results on your website using a WordPress tables plugin.
Note: You will need at least the Elite plan to access the survey addon.
As the name suggests, Quiz and Survey Master is designed to help you add quizzes and surveys to your WordPress site. It doesn't have the friendliest user interface, but it is well documented and comes with many useful features.
The base free plugin allows you to create surveys with all common form fields, and you can even create multi-page surveys. You can also use it to add quizzes in WordPress with interactive answers, leaderboards, and scoring.
The plugin can also send emails after completion of the survey to thank users or redirect them to any page on your WordPress website. For reporting and analysis, you will need to separately purchase a premium add-on.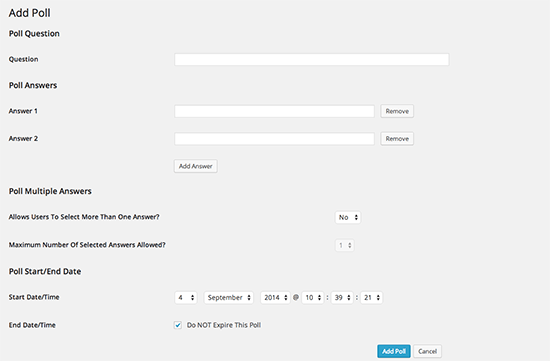 If you are looking for a simple poll solution for your users, then WP-Polls is an easy free option. Unlike other plugins on this list, it doesn't have a form builder, and you can only use radio buttons or checkboxes to collect responses which makes it quite limited.
Users are automatically shown poll results after they cast their vote. It saves user responses in the logs, where you can see how registered users voted. For non-registered users, you can see IP addresses to filter out duplicate votes.
We hope this article helped you find the best WordPress survey plugin for your website. You may also want to see our guide on how to track user engagement in WordPress using Google Analytics.
If you liked this article, then please subscribe to our YouTube Channel for WordPress video tutorials. You can also find us on Twitter and Facebook.