Do you want to create a custom calculator in WordPress?
Calculators are a great way to get more leads by collecting the visitor's email address. You can also use them to increase engagement or answer the visitor's questions and keep them on your site for longer.
In this article, we'll show you how to easily create a custom calculator in WordPress.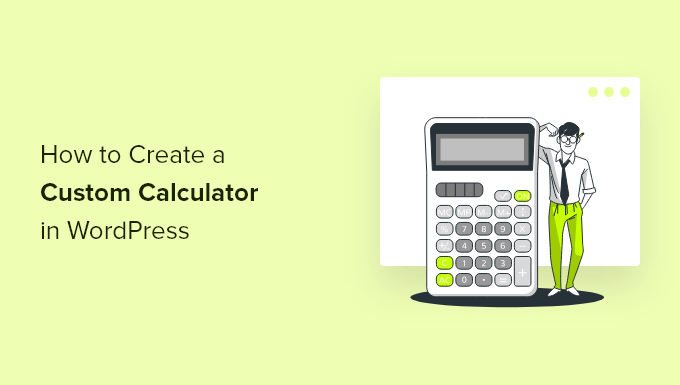 Why Add a Custom Calculator in WordPress?
Adding a custom calculator to your WordPress website allows users to quickly calculate things without leaving your site.
For instance, if you have a health and fitness blog, then you might add a BMI calculator so users can quickly calculate their BMI and work out which subscription plan or product to purchase.
If you sell worldwide, then a calculator that converts metric units to imperial units can get you more sales by helping customers check if a product is the right size or weight.
You can also add a mortgage calculator to your real estate website or a car payment calculator to your vehicle dealership site.
Custom calculators can also be a useful tool to generate leads. For instance, you can ask users to enter their email address in order to get the results from your online calculator.
That being said, let's take a look at how to easily create a custom calculator in WordPress.
How to Create a Custom Caclulator in WordPress
The best way to create a custom calculator for your website is by using Formidable Forms. It is the best WordPress calculator plugin on the market and the easiest way to build any kind of advanced form.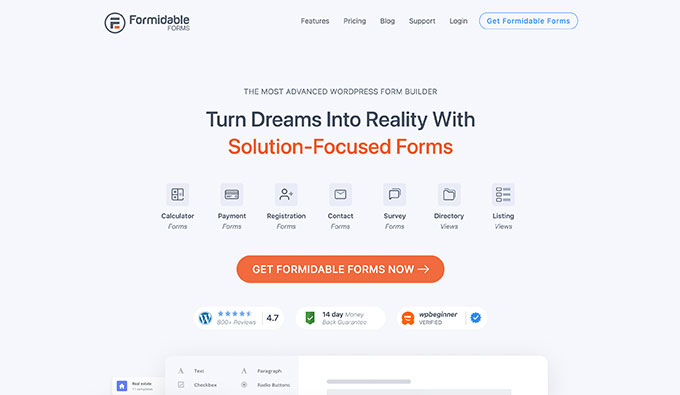 Formidable Forms has lots of calculator templates including a BMI calculator that you can add to your gym website or a mortgage calculator that's perfect for IDX real estate websites.
The first thing you need to do is install and activate the Formidable Forms plugin. For more details, see our step by step guide on how to install a WordPress plugin.
Upon activation, you'll need to install the free Formidable Forms Lite. This free version provides the core foundation for the premium plugin's more advanced features.
Once you've done that, go to the Formidable Forms » Global Settings page and select 'Click to enter a license key manually.'
You can find the license key under your account on the Formidable Forms website.
After entering this information, go ahead and click the 'Save License' button. Now, you're ready to create a custom calculator for your WordPress website.
To get started, simply head over to the Formidable » Forms page and click on 'Add New.'
This will bring up a list of all the ready-made form templates that you can use.
In the search box, type 'Calculator' and then click on the 'Calculator' category.
This opens a dropdown where you can choose the calculator template that you want to use. There are lots of different templates covering a range of niches.
To preview a template, just hover your mouse over it and then click the little icon that looks like an eye.
To use a template, hover over it and then click on the '+' icon. In this guide, we'll be using the ROI Calculator template, but you can use any template you want.
After choosing a template, type a title into the 'Form Name' field and enter an optional description. This information is just for your reference so you can enter anything you want.
Then, click on the 'Create' button.
This will open the template in the Formidable Forms editor.
From here, you can simply point and click to customize any field in the form. For example, you can click on the 'Invested amount' field and then type some new text into 'Field Label.'
You can also add more fields to the calculator by selecting 'Add Fields' in the left-hand menu.
Then, drag the field to your calculator on the right. For example, if you're using the form to get more subscribers for your email newsletter, then you'll need to add an 'Email' field.
You can continue to fine-tune your calculator by customizing the fields and adding any new fields that you want to use.
When you're happy with how the calculator is set up, click the 'Update' button at the top right corner of the screen.
Your custom calculator form is now ready, and you can add it to any WordPress post or page.
To do this, open the page or post where you want to show the calculator. Then, click on the '+' icon and type 'Formidable Forms.'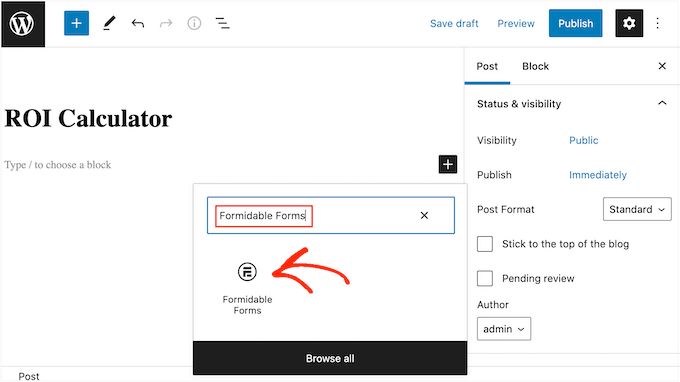 When the right block appears, give it a click to add it to the page.
Next, simply open the 'Select a form' dropdown and choose your custom calculator.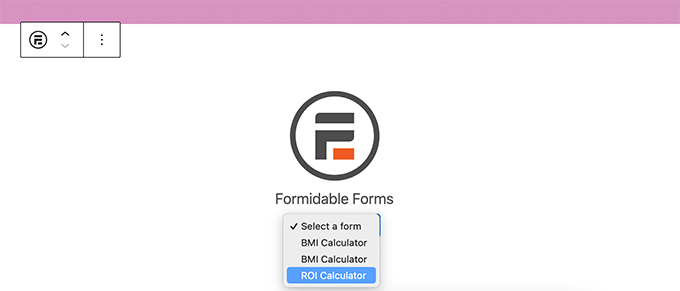 WordPress will now add the calculator to the post, and show a preview in the block editor.
You can continue to edit your calculator page by adding text, images, a description of the calculator, categories and tags, more.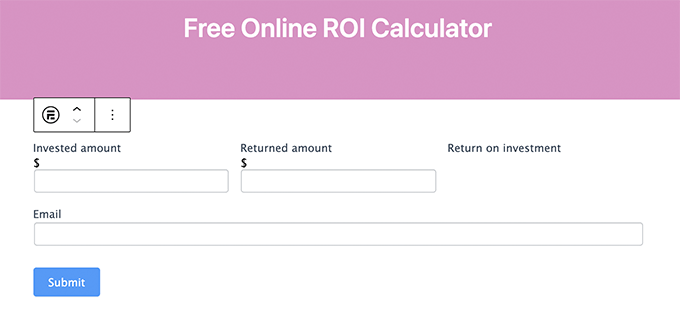 When you're ready to publish the calculator page, click the 'Publish' or 'Update' button in the right hand corner.
You can then visit the page to see your custom calculator in action.
Customizing Your Calculator Form in WordPress
At some point you may want to change your custom calculator form. For example, you may want to see if marking the 'Email' field as mandatory gets you more conversions.
You can customize any Formidable Forms calculator, and those changes will automatically appear on any posts or posts where you added that form.
Simply, go to the Formidable » Forms page and click on the 'Edit' button.
This will open the drag and drop Formidable Forms editor. You can now customize the form fields or even add new fields by following the same process described above.
Viewing Your Calculator Form Entries
Every time someone completes a form, Formidable Forms automatically saves their entry to your WordPress database. This allows you to see how people are using the form, and learn more about your visitors.
To see all calculations performed by users, simply visit the Formidable » Entries page.
From here, you can click on individual entries to see the information entered by users.
If you've created multiple forms, then you may want to filter the information by form. To do this, simply open the dropdown that shows 'View all forms' and choose a form from the list.
From here, you can also download all the data in a CSV file so you can open it in a spreadsheet program. This is a great way to share data with people who don't have access to your WordPress dashboard.
Need even more insights? Then you can click on the 'Reports' tab to see detailed charts and graphs for your custom calculator.
For instance, in our ROI calculator report we can see the average ROI percentage submitted by users.
These charts allow you to see how users are interacting with the calculators on your website and average responses. You can use this information to tailor your content to better suit your audience and help you achieve your goals.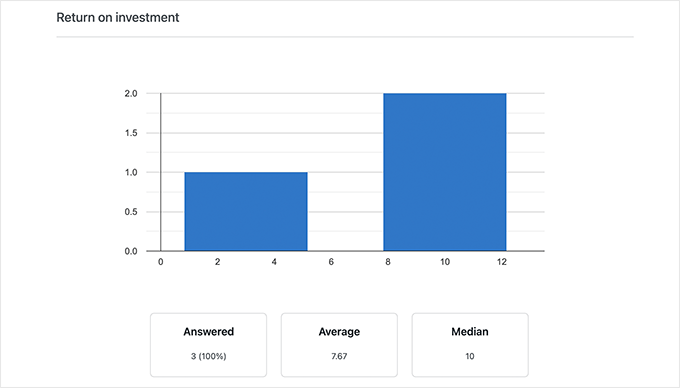 Capturing Leads with Your Custom Calculator
Formidable Forms makes it super easy to add customer calculators in WordPress and connect those calculators to your email marketing service.
However, you'll still need to encourage visitors to use your calculator.
This is where OptinMonster comes in. It is the best lead generation software on the market and allows you to easily convert website visitors into subscribers and customers.
It comes with tools like lightbox popups, slide-in popups, countdown timers, header and footer banners, and more. All of these tools can drive more people to your calculators and get you more conversions, subscribers, and sales.
OptinMonster also comes with powerful targeting rules and personalization options so you can show the right messages, to the right people, at the right time.
We hope this article helped you add a custom calculator in WordPress. You may also want to see our guide on best business phone services, or see our tips on how to track conversions in WordPress.
If you liked this article, then please subscribe to our YouTube Channel for WordPress video tutorials. You can also find us on Twitter and Facebook.