Do you want to generate more leads with free online calculators?
Online calculators are a great way to get a visitor's contact information so you can target them with personalized ads, emails, newsletters, and other forms of online marketing.
In this article, we'll show you how you can create your own online calculator and start generating more leads for your WordPress site.
Why Are Online Calculators Such Great Lead Generation Tools?
Online calculators are useful tools that help visitors solve a problem or answer a question. To get results from the calculator, your readers will need to enter their email address. This makes online calculators a great way to get more leads and subscribers.
You can use online calculators in lots of different industries and niches. For example, you might add a BMI calculator and then encourage visitors to subscribe to your training plan, in order to reach a healthy BMI.
If you sell to a global audience, then a calculator that converts metric units to imperial units can get you more sales, by helping customers check if a product is the right size or weight.
You can also add a mortgage calculator to your real estate website or a car payment calculator to your vehicle dealership site.
The possibilities are endless, so it's easy to see why online calculators are quickly becoming one of the most popular ways to grow your email list.
That being said, let's show you how to create your very own online calculator to generate leads without writing any code.
How to Create Online Calculators Without Any Code
The easiest way to add online calculators to WordPress is using the Formidable Forms plugin. It's the most advanced drag and drop form builder and the best WordPress calculator plugin in the market.
Formidable Forms has lots of calculator templates including a mortgage calculator that you can add to your IDX real estate website or a BMI calculator that's ideal for gym websites.

Plus, Formidable Forms integrates with the most popular email marketing services like Constant Contact, Sendinblue, Drip, and more. As long as you get the user's permission, you can add them to your email list automatically.
The first thing you need to do is install and activate both the free Formidable Forms Lite and the premium Formidable Forms plugins. For more details, see our guide on how to install a WordPress plugin.
Once you've done that, head over to Formidable » Global Settings and then select 'Click to enter a license key manually.'
You can find your license key by logging into your account on the Formidable Forms website.
Then, simply paste your license key into the field and click the 'Save License' button.

After that, you'll see a license activation success message. Now you can refresh the page to load the plugin's premium features.
Now you're ready to create your first calculator by going to Formidable » Forms and then clicking 'Add New'.

This will bring up a list of available form templates to choose from.
In the search box, type 'Calculator' and then select the 'Calculator' category.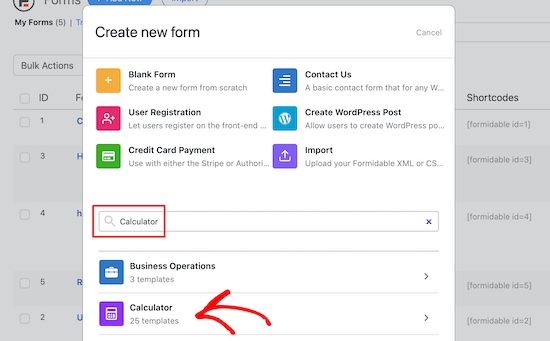 This opens a dropdown where you can choose the calculator template that you want to use. There are lots of different templates covering a range of niches.
To preview a template, simply hover over it and then click the little icon that looks like an eye.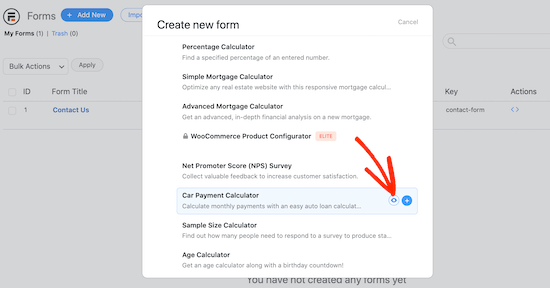 To use a template, hover over it and then click on the '+' icon.
For this guide, we'll be using the 'Compound Interest Calculator' template, but you can use the calculator template that best suits your WordPress website.

After that, type a title into the 'Form Name' field and enter an optional description. This is just for your reference so you can use anything you want.
Then, click on the 'Create' button.
This will open the template in the Formidable Forms editor.
From here, you can simply point and click to customize any field in the form. For example, to change the field label or number range for the 'Initial amount,' simply click to select that field.
You can make your changes using the settings in the left-hand menu.
You can also add more fields to the calculator by selecting the 'Add Fields' tab in the left-hand menu. Then, drag the field to your calculator on the right.
For example, if you want to collect the visitor's email address, then you'll need to add a field where people can type in this information. To do this, simply drag and drop an 'Email' field onto the calculator template.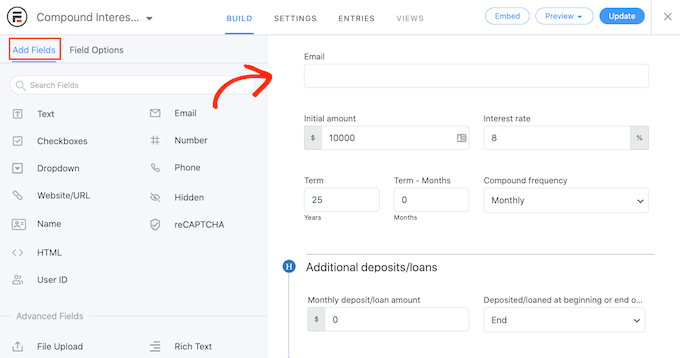 After that, click on the 'Email' field and make any changes using the 'Field Options' settings.
You can typically use the default settings, but since we want to capture leads it's a good idea to check the 'Required' box. This means visitors will need to enter an email address to get results from the calculator.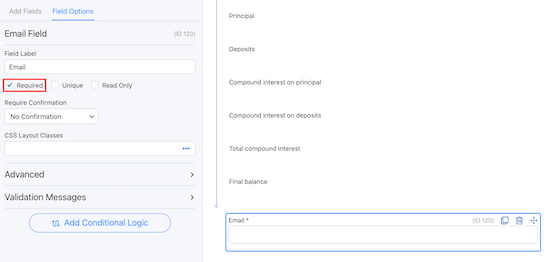 You can continue to customize your calculator by changing the values for the fields and even adding new fields.
When you're happy with how the calculator looks, click the 'Update' button.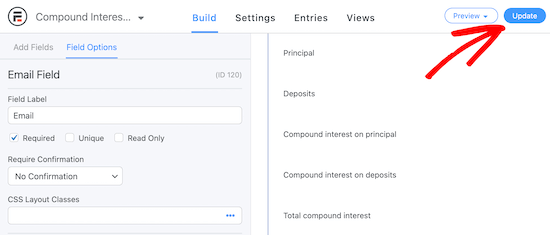 After a few moments, you'll see a 'successfully updated' message. You can now close the form builder and add the calculator to any page or post.
To add your calculator a new page, simply go to Pages » All Pages and then click the 'Add New' button.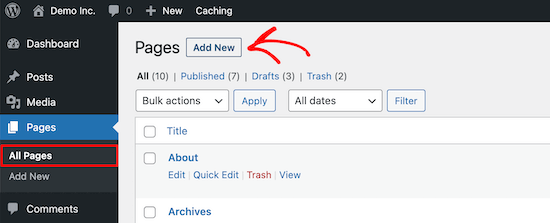 Here, type in a title for the calculator page.
Once you've done that, click on the '+' icon and type 'Formidable Forms.' When the right block appears, give it a click to add it to the page.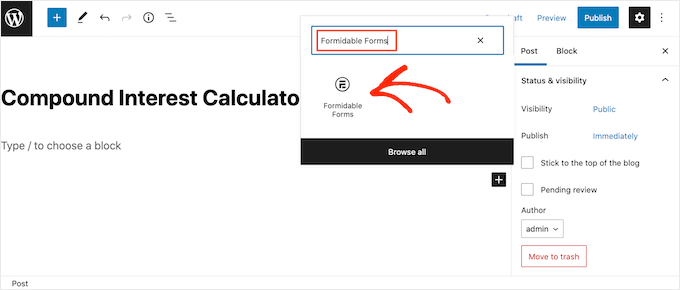 After that, you simply need to open the 'Select a form' dropdown and choose the online calculator you created earlier.
WordPress will now load the calculator automatically.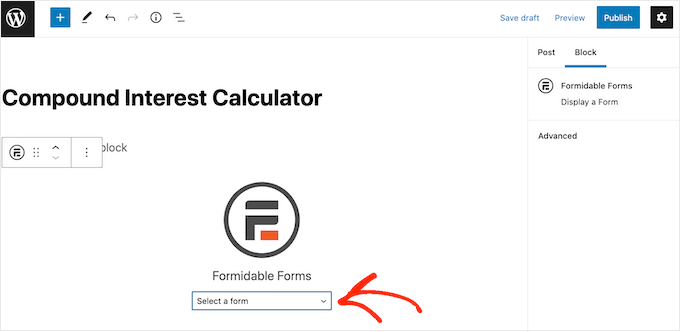 You can continue to edit your calculator page by adding text, images, a description of the calculator, categories and tags, more.
When you're ready to publish the calculator page, click the 'Publish' or 'Update' button in the right hand corner.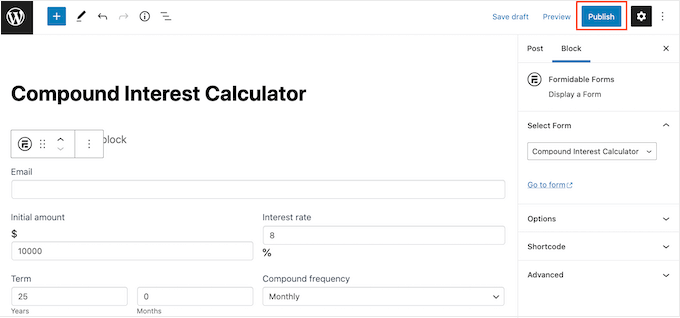 Your new calculator page is now live on your website.
Now, you can drive people to this page and get more subscribers and leads for your small business website.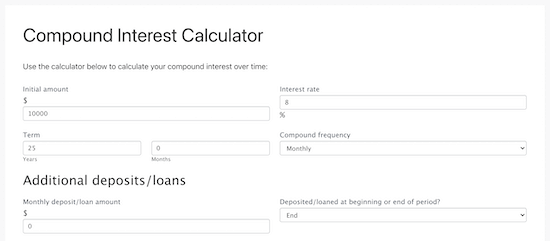 The best way to get more visitors to your online calculator is by using a conversion optimization tool. OptinMonster is the best WordPress lead generation plugin and optimization plugin.
It has powerful features that can help you increase sales, grow your email list, and get more leads. This includes an advanced exit-intent feature that can convert abandoning visitors into customers and subscribers.
To learn more, see how we increased our email subscribers by 600% with OptinMonster.
We hope this article helped you learn how to generate more leads with online calculators. You may also want to see our guide on how to increase your blog traffic and our expert pick of the best email marketing services for small businesses.
If you liked this article, then please subscribe to our YouTube Channel for WordPress video tutorials. You can also find us on Twitter and Facebook.