Do you need to convert metric units to imperial on your WordPress site?
If you show any measurements on your website in metric, then visitors from other parts of the world may like to know the equivalent imperial measurement, without having to do the conversion themselves.
In this article, we'll show you how to convert metric units to imperial and vice-versa on your WordPress website.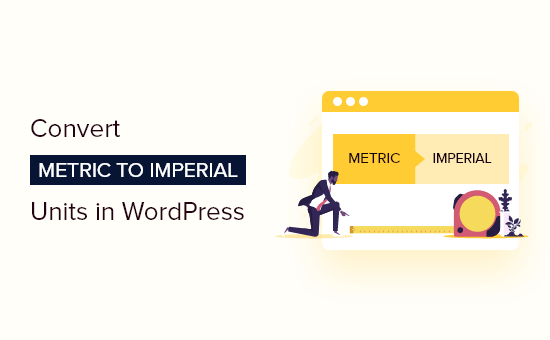 Why Convert Metric Units to Imperial?
If you have a WordPress blog that includes measurements, then it's smart to convert these measurements so that all your readers can understand and use them, no matter where they are in the world.
This can improve the visitor experience and keep them on your site longer, which will increase your pageviews and reduce your bounce rate. All of this sends positive signals to the search engines which can often improve your rankings and get you more visitors.
To learn more, please see our ultimate WordPress SEO guide for beginners.
If you run an online store, then measurements can help shoppers decide whether a product is right for them.
If a visitor can't understand a product's measurements then they may decide to shop elsewhere and you will lose out on sales.
While you could manually convert all of the measurements on your WordPress website by yourself, it's much easier to use a plugin.
In this article, we'll show you two different ways to add a conversion calculator to your site. You can use the links below to jump to the solution you want to use.
Method 1: Converting Units with a Calculator Plugin
You can convert metric measurements using WP Unit Converter. This plugin lets visitors convert units of length, temperature, time, weight, area, and speed.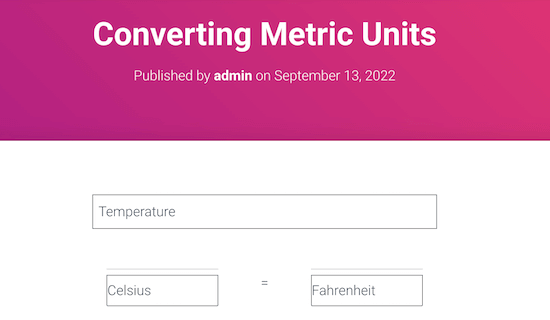 First, you need to install and activate the WP Unit Converter plugin. For more details, see our step by step guide on how to install a WordPress plugin.
Upon activation, go to Settings » WP Unit Converter to configure the plugin. Here, you'll see horizontal and vertical previews of the calculator.
To switch between horizontal and vertical layouts, simply select the radio button next to the layout you want to use. After that, click 'Save Changes.'
You can then add the calculator to any page, post, or widget-ready area using a shortcode.
To see all the different shortcodes you can use, open the 'WP Unit Converter Shortcodes' dropdown menu.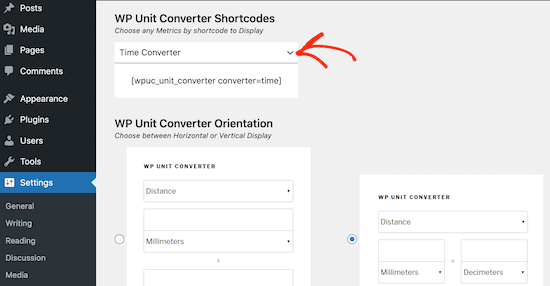 If you want to let visitors convert any distance, temperature, time, weight, area, or speed then you can use the [wpuc_unit_converter] shortcode.
The visitor can then choose a unit from the dropdown menu, such as time or weight, and then perform the conversion.
You can also add a calculator that converts a single type of measurement. For example, if you've created a fitness tracker in WordPress then you might allow visitors to convert their weight between metric and imperial measurements.
In this case, you would need to select 'Wight Converter' from the dropdown menu and then copy the shortcode that appears.
Once you have the shortcode, you can add it to any page or post.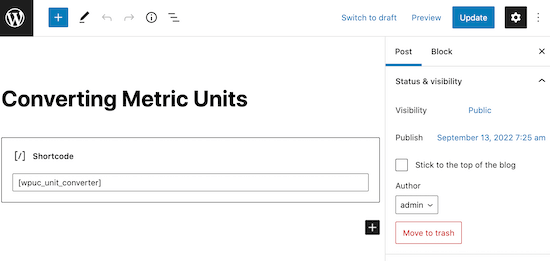 For more information, check our beginner's guide on how to add a shortcode in WordPress.
WP Unit Converter also has a calculator widget that you can add to any widget-ready area of your WordPress theme. This is an easy way to show the calculator across your entire site.
To add the widget to your site, simply head over to Appearance » Widgets.
Once there, you need to click the large + icon at the top of the screen and type in 'WP Unit Converter' to find the right widget.
You can then drag and drop the widget onto the area where you want to show the converter, such as the sidebar or similar section.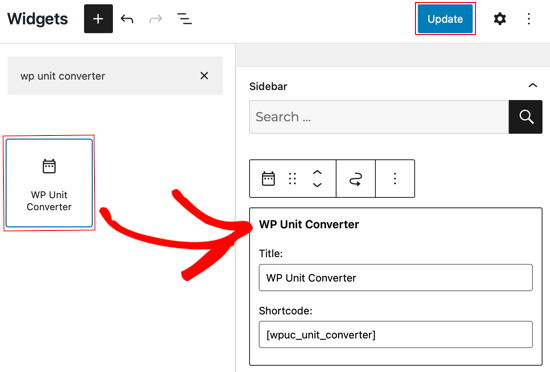 Don't forget to click the 'Update' button at the top of the screen to save your widget settings.
Now you can visit your WordPress site to see the unit calculator in action.
For more recommendations, please see our expert pick of the best calculator plugins for your WordPress site.
Method 2: Converting Units with a Form Plugin
You can also add a length conversion calculator to your WordPress website using a form plugin. The easiest way to do that is using the Formidable Forms plugin, an advanced drag and drop form builder.
The first thing you need to do is install and activate both the free Formidable Forms Lite and the Formidable Forms Pro plugins. For more details, see our guide on how to install a WordPress plugin.
Once you've done that, you need to go to Formidable » Global Settings and then select 'Click to enter a license key manually.'
Then, paste your license key into the box and click the 'Save License' button.
You can find your license key by logging in to your account on the Formidable Forms website.

Once you're done, you'll see a license activation success message. Now you can refresh the page to load the plugin's premium features.
After that, you can create your first calculator by going to Formidable » Forms and then clicking on 'Add New'.

This will bring up a list of all the different form templates you can choose from.
In the search box, type 'Calculator' and then select the 'Calculator' category when it appears.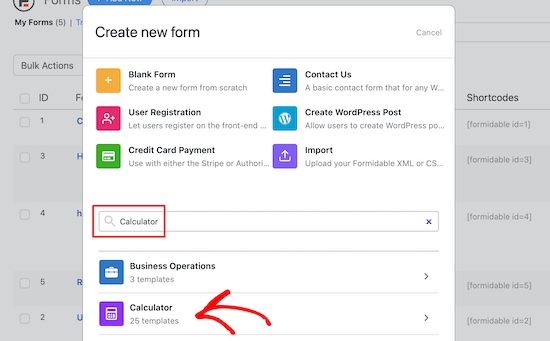 This brings up another dropdown where you choose a calculator template from across different niches including a mortgage calculator and a car payment calculator.
We're going to use the Length Conversion Calculator template, so simply hover over that template and then click on the '+' icon. You can also preview the calculator by clicking on the 'eye' icon.
This brings up a popup where you can type in a name for your form and enter an optional description. Formidable Forms will only show this information in the WordPress admin area so you can use anything you want.
After you've done that, go ahead and click the 'Create' button.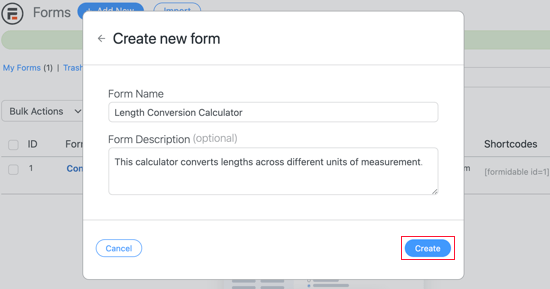 This will open the calculator template in the Formidable Forms editor.
At this point you may want to customize the different fields, for example you might change the field label or placeholder text.
To do this, simply click on the field and then use the settings in the 'Field Options' menu.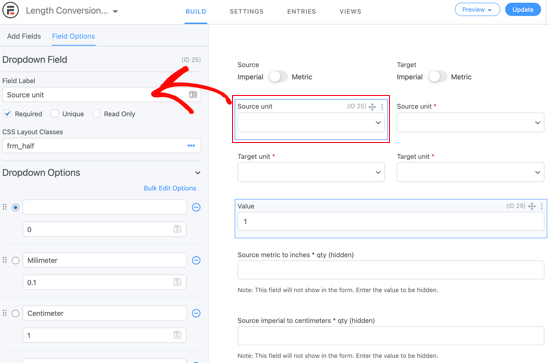 For this guide, we're not going to make any changes to the template.
When you're happy with how the form looks, go ahead and click on the 'Update' button at the top of the screen to save your calculator.
Now that you've created a conversion calculator, you can add it to any page or post.
To create a separate page to display your new calculator, navigate to Pages » All Pages and then click 'Add New'.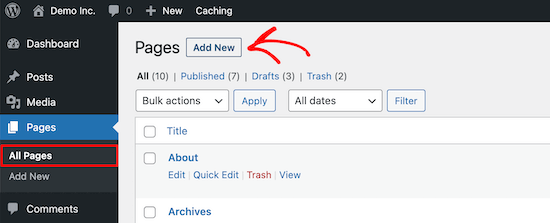 You should start by entering a title for the calculator page.
After that, simply click the '+' icon and then type 'Formidable Forms.' When the right block appears, give it a click to add it to the page.
After that, you need to open the 'Select a form' dropdown and choose the length conversion form we created earlier.
WordPress will now add the form to your page or post.
You can continue to edit your calculator page by adding text, images, a description of the calculator, or categories and tags.
When you're ready to publish your calculator, just click the 'Publish' or 'Update' button in the right hand corner of the page.
Now if you visit your site, you'll see the conversion calculator live.
If you'd like to add other online calculators to your WordPress website, then check our guide on how to generate more leads with free online calculators.
We hope this tutorial helped you learn how to convert metric units to imperial in WordPress. You may also want to learn how to create a free business email address or check out list of must have plugins to grow your site.
If you liked this article, then please subscribe to our YouTube Channel for WordPress video tutorials. You can also find us on Twitter and Facebook.