Do you want to unpublish a page on your WordPress site?
Sometimes you may want to unpublish WordPress pages so you can make some edits or because you need to remove the page from your website completely. Other times, you may want to hide a page from a specific group of users.
In this article, we'll show you how you can easily unpublish a WordPress page, step by step.
Why Unpublish a WordPress Page?
When you're building a WordPress website, you publish pages so that visitors can see them.
However, there may be times when you want to unpublish a page so that it isn't visible to the people who visit your site.
For example, maybe you've changed your mind about certain pages and want to take your WordPress blog in a new direction. You may even have accidentally published a draft and want to unpublish that page so you can carry on working on it in private.
Over time, a post may become outdated or no longer relevant. Many website owners archive old posts, or add an old post notification to the top. However, if you plan to update a post then it's a good idea to unpublish the post instead, so that it appears as a draft in the dashboard, ready for you to edit.
WordPress makes it easy to unpublish pages, add a password, or even hide your posts from certain users.
With that said, let's take a look at a few different ways you can unpublish a page on your WordPress website. Simply use the quick links below to jump to the method you want to use.
Video Tutorial
If you'd prefer written instructions, just keep reading.
Method 1: Unpublishing a Single WordPress Page
Unpublishing a page lets you remove it from your website while still giving you the option to edit the page and republish it later on.
The simplest way to do this is to switch the page to a draft. This hides the page from your website visitors, but logged in users can still see the page in the WordPress dashboard.
If you've noticed errors on the page or want to improve the content, then this is a great option. To do this, navigate to Pages » All Pages and then hover over the page and click the 'Edit' link.

This will bring you to the page editor screen.
Here, click the 'Switch to draft' button at the top of the page.

This brings up a popup asking whether you're sure you want to unpublish the post. Removing a live post from your site can cause broken links and may affect your WordPress SEO, so you'll want to think about this carefully.
If the page you're unpublishing ranks in the search engines and is bringing you traffic, then you'll want to redirect the URL to another relevant page, so you don't lose SEO rankings. For more details, see our beginner's guide to creating 301 redirects in WordPress.
If you're happy to unpublish the post, then go ahead and click on the 'Ok' button.

This will turn the live post into a draft.
If you no longer need the page on your site, or it's outdated, then you may want to completely delete the page. This is similar to adding your page to the recycle bin on your computer.
To do this, click the 'Move to trash' button in the right hand menu, and your page will be moved to the trash.
Method 2: Unpublishing Multiple WordPress Pages at Once
If you're redesigning or moving a website to a new domain, then you might have lots of pages that you no longer need or want to edit to reflect this major change. Instead of unpublishing each page one at a time, you can unpublish or delete them all at once.
To do this, go to Pages » All Pages and then check the box next to all the pages that you want to unpublish.
Next, click the 'Bulk actions' dropdown and select 'Edit'.
Then, click on 'Apply'.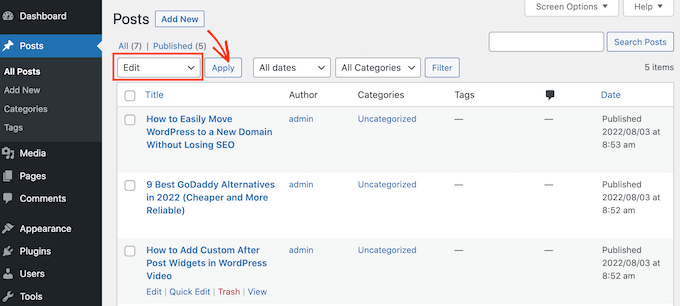 This adds some new settings where you can edit all the selected posts. For example, you can turn them all into sticky posts or change the post's author on a multi-author blog.
Since we want to unpublish the pages, open the 'Status' dropdown and select 'Draft.' Then, click on the 'Update' button.
You can also move multiple pages to the trash by opening the 'Bulk options' dropdown and selecting 'Move to trash.'
Then, simply click on 'Apply'.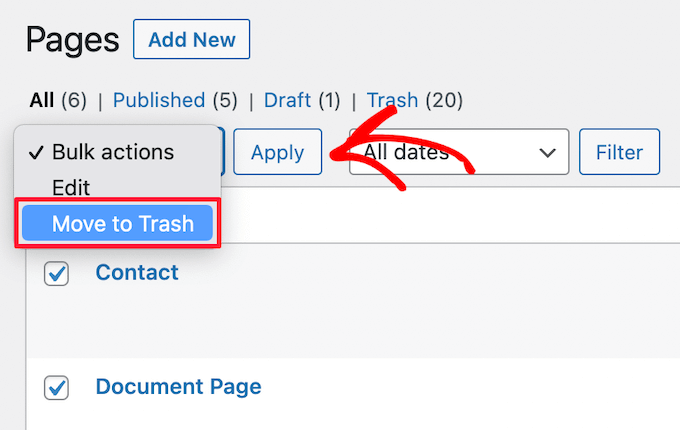 Method 3: Making a WordPress Page Private or Password Protected
Password protecting a page allows you to keep certain areas of your WordPress blog private.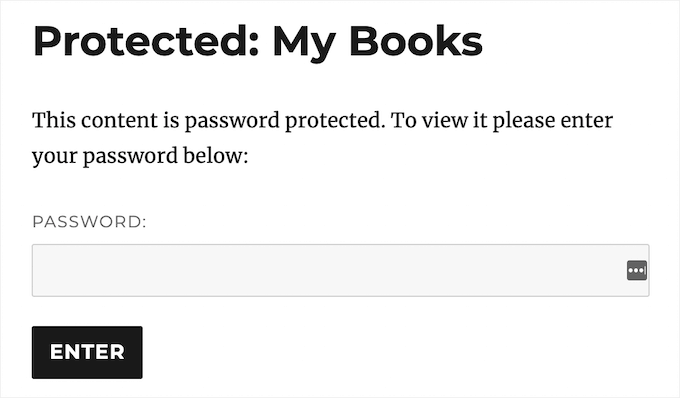 This can be helpful if you want to create a separate area of your website for team members or a client portal for your customers. It can also be useful if you want to restrict access to a site while you're working on it, so only approved testers, developers, and other team members can visit the site.
First, you need to open the page that you want to password protect. Next, click on the 'Public' button next to 'Visibility.'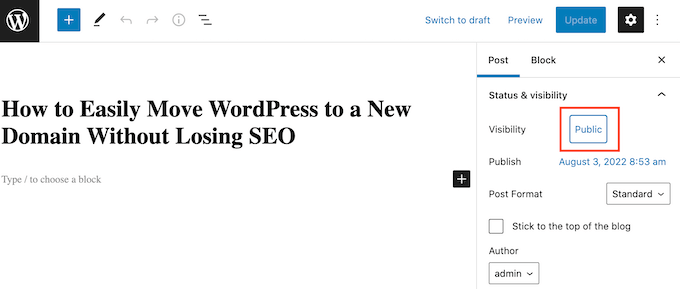 Then, select the 'Password Protected' button and type a password into the 'Use a secure password' field.
After that, click the 'Update' button to save your changes.
Now, when someone visits the page they'll be asked to enter a password.
Another option is to make the page private, so it's only visible to admins and editors of your site when they're logged in.
To do this, simply click on the 'Public' button next to 'Visibility.' However, this time click on the 'Private' radio button.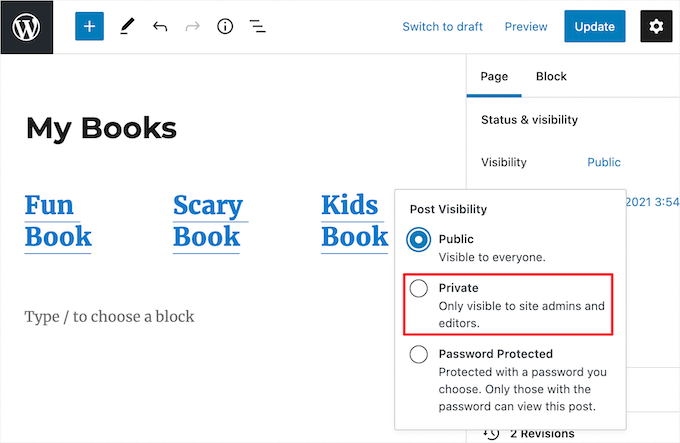 A popup will ask whether you want to make the page private.
Simply go ahead and click the 'OK' button.
If you go to Pages » All Pages in the WordPress dashboard, then you can see all of your published, draft, password protected, and private pages at a glance.
The following image shows a published page, plus pages that are clearly marked as private and password protected.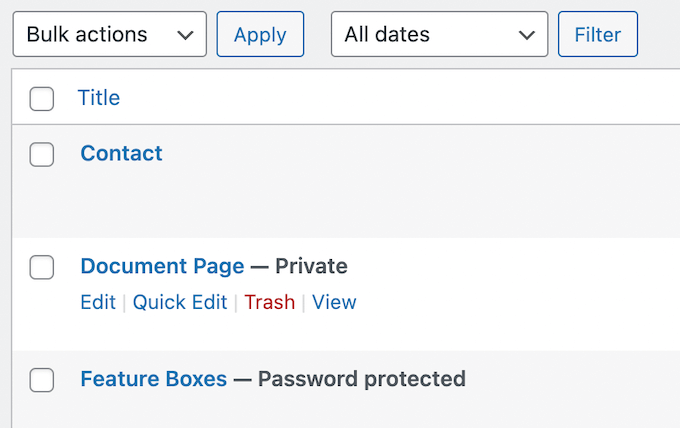 Method 4: Making a WordPress Page Members Only
You can also hide a page based on the visitor's membership level. Visitors who aren't members will need to sign up to see the page. This can be a great way to grow your email list and get more conversions.
You might even charge a membership fee, which is a great way to make money online blogging with WordPress.
The best way to make a page members-only is with the MemberPress plugin.
It's the best WordPress membership plugin and lets you create multiple different subscriber levels, publish exclusive members-only content, and accept credit card payments on your WordPress website.
The plugin is very easy to use, and even lets you sell online courses, premium downloads, drip content, and much more.
It also has powerful access control features that let you restrict access to specific WordPress pages with just a couple of clicks.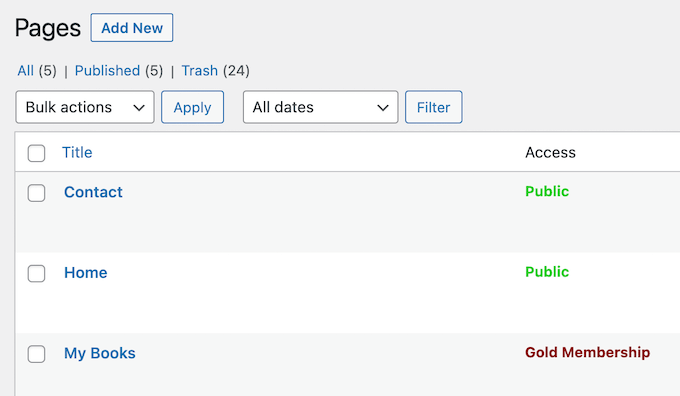 For more details on restricting access to certain pages, see our guide on how to create a paywall in WordPress.
We hope this article helped you learn how to unpublish a WordPress page. You may also want to see our guide on how to create a free business email address and the best contact form plugins for WordPress.
If you liked this article, then please subscribe to our YouTube Channel for WordPress video tutorials. You can also find us on Twitter and Facebook.