Are you looking for a way to show your most important posts at the top of your blog page so people can see them first?
WordPress by default shows your newest posts first. As you add more content, your older posts go down and eventually moved to archives.
But what if you wanted to show your pillar articles on the front page for a longer time?
That's when WordPress sticky posts feature comes in handy.
A sticky post is a post that sticks to the top of your blog page. Unlike your regular posts, it stays on your blog's front page until you remove its sticky option.
In this article, we will show you how to easily make sticky posts in WordPress with just 2 steps.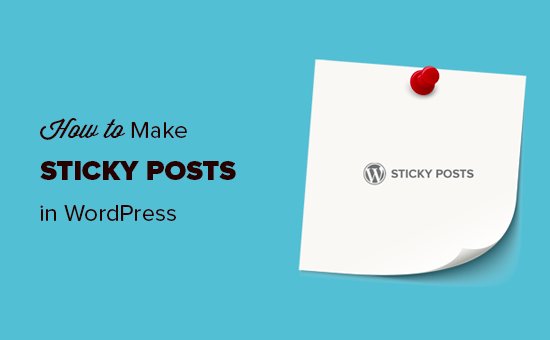 When to Use a WordPress Sticky Post?
A sticky post is mainly useful to highlight the important content on your blog. This allows you to feature your best articles on your blog's front page regardless of their publication date.
There are mainly 2 types of content you may want to pin to your blog home page.
1. The Best Content (Pillar Articles) on Your Blog
Pillar articles are the most important content on your website. This includes in-depth articles, comprehensive guides, and your most popular posts.
They are the best way to introduce new users to your blog, generate leads, and increase page views. You would want to highlight them across your website to make sure that new users are able to find these articles.
For example, you may have a comprehensive article covering a specific topic in great detail. Such an article will be highly useful for your users and you may want to stick it to the top.
2. Critical Content by Time-relevancy
Another type of posts that you may want to make sticky are time-relevant posts like product updates, announcements, giveaways, etc.
Suppose you have announced a major product update via your blog, then you will want your users to see it as soon as possible. Similarly, if you are running a giveaway for a month, then you will want everyone to see it before it expires.
Once their time relevancy is expired, you can then replace them with new sticky posts.
Having said that let's see how to easily make your posts sticky in WordPress.
Making WordPress Posts Sticky in 2 Steps
WordPress comes with built-in functionality to stick any post to the front page. All standard compliant WordPress themes support this feature and will highlight the sticky post on the front page or the blog page.
First, you need to edit the post that you want to make sticky or create a new one.
On the post edit screen, look towards the right-hand sidebar where you will see your document settings. Click on 'Status and Visibility' option first.
Now you will see a checkbox option for 'Stick to the Front Page.' Simply check the box to make the post sticky and then save or publish your post.
That's it! Your post will now stick to your blog's front page until you remove the check.
If you want to make an older post sticky, follow the same steps and just click save.
You can also make older posts sticky with the Quick Edit feature.
Simply go to the Posts » All Posts page from your dashboard and search for the respective post title. Next, you need to click the 'Quick Edit' option below it.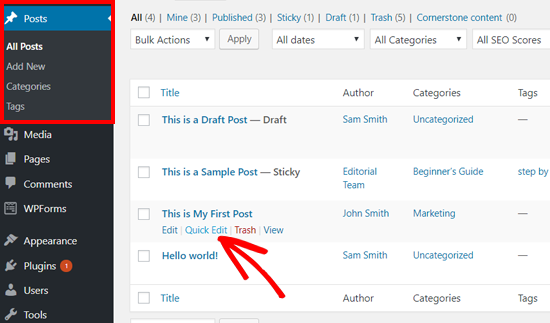 After that, you will see the quick edit options including a sticky post checkbox at the bottom on the right side. You need to check the box and click the 'Update' button below.
You can also apply this on your unpublished drafts to make them sticky once they are published.
We hope this article helped you to learn how to make sticky posts in WordPress easily. You may also want to see our guide on 6 cool things you can do with your WordPress and how to show your latest sticky posts.
If you liked this article, then please subscribe to our YouTube Channel for WordPress video tutorials. You can also find us on Twitter and Facebook.