We have written about how to display recent sticky posts in WordPress, but we never covered how to make sticky posts which was our shortcoming because one of our users asked us this question. Making Sticky Posts in WordPress is really easy.
Video Tutorial
If you don't like the video or need more instructions, then continue reading.
First you would need to login to your admin area, and open up the post page.
Look towards the right hand sidebar where you will see a Publish box. Look at the (Visibility: Public) field and click edit.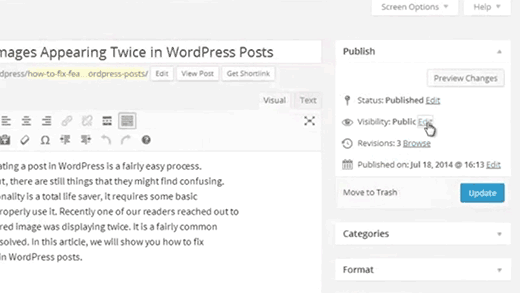 Check the box to make the post Sticky and publish it. If you want to make an older post sticky, follow the same steps and just click save.
We hope this post helped you learn how to make sticky posts in WordPress. You may also want to take a look at our list of 6 cool things you can do with sticky posts in WordPress.
If you liked this article, then please subscribe to our YouTube Channel for WordPress video tutorials. You can also find us on Twitter and Facebook.