Do you want to create a floating sidebar widget that sticks as you scroll down?
Floating content that sticks to the screen as you scroll is attention-grabbing and tends to have a higher click-through and conversion rate compared to content that stays in one place.
In this article, we will show you how to create a sticky floating sidebar widget in WordPress.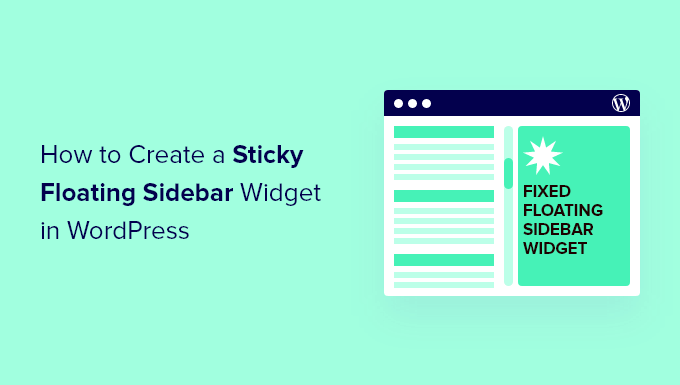 Why Create a Sticky Floating Sidebar Widget?
A sticky floating sidebar widget stays on the user's screen as they scroll down the page. This gives visitors more time to notice the content, and click on it.
You can use sticky content to build an email list, promote products, share popular posts, show recent Tweets or Instagram posts, and much more.
This content can help your sidebar stand out and keep important information and content in front of your visitors.
For example, you can keep your newsletter signup form visible to users so they have more time to sign up. Or you can show off your most important pages and keep visitors on your site for longer.
If you have an online store, then you can even use the sticky sidebar to promote your top products or special offers.
With that being said, let's look at how you can create a sticky floating sidebar on your WordPress website.
Adding a Sticky Floating Widget in WordPress
You can easily create floating widgets that stick while scrolling using Fixed Widget and Sticky Elements for WordPress. This plugin allows you to stick any widget in place, so the widget stays onscreen while the user scrolls the page up and down.
First, you'll need to install and activate the Fixed Widget plugin. If you need help, then please see our guide on how to install a WordPress plugin.
Upon activation, there are a few simple settings you may want to configure by going to Appearance » Fixed Widget.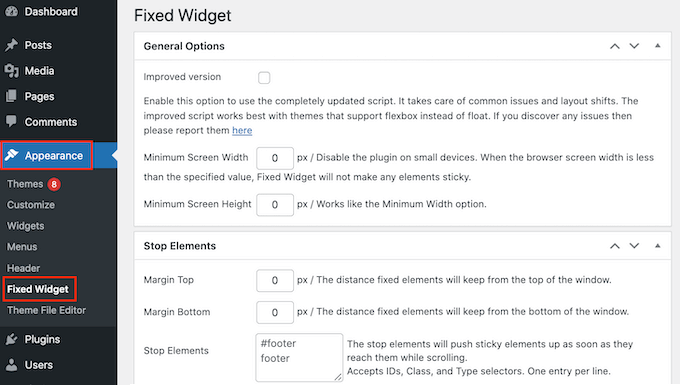 To make sure your website looks good on smartphones and tablets, you may want to disable the plugin on smaller screens, so your widgets are no longer sticky.
To do this, type some values into 'Minimum Screen Width' and 'Minimum Screen Height.'

You may want to try a few different settings to see what works the best for your website. For more information, please see our guide on how to view the mobile version of WordPress sites from desktop.
By default, there is no distance between the sticky widgets, and the top and bottom of the screen. To add some padding, simply type the values you want to use into the 'Margin Top' and 'Margin Bottom' fields.

When you're happy with how the plugin is configured, click on 'Save Changes.'
After that, it's time to create your first sticky widget by going to Appearance » Widgets in your WordPress admin area. You can then click the '+' button and add the block that you want to make sticky.
In this guide, we're showing a list of the latest posts but you can use any block you want.
For detailed instructions, please see our guide on how to add and use widgets in WordPress.
Next, click to select the block you just added.
In the right-hand menu, find the 'Fixed Widget' section and select 'Fix widget' to make the floating sidebar sticky.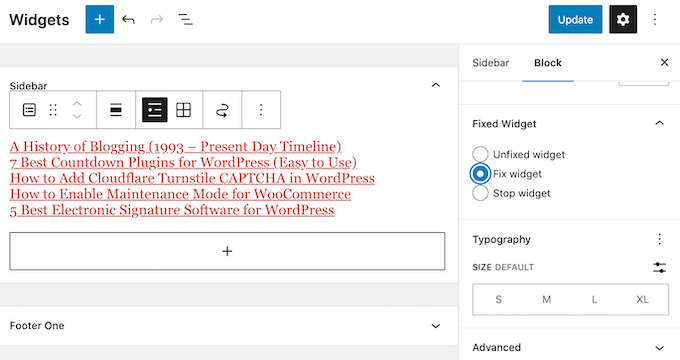 After that, don't forget to click on 'Update' to make the sticky widget live. Now if you visit your WordPress blog, you'll see the sticky floating widget.
We hope that this article helped you learn how to create a sticky floating sidebar widget in your WordPress website. You can also check out our guide on how to make money online blogging with WordPress, or see our expert pick of the best drag and drop page builders.
If you liked this article, then please subscribe to our YouTube Channel for WordPress video tutorials. You can also find us on Twitter and Facebook.