Everyone make mistakes. Oscar Wilde says it very nicely: "Experience is simply the name we give our mistakes". Experience is a great teacher and everyone learn from their mistakes. However, it is much more efficient to learn from the mistakes of others. In this article, we will share 25 most common WordPress mistakes that we see most beginners make. Hopefully you will use this guide avoid making the same WordPress mistakes.
1. Choosing the Wrong Platform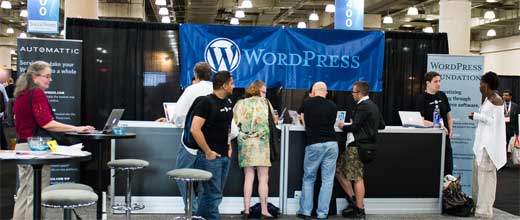 There is a huge confusion between self hosted WordPress vs. Free WordPress.com. Often people confuse the two, and it is a very common mistake. Sometimes users just want to create a simple personal blog, and they are outraged by the recurring cost of managing a self-hosted WordPress site. In other cases, users create a Free WordPress.com site wanting to be able to have total control over their site, add plugins, make money etc. This is by far one of the most common mistakes that we see among our users.
Compare the pros and cons and use this guide on how to move from WordPress.com to WordPress.org
2. Buying More than what You Need
To get started with a self-hosted WordPress blog, all you really need is domain and web hosting. However, a lot of domain registrars upsell other useless services. This confuses the heck out of small business owners. Some of these services are: Private registration, branded emails, SSL, 5 year registration etc.
You don't want private registration. One of our clients had private registration with Godaddy, and it was hell to transfer the name over. We had to send driver licenses, article of incorporation for the company and other confidential information just to move the domain. For branded emails, you have Google Web Apps. In most cases, you don't need SSL. There is no reason for you to pay for 5 years of domain registration upfront. What if you decide to quit? You lost all that money. Besides, you will probably save more $$$ with the renewal discounts.
3. Not Creating a WordPress Backup
We have all made the mistake of not creating a WordPress backup. You only realize this when you fall in a hole and absolutely need the backup for rescue. We advise all of our users that you should create automatic backups in WordPress. There are 3 good solutions: BackupBuddy (Paid), VaultPress (Paid – we use this one), and BackWPup (free).
Some real-life stories:
"Dumping a WP database without having a backup in case the new WP database I was importing had an error."
"Ran a SQL query without any backups. There was no UNDO button."
"My site was hacked, and the hackers wiped everything. I had to start from scratch because my host didn't backup like they said they would."
Bottom line is folks, start backing up your site. Update: Here's a tutorial on how to restore WordPress from backup.
4. Ignoring WordPress Updates
At one time or another, we have all been afraid of updates. Sometimes, we simply forget to upgrade sites that we own because we are not managing it properly. This can come back to bite you big time if there was a security vulnerability, and your site gets hacked.
We recently had to upgrade one of our users from WordPress 2.9.2. Lesson learned here is the longer you wait, the harder it becomes.
Upgrading from one version to the next is not very hard. 9.9/10 times, it simply takes one click. If your theme and plugins are coded properly, then your site will work. But again, its always good to have backups.
See our Ultimate Guide to Upgrade WordPress for Beginners.
5. Using a Default Favicon

Favicons are the little icons that show up next to your page title in the browser window. Many beginners completely ignore their favicons, so their sites usually have favicons from their web hosting provider like Bluehost or from their theme company such as Genesis.
Think of the favicon as your website's identity card. Change it right now if you haven't already. Here is our guide on how to change your favicon in WordPress.
6. Updating functions.php without having FTP Access
We have all locked ourselves out at least once because we improperly pasted the code in our theme's functions.php file from our WordPress admin. What is worst is when you don't have FTP access or don't know how to use FTP.
We have also written a beginner's guide to pasting snippets from the web into WordPress.
We also recommend that you avoid using the built-in WP editor at all times. Here is how to disable theme & plugin editors in WordPress.
7. Too Many Categories
WordPress makes it really easy for users to create categories. Often this is the reason why people get carried away and create categories for just about every post. We have all been down this path before only to learn and change everything to add proper structure to our sites.
We have written a comprehensive guide on Categories vs. Tags – best practices.
8. Not Setting Up Your Permalinks
For the longest time, people would simply use the default URL structure: /?p=23. Not only is this bad for SEO, but it is bad for users as well. When installing WordPress, make sure you update your permalinks structure by going under Settings » Permalinks.
9. Ignoring SEO Settings
When installing WordPress, it gives you an option to prevent search engine bots from indexing your site. During the development stages, folks often check this. The problem is that they forget to uncheck that which means their site never gets indexed.
We have had several folks who got their entire site de-indexed when they were redesigning themes.
Another very simple things that we notice beginners ignore are the SEO settings for blog posts and pages. No it is not enough to just install a plugin like WordPress SEO by Yoast, and then do nothing. You should still proactively update your meta settings. Here is a an article on how to optimize your WordPress blog posts for SEO.
10. Changing The Site URL and Losing All Traffic
How many of you hated the first domain you registered and wanted to switch away from it when you got serious about blogging? Yup, it happens to all of us. What could be worst though is changing your site URL without taking the proper steps because that can cause a significant drop in your traffic and income.
We have written a guide on how to properly move WordPress to a new domain. We have also written a guide from moving form WordPress.com to WordPress.org.
11. Not Installing a Caching Plugin
A lot of beginners don't know what caching is which explains why they wouldn't install a caching plugin. We have explained here on why we use W3 Total Cache. In short, caching allows you speed up your site and prevent downtime if you get a lot of traffic at once.
We also recommend that you get started with a CDN. Here is an article on why you need a CDN.
12. Choosing WordPress Theme from a Bad Source
We have helped numerous beginners clean up their sites after they reported their sites were infested with malicious links. This happens when you download your WordPress themes from a bad source. Here are some rules that we follow:
1. Only download free WordPress themes from WordPress.org
2. Use one of these trusted providers.
13. Not Having a Contact Form
At one time or another, we have all created contact page and simply listed our emails there. Only to realize that few months later our inbox has started receiving insane amount of SPAM. Yes, that's when you look into solutions and find contact forms.
We highly recommend Gravity Forms because it allows you to easily create any type of form (contact form, donation form, subscribe form, registration form, polls, surveys, etc) all from a drag-drop interface. Here is a Gravity Forms Coupon.
14. Not Installing Analytics

Often we get emails from users asking us how to increase their social media shares and site traffic. When we ask where do you stand right now, they usually respond with "I have XXX followers on twitter". Most of the times, users do not install google analytics.
Google Analytics allow you to see tons of insights about your site, so you can highlight areas to improve on. We also recommend users to signup with Google Webmaster Tools.
Useful: How we increased our organic search traffic
15. Writing in Microsoft Word
We are too accustomed to writing on a software like Microsoft Word. Ever had an instance when your computer instantly shut down, and you lose all your work? Or how about when you pasted your article from Microsoft Word, it added tons of weird characters in your posts.
Yes, there is a paste from Word button in WordPress visual editor, but we always recommend our readers to use the built-in WordPress post editor. WordPress has the auto-save ability, so it saves your posts even if you don't hit save. WordPress post editor also allows you to look through your revisions and restore to an earlier version if you like.
16. Just Another Blog Tagline
WordPress by default adds a tagline "Just Another Blog" to every WordPress install. Often beginners don't know about it, so they don't change it until they realize it is being indexed in Google. You can change the tag line by going to Settings » General.
17. Not Deleting the Sample Page
WordPress used to come with a default about page, but now it comes with a default sample page. A quick google search showed that there are 1.1 million sites that still have the sample page on their site. Most folks don't know about it or they simply don't want to delete it.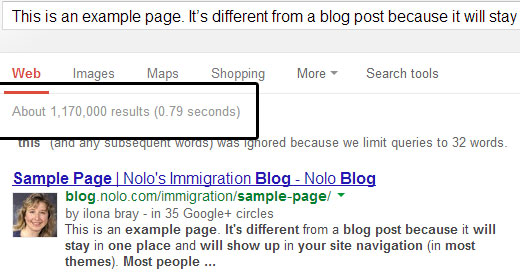 Go ahead and delete this page if you are not using it.
18. Failing to Moderate Comments
Often when developers setup sites for small businesses, they fail to provide proper training. This results in their clients not knowing how to manage their WordPress sites. By the time they realize, they have a tons of work to do. One of our users ran into this issue, and he is still working on getting caught up.

If you don't want comments on your site, then simply turn them off using the Disable Comments plugin.
19. Error Establishing Database Connection
This is less of a mistake, and more of an error. But this can happen due to a mistake. Were you using the same password for your database as your cPanel password? If you did and changed that password, then your WordPress site will return an error establishing database connection error. This is why you should always create a database specific user.
This error can happen for other reasons as well. Refer to the article above to see all other fixes.
20. White Screen of Death
If you are over 18 years old, then you have experienced the blue screen of death on your PC. Well WordPress has a similar error called the White Screen of Death. This happens when you install a bad plugin or theme that exhausts the memory limit of your site. You can easily fix it by increasing the memory limit in most cases.
For all other fixes see: How to fix the WordPress White Screen of Death
21. Crazy Long Archives
When starting with WordPress, the archive widget looks very cool because it shows all the months you have been blogging. After a year, it starts to look a bit annoying and cluttered. This also makes your sidebar insanely long which doesn't look very good. In these cases, you want to create a custom archives page.
22. Not Saving Images for the Web
As a beginner, we don't really care about performance, storage space and such which is why we upload non-optimized images. As we get more experienced we realize that the images we uploaded could have been so much smaller if only we compressed it for web. Often the quality doesn't go away either.
Adobe Photoshop has an option to Save for Web. GIMP (free software does as well). JPEG Mini is a neat tool that lets you do this as well.
23. Ignoring Security

Often users don't care about their site security until they get hacked. This is also why they don't make backups at first either. We strongly recommend that you try to improve your WordPress security. Few things you can do:
24. Hard Coding Everything
When starting out most DIY users hard code everything in their custom page templates. There is nothing wrong with that, but it just makes things harder to manage if you want to pass things on.
The reason why people love WordPress is because it is easy to use. If you hard-code everything, then it defeats the purpose. This is why you should try to utilize coding best practices and standards.
25. Not Learning More
One of the worst mistakes you can make is not learning more about the platform that you use. There are new plugins and solutions coming out every day. Some that significantly improve the way things were done before. This is why we always recommend our readers to make a conscious effort to learn more about WordPress and get involved.
The easiest way to do this would be to read WPBeginner regularly. Join our newsletter from the sidebar to get daily and/or weekly updates, so you are always up to date with all the cool things and tools.
We also encourage that you follow @wpbeginner on twitter because we post a lot of small but important updates there. We have also created a list of WordPress Experts that you can follow from one place. If there is something interesting going in the WordPress world, then these folks will be talking about it. You can also find tons of insider scoop there.
To get involved with the open source project, the best resource is to look at the make.wordpress.org site. This will take you to the areas where you are most interested in contributing.
We hope that you found this article about 25 most common WordPress mistakes that you should avoid. What are some mistakes that you have made in the past? Let us know by leaving a comment below.