Earlier this month we discussed gamification and increasing user engagement by points system. The purpose of these posts was to help beginners learn how to create interactive and engaging websites. Adding Polls and surveys is another way to engage your audience. Polls also give you great deal of insight into your users. In this article, we will show you how to add polls in WordPress within minutes without any coding.
First, you need to install and activate Polldaddy Polls & Ratings plugin. Upon activation, you will notice a Polls menu item in your admin sidebar. Clicking on the Polls will take you to a page asking for your Polldaddy.com account information.

If you have a polldaddy.com account then you can sign in right away, otherwise visit polldaddy.com to create an account.
Once you have created the polldaddy account, you can come back to Polls on your website and sign-in. After sigining in you will notice that the Polls menu item in the admin sidebar has changed into Feedback. Click on Feedback and it will take you to Polldaddy Polls page.
Lets create your first WordPress poll. Click on Create a Poll Now button or click on Add New.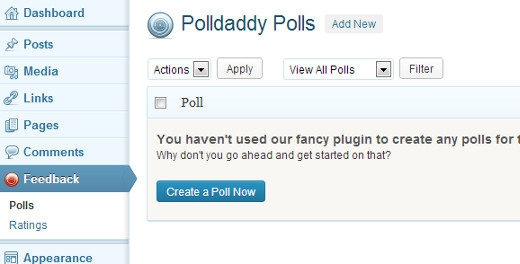 Polldaddy for WordPress has a very simple interface. You can simply add a question along with the answer choices. You can also add audio, video, or image files with your question and answers.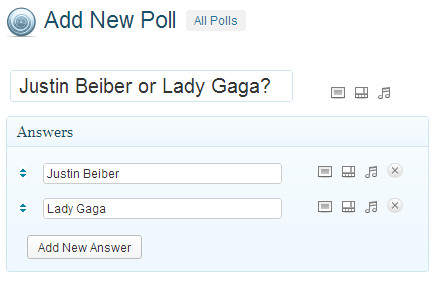 Below the Question/Answers section, there is a section for styling which allows you to choose the style for your poll. Polldaddy provides several color schemes and skins to choose from. Choose the one that best matches your WordPress theme.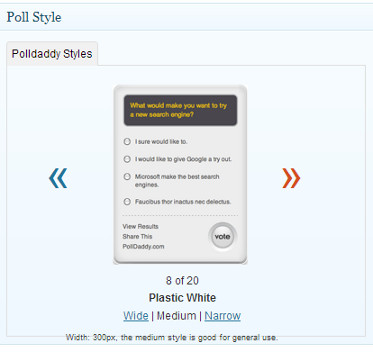 Once you feel satisfied with the poll style, click the Save Poll button. Saving the poll will reload the page and you will see a poll shortcode and Embed Poll in New Post button. You can copy the shortcode and paste it into any post, page, or widget on your blog.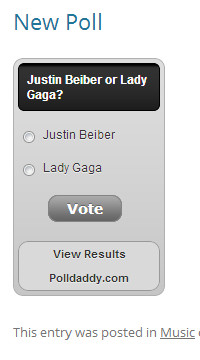 You can manage all polls by clicking on Feedback tab inside the admin area. It will show polls you have created with options to edit, embed, and close the poll. You can also delete a poll if you need to.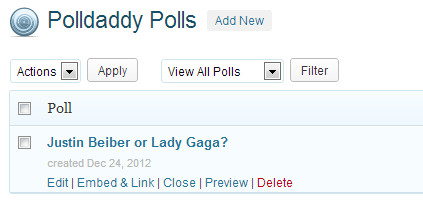 There are many other ways to add polls in your WordPress website some easier than others. What's your favorite method of adding polls and surveys in your WordPress website?