WordPress user interface has evolved steadily since its first release in 2003. WordPress started out as a simple blogging platform and has now matured into a full-fledged CMS platform. In this article, we will take you to back in time to show the different stages in the evolution of WordPress user interface since 2003 until now.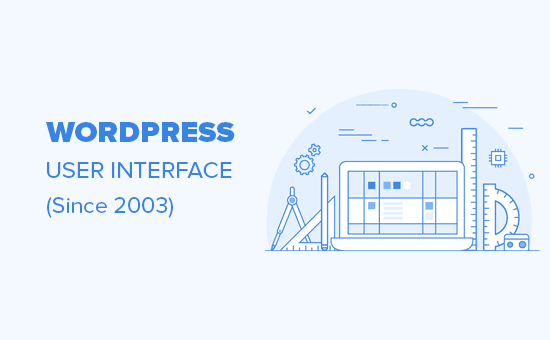 The Beginnings of WordPress
WordPress started out in 2003. Mainly because the development on an already popular blogging software b2/cafelog was discontinued by their main developers.
Two passionate users of b2/cafelog, Matt Mullenweg and Mike Little, decided to build a new platform on top of b2/cafelog. This is how WordPress was first released on 27th May, 2003. Learn more about the origin story of WordPress in our article on the history of WordPress.
Since then, there has been a lot of WordPress releases. In this article, we will highlight the ones that introduced a big change in admin panel user interface.
WordPress 0.71 – (June 2003)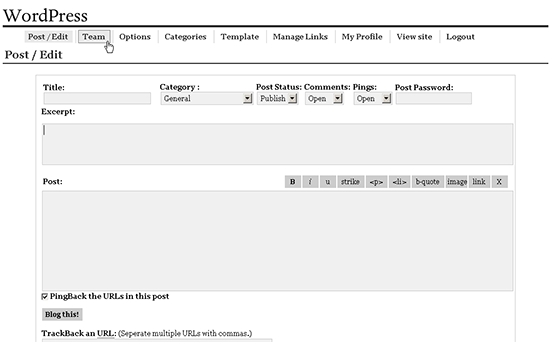 The landing page of WordPress 0.71 admin panel was directly the write post page. As you can see there was no dashboard.
Features were very limited, and it was kept simple. You could only assign one category to each post. This version of WordPress had a tedious installation method where you would have to change a lot of information manually.
WordPress 1.0.1 (Miles – 2004)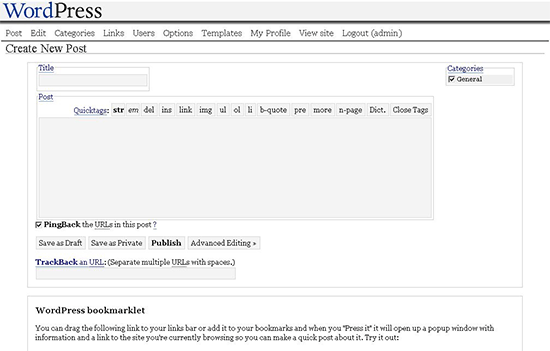 Starting this version, WordPress started naming its major releases after Jazz musicians. As you can see this release was named after a famous musician, Miles Davis.
In this version, WordPress stopped using the b2 file structure and moved toward its own style of filing structure. New features included multiple category selection, SEO friendly URL structure, comment moderation, new installer, and several other improvements.
WordPress 1.2 – Mingus (May 2004)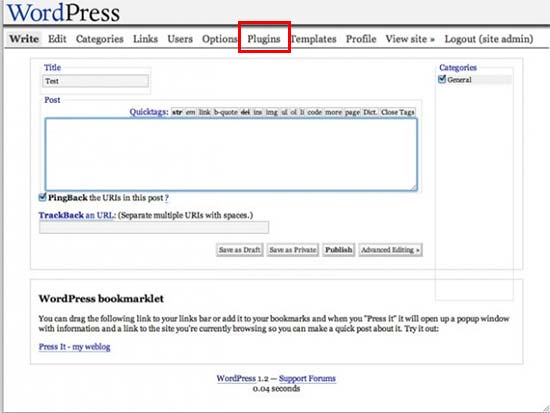 Named after Charles Mingus, WordPress 1.2 was a monumental release. One of the most important upgrades in this version was the introduction of "Plugins".
Other notable changes were Sub categories, custom fields, thumbnail creation, post preview, encrypted passwords, and the ability to ping more than one service at a time.
WordPress 1.5 – Strayhorn (Feb 2005)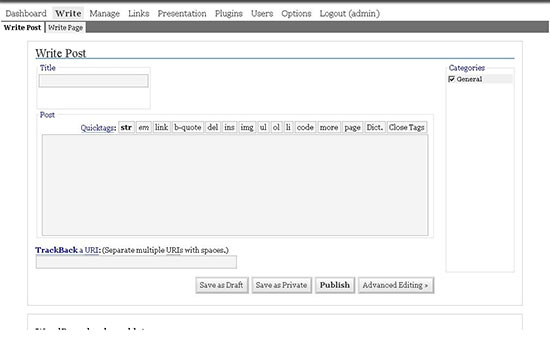 This version of WordPress was named after Billy Strayhorn. It showed the first glimpse of a new dashboard style. It didn't use Ajax and was way slower than the WordPress we use today.
Another significant feature was the introduction of pages along side posts, allowing users to create static pages that were not part of their blog. This release also added support for installing multiple themes in a single WordPress installation.
WordPress 2.0 – Duke (Dec 2005)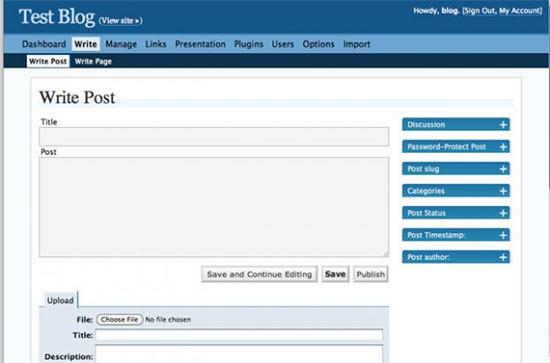 WordPress 2.0 brought a major uphaul to the WordPress admin interface. It had a large blue header on top a complete overhaul of the admin area. It was way faster than previous releases as it utilized Ajax to perform certain tasks.
This release also included a full WYSIWIG editor. Akismet was introduced as a plugin to combat with the growing comment spam problem. Some other notable features were image/file uploading, theme preview via thumbnail (screenshot.png), improved posting speed, new hooks for developers, and more.
WordPress 2.1 – Ella (Jan 2007)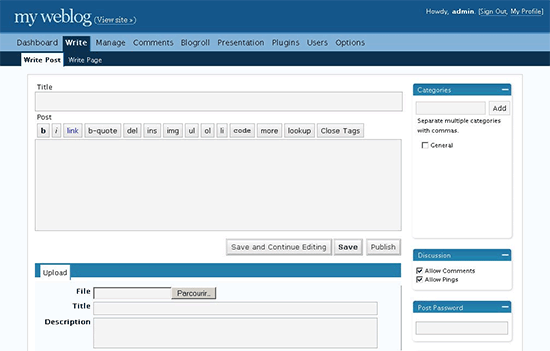 WordPress 2.1 Ella was the first release to introduce a new admin screen to manage comments. The comment management process was significantly improved as users were able to delete or approve comments without reloading admin screens.
WordPress 2.3 – Dexter (Sep 2007)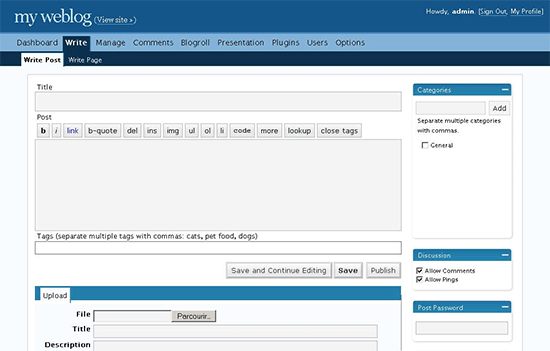 This release didn't drastically change WordPress user interface but added several significant improvements. For the first time WordPress improved native support to add tags to your posts.
It also introduced update notifications allowing WordPress core and plugins to show notifications when there is a new version available. This release also started auto-redirecting users to correct WordPress URL as defined in the settings.
WordPress 2.5 – Brecker (Mar 2008)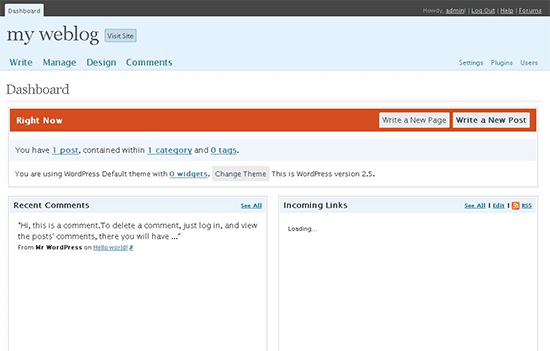 For WordPress 2.5, the WordPress team collaborated with Happy Cog, a leading web design consultancy firm, to overhaul WordPress user interface. It was a major re-design or rather reimagining of WordPress how we use it today.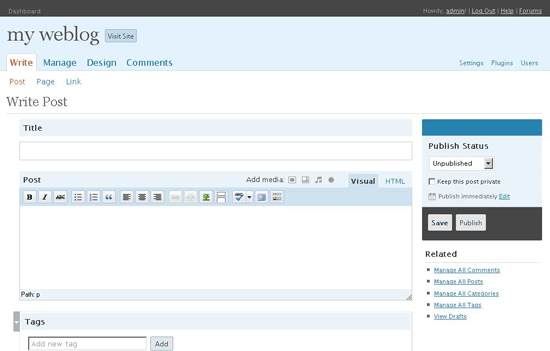 The dashboard got much better as they added more useful information there. This was the first version where we saw one click upgrade for plugins which were in WordPress plugin directory. Much better visual editor and a built-in gallery was also included in this release.
Many of the core components of this redesign are still a major part of the software. However, its appearance quickly changed just 10 months later.
WordPress 2.7 – Coltrane (Dec 2008)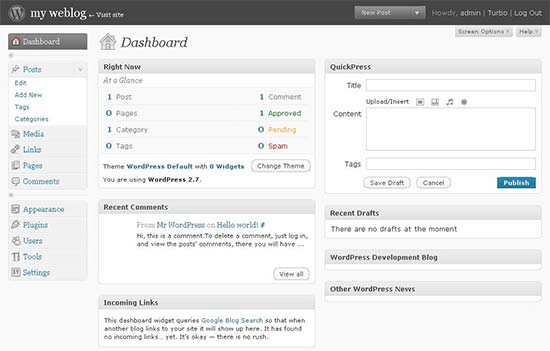 WordPress 2.7 brought another major upgrade to the WordPress admin user interface. Users were now able to readjust WordPress dashboard elements. Screen options were introduced so that users can show and hide elements to meet their requirements.
Other notable features included automated installation for plugins through the WordPress admin panel. Reply to comments from the admin panel, threaded comments, sticky posts, keyboard shortcuts, comment paging, and more.
WordPress 2.9 – Carmen (Dec 2009)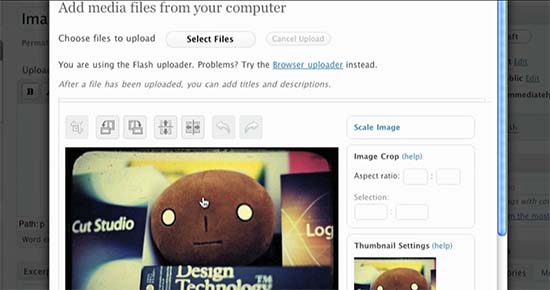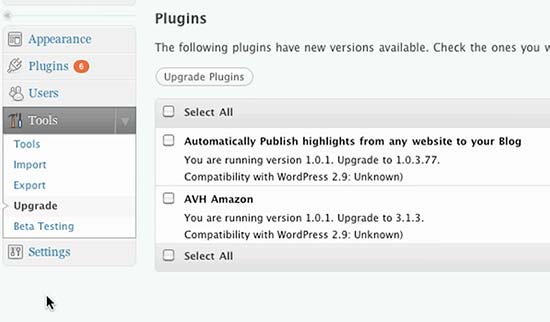 WordPress 2.9 didn't change user interface but added several new features that integrated beautifully in the WordPress interface. One of these changes was a plugin update system, that allowed users to update their plugins to the newer version with a single click.
Another major change in the release was image editing features, which allowed users to crop, resize, rotate, scale, and flip images in WordPress.
WordPress 3.0 – Thelonious (2010)
WordPress 3.0 Thelonious was a major WordPress upgrade which truly transformed WordPress from a blogging platform to a full fledged CMS. It introduced post types, taxonomies, custom backgrounds, headers, shortlinks, and navigation menus. It also started the tradition of introducing a new default theme each year, this new default theme was called Twenty Ten.
This release merged a WordPress sister project called WordPress MU into core WordPress itself. This feature is now known as WordPress multisite. The basic style of the admin interface was capable of adapting all these major changes without a significant overhaul of the admin area.
WordPress 3.1 – Django Reinhardt (2011)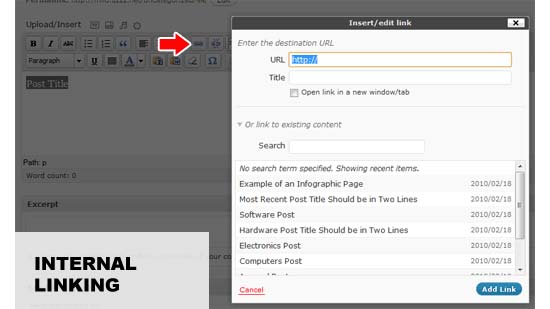 WordPress 3.1 continued adding feature to the robust WordPress user interface. With this new release, WordPress introduced the admin bar, post formats, and a better internal linking feature.
WordPress 3.3 – Sonny (2011)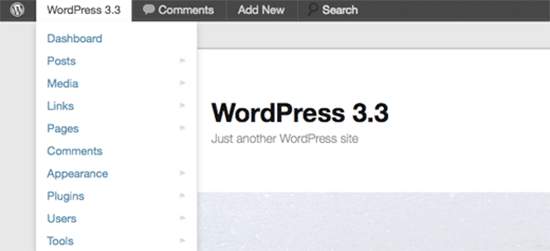 Released in December of 2011, WordPress 3.3 came packed with features and improvements to existing WordPress UI. It added fly out menus for better navigation in the admin area, a revamped admin bar, drag and drop to upload media, and tool tips. See more features and screenshots of WordPress 3.3.
WordPress 3.5 – Elvin (2012)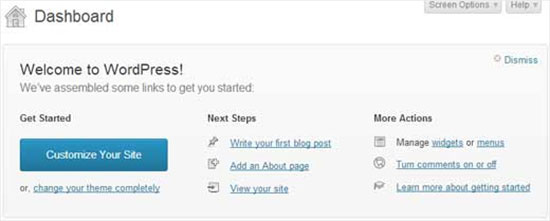 Mobile and high resolution devices were already becoming accessible to all users. WordPress 3.5 streamlined the user interface for modern retina display devices. This included upgraded icons and adaptive styles that looked great on any screen resolution. See more features and screenshots of WordPress 3.5.
WordPress 3.8 – Parker (2013)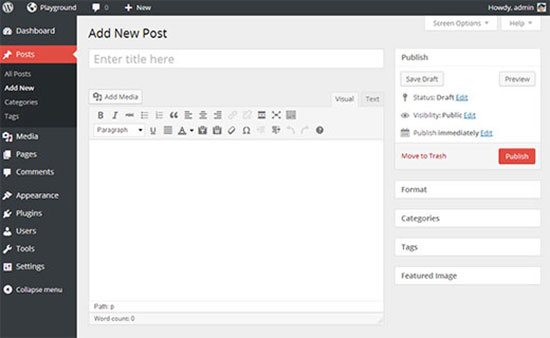 The appearance and basic style of WordPress UI wasn't changed since 2008 and was way overdue for a major upgrade. The goal for this upgrade was to handle mobile devices more elegantly and make WordPress more accessible. After a ton of work, the new WordPress user interface was released with WordPress 3.8.
The new user interface which is still used (with minor enhancements) was mobile responsive, had more color schemes, used icon fonts, and Open Sans for typography.
WordPress 3.9 – Smith (2014)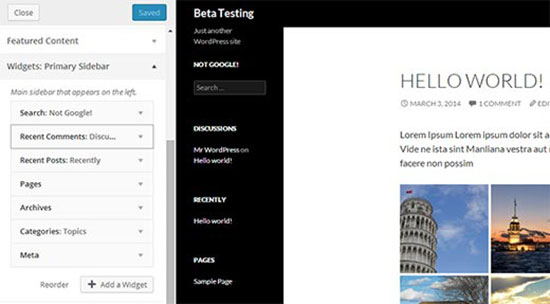 WordPress kept improving the UI to handle new features. WordPress 3.9 made several enhancements it started using flat buttons in the post editor, drag and drop image uploads, gallery previews, and more. It also added live previews when adding widgets in theme customizer. See more features and screenshots of WordPress 3.9.
WordPress 4.0 – Benny (2014)
The same year WordPress 4.0 was released. There was no major change in the UI. However, there were some cool changes that fit right into the existing WordPress admin look.
A new grid view for Media gallery was introduced with infinite scroll and smooth editing. See screenshots and features of WordPress 4.0.
WordPress 4.2 – Powell (2015)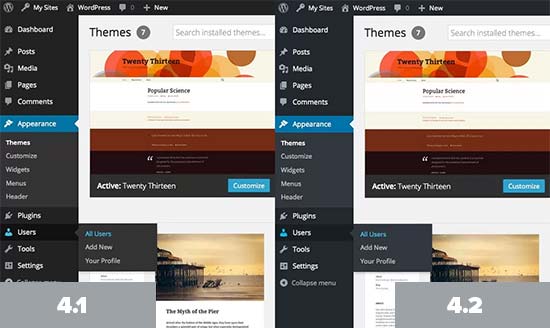 WordPress 4.2 came with a tiny but significant improvement in the admin area color scheme. The grays were given a slight blue hue and the blues were changed to pure blue with no red channel. See more features and screenshots of WordPress 4.2.
WordPress 4.5 – Coleman (2016)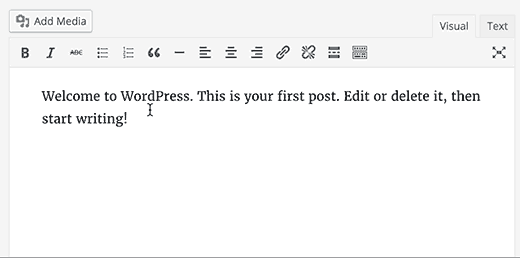 WordPress 4.5 brough some improvements in the default WordPress visual post editor. A new inline link editing feature was introduced along with some new inline text shortcuts.
Responsive previews were added in theme customizer which allowed users to preview their theme desktop, tablet, and mobile without changing devices. For more features see our article on the release of WordPress 4.5 with screenshots.
WordPress 4.6 – Pepper (2016)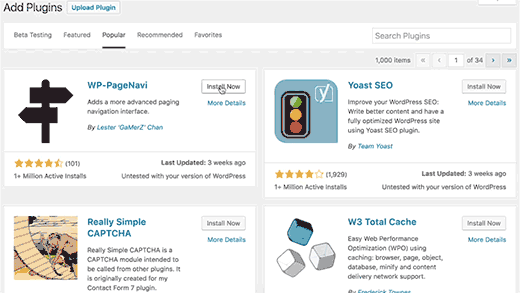 In WordPress 4.6, the core team decided to start using native fonts instead of loading Open Sans from Google servers. This release also streamlined updates, which allowed users to install, update, and delete plugins/themes without leaving a page.
WordPress 4.8 – Vaughan (2017)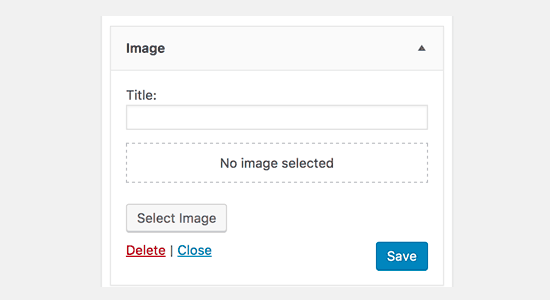 WordPress 4.8 introduced a new set of widgets to add media like images, audio, video, and rich text. It also added a new dashboard widget that displayed WordPress news and events. For more features and screenshots, see our overview of WordPress 4.8.
WordPress 4.9 – Tipton (2017)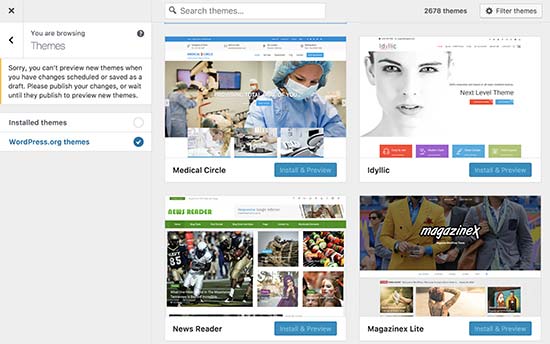 The last major release of WordPress for 2017 added more features to Theme Customizer. It added a new theme browsing and preview experience in customizer.
It also made code editing in custom CSS and theme/plugin editors much easier by adding syntax highlighting and auto-completion features.
WordPress 5.0 – Bebo (2019)
WordPress 5.0 was a major release in 2018 that came with a brand new block-based content editor called Gutenberg.
Gutenberg allows you to easily create beautiful content layouts with a drag and drop interface. You can use also save and reuse your WordPress blocks.
While Gutenberg still has a long way to go to become a full-featured WordPress page builder, there are plans to expand the block editor functionality in other areas of WordPress.
See: Gutenberg vs WordPress page builder to see the full differences.
When it first launched, there was a lot of controversy around the new Gutenberg block editor. Many users even disabled Gutenberg in favor of the Classic Editor.
However we believe this update was a necessary step forward for WordPress because the old classic editor interface felt a bit outdated when compared to the other popular website builders in the market.
WordPress 5.8 – Tatum (2021)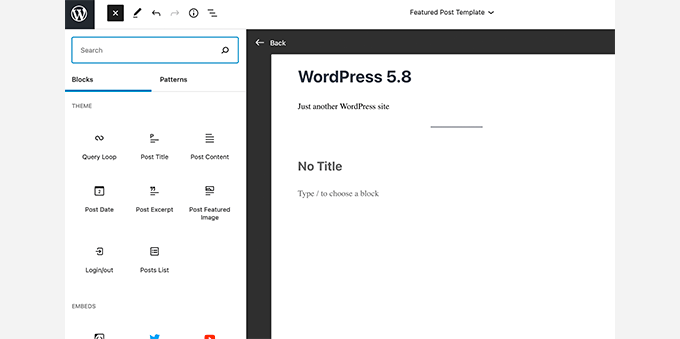 Over the last few years, WordPress has continued to improve the block editor in an effort to offer a full site editing solution.
In WordPress 5.8, a new templates feature was introduced along with several site-wide blocks to easily create site-wide templates in WordPress.
This version also introduced block-based widgets. Each widget-ready area in your WordPress theme will appear as a tab in the block editor. You can add widgets as blocks to your website's sidebars and widget-enabled areas.
There are a lot of exciting things in the works that will help push WordPress interface forward in the coming releases.
We hope this article helped you see the evolution of WordPress user interface since its first release in 2003. You may also want to see our list of the top WordPress companies and businesses.
If you liked this article, then please subscribe to our YouTube Channel for WordPress video tutorials. You can also find us on Twitter and Facebook.