Online question and answer communities like Yahoo Answers, Quora, Stackoverflow are fun and easy way to learn from others. Q&A sites allow users to ask specific questions on selected topics which are answered by other community members. In this article, we will show you how to create a question and answers site in WordPress. You can create a whole site dedicated to question and answers or you can add a Q&A section to your existing WordPress site.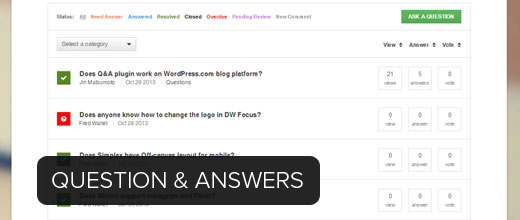 Video Tutorial
If you don't like the video or need more instructions, then continue reading.
First thing you need to do is install and activate the DW Question Answers plugin. Upon activation, the plugin creates two new pages in your WordPress site: DWQA Questions and DWQA Submit Question. To edit title and slug of these pages, you need to go to Pages » All Pages and click Quick Edit link below each link.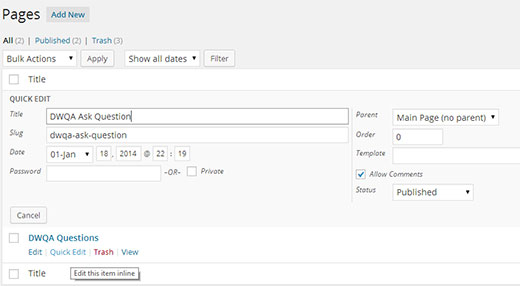 The next thing you need to do is to allow user registration on your website. This can be achieved by going to Settings » General. Scroll down to the membership section and check the box next to Anyone can register. Make sure that you choose Subscriber as the new user default role.
Now that user registration is enabled, let's configure the plugin settings. Start by going to DW Q&A » Settings. On the General tab, you can configure the basic plugin settings. Most options here are self-explanatory.
You need to choose the page that will display the Ask Question form and another page that will List All Questions. The time settings allow you to pick how long an individual question will be highlighted as a new question. You can do this by entering the number of hours next to the New Question Time Frame option. You can also set number of days after which a question will be marked as overdue. In the Custom Permalink section, you can enter page slug for single question, single Q&A category, and single Q&A tag.
Now lets head over to the Notification tab. Here you can customize the emails sent to users when a question is asked, answered, or a new comment is added.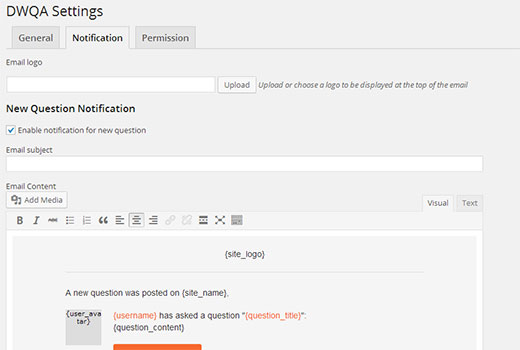 On the Permissions tab, you can choose user roles allowed to ask questions, answer questions, and leave comments. By default the plugin allows anonymous users to post answers, but questions can only be asked by registered users. This is a great incentive for users to register.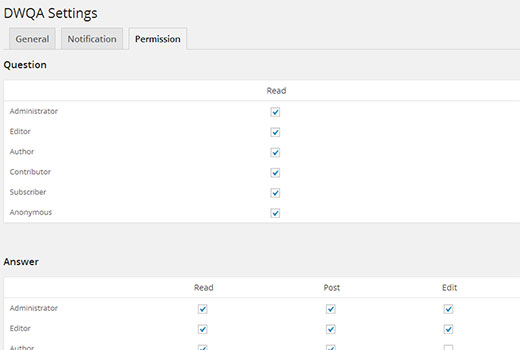 Managing Your Question Answer Site
You can view all questions added to your site from DW Q&A » All Questions. As an administrator, you can edit or delete any questions submitted by any user on your site.
You can also add Question categories since users do not have permissions to create categories. However, users can add question tags when submitting a question on your site. To understand the difference check out our guide on Categories vs Tags.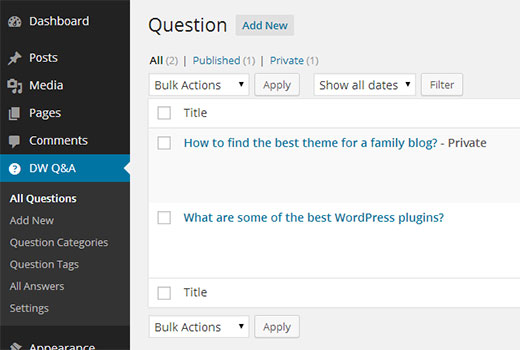 The Front End Features of Your Q&A Site
DW Question Answers is designed to fit in with most WordPress themes. This is how your questions page will look:
Questions can be searched or sorted by status, categories, views, and answers. Your users can vote on questions, answers and add their own comments. Users can also follow questions by clicking on the star icon next to each question.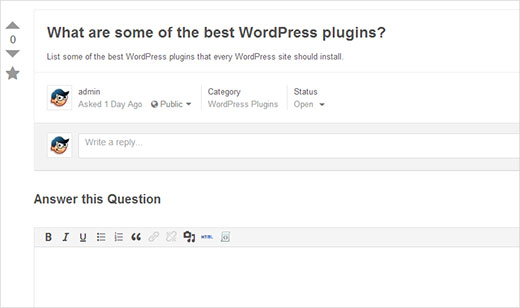 The user who has asked the question and the site administrator has the ability to mark a question as resolved. Users can also vote for answers, choose the best answer, and add comments to the questions and answers as well. This provides a much deeper interaction platform for your users to engage in discussions around the question topic.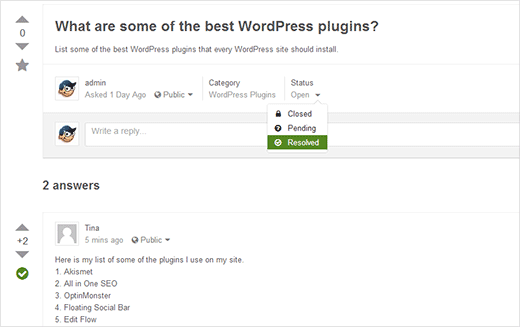 This plugin is free and performs very well during our tests. There are several Question and Answer WordPress themes out there, but those lock you in to using that theme forever. The advantage of using a plugin is that you can switch your theme without losing any data.
We hope this article helped you build your own Q&A community on your WordPress site. If you have any questions for us, then please don't hesitate to leave us a comment below. Also don't forget to follow us on Twitter and Google+.