Do you want to create a responsive slider for your WordPress websites?
Sliders are commonly used on the front page of business or portfolio websites. They help in showcasing your top-selling products and relevant content to your audience.
In this article, we will show you how to easily add a WordPress slider with Soliloquy, so you can add fast, responsive, beautiful sliders for your website.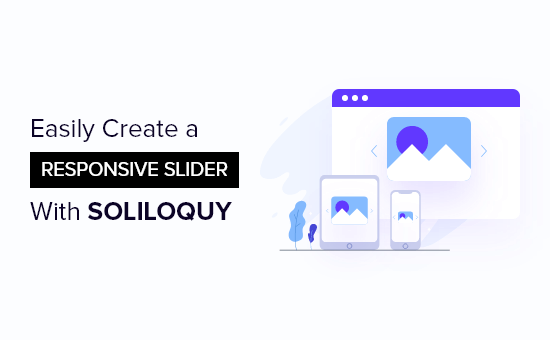 Why Use Soliloquy as Your WordPress Slider?
Soliloquy is a responsive WordPress slider plugin rich in features, and it is fairly easy to manage. Here are some of the benefits of using Soliloquy over other plugins:
Soliloquy follows WordPress coding standards and best practices.
It uses a custom post type to handle sliders which makes it easier to import/export sliders with any WordPress backup solution.
It is WordPress SEO friendly, as you can add alt text and captions to each slide.
Ajax powered drag-drop slide sorting makes it very easy to use.
Responsive WordPress slider with touch swipe support for touch-enabled devices such as smartphones and tablets.
Developer friendly with great documentation and 100+ hooks. You can easily white-label it if needed.
That being said, let's look at how you can use Soliloquy to create a WordPress slider.
Creating a WordPress Slider with Soliloquy
First, you'll need to sign up for a Soliloquy account, as it's a premium WordPress plugin.
Next, you'll need to install and activate the Soliloquy plugin on your website. For more details, you can follow our guide on how to install a WordPress plugin.
Upon activation, you'll need to head over to Soliloquy » Settings from your WordPress dashboard and then enter your license key. You can easily find the license key in your account area on the Soliloquy website.
After verifying your key, you can add a new slider for your WordPress website. To add a new slider, simply go to Soliloquy » Add New. You can start by adding a title for your WordPress slider.
Next, you'll need to add files to your WordPress slider. The plugin lets you drag and drop files, or you choose images from the media library.
To add a video as a slide, you'll need to upload your video to either YouTube or Vimeo. Uploading videos directly to your website is not a good idea, as it can slow down your website and take up a lot of storage.
Once you have the video URL, simply click on the 'Select Files from Other Sources' in Soliloquy and then paste the video link in the 'Insert from URL' section. When you're done, go ahead and click on the 'Insert into Slider' button at the bottom right.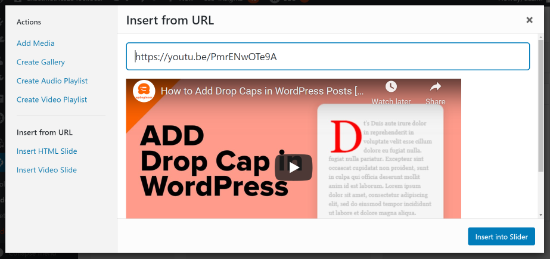 After inserting your slides, you can view them under the 'Slider' tab.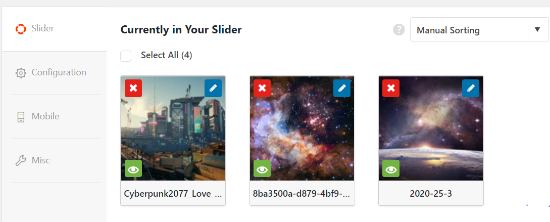 Next, you can click on the 'Configuration' tab and change the slider display settings. For example, there are options to change the slider theme, edit image size, slider dimension, slider position, and caption position.
You can also enable options to display slider arrows, pause/play button, slider looping, and more. There are also settings to edit the slider transition, adjust the transition speed, and change delay time.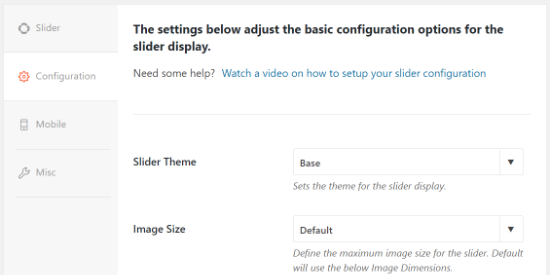 After that, you can head over to the 'Mobile' tab and enable options to create mobile-specific images and display image captions on mobile devices.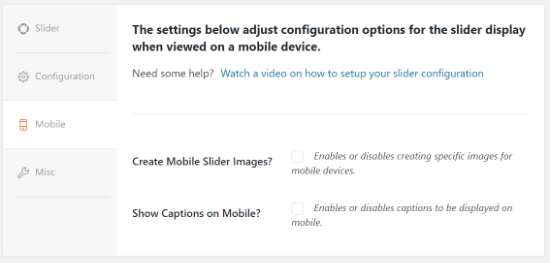 Besides that, you can also access more settings under the 'Misc' tab. Soliloquy lets you add custom CSS for your slider, import and export slider, edit slider title and slug, and more.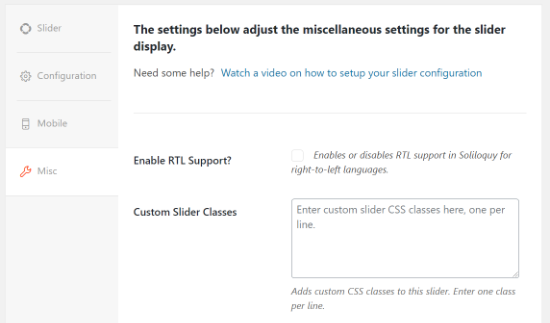 When you're satisfied with the settings, you can now go ahead and publish your slider by clicking the 'Publish' button.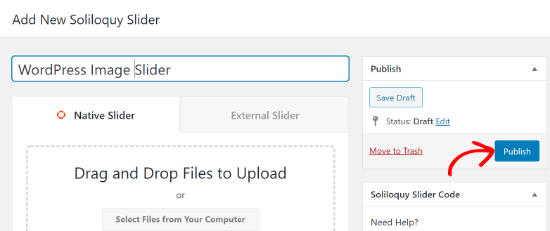 Adding a WordPress Slider in Posts and Pages
The next step is to insert that slider in a WordPress blog or your eCommerce store.
To start, edit any blog post or page. Then in the WordPress content editor, simply click the (+) plus sign to add a Soliloquy block.
After that, you can select your WordPress slider from the dropdown menu in the Soliloquy block.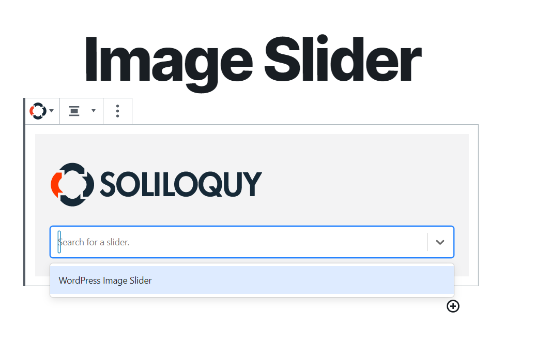 Now, go ahead and publish your blog post or landing page to see the slider in action.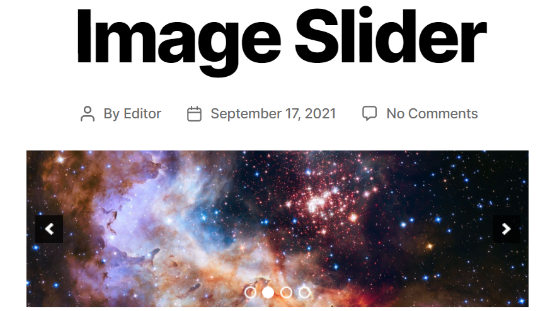 Editing and Updating a WordPress Slider with Soliloquy
The great thing about creating a WordPress slider with Soliloquy is that you can edit your slider any time you want without editing the post or page where you have inserted the slider.
Simply click on the Soliloquy icon in your admin sidebar and then click the 'Edit' link below the slider you want to update.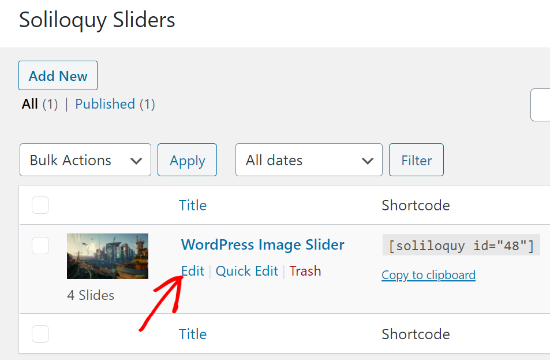 Now, let's edit the slider you created above. You can add a title, URL, and captions to your individual slides by simply clicking the edit button next to an individual slide in your slider.
You will see a pop-up window where you can enter the image title, alt text, link your slide to a URL, and enter a caption. You can also use HTML in your caption in case you want to add a newsletter opt-in form.
When you've added the information, save your slider images. Your changes will automatically reflect in the slider wherever it is embedded on your site.
Adding Soliloquy WordPress Slider in Widgets
Soliloquy comes with a widget that you can use to add a slider on your website, like in the sidebar.
You can add a slider in a widget by going to Appearance » Widgets and drag-drop Soliloquy widget to any area on your website.
Next, choose your WordPress slider from the dropdown menu and add a title. Since sliders created with Soliloquy are responsive, they will automatically adjust to fit your sidebar's width.
Now click the 'Save' button and visit your website to see the Soliloquy slider in your widget area.
We hope that this article helped you learn how to easily create a responsive WordPress slider with Soliloquy. You may also want to check out our guide on how to choose the best design software.
If you liked this article, then please subscribe to our YouTube Channel for WordPress video tutorials. You can also find us on Twitter and Facebook.