Do you want to show your Facebook page reviews and ratings on your blog? Facebook reviews include user ratings of your products or services which is a great social proof for boosting conversions. In this article, we will show you how to display your Facebook page reviews on your WordPress site.
Why You Should Display Your Facebook Page Reviews?
Facebook pages have a review system that allow users to post reviews and rate their favorite products / services. Having good reviews on your Facebook page reassure new users about the stability of your brand.
These Facebook page reviews are like testimonials in WordPress. Mostly users find it hard to leave a testimonial on your blog. However everyone uses social media platforms like Facebook which makes it easy to collect testimonials.
You can display these reviews on your blog, so the new visitors can quickly read what others have said about your services. Social proof like this helps you build trust around your brand.
Showing Your Facebook Page Reviews in WordPress
First thing you need to do is install and activate the Facebook Reviews plugin. For more details, see our step by step guide on how to install a WordPress plugin.
Upon activation, you need to go to Appearance » Widgets in your WordPress admin area to drag and drop the Facebook Reviews widget in blog sidebar.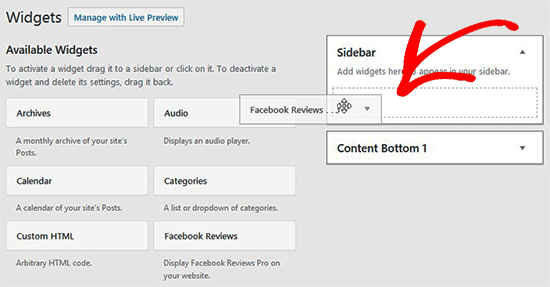 Next, you need to add a widget title and click on the Connect to Facebook button to launch your pages in this widget.
Once connected, you'll see all your Facebook pages. You will need to select the page that you want to display reviews from in your WordPress sidebar.
Next, you need to expand the widget settings one by one to manage the display of page reviews on your blog. In Review Options, you can enable Google rich snippets, set filters for reviews to display, and add number of reviews per page.
In Display Options, you can hide unnecessary elements, enable dark background, limit review length, and select a theme for page reviews.
After that you should expand Slider Options. From here, if you enable Review Slider Theme, then it will automatically change the theme in your display options. You can fix slider speed and add the number of reviews to display on each slide.
In Advanced Options, you can manage links, cache, and API settings for Facebook page reviews.
Once you are done with these settings, go ahead and save the changes. You can now head over to your blog to see Facebook page reviews in your sidebar.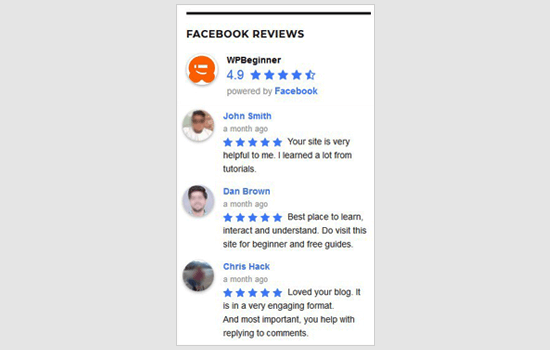 You can also create shortcodes for your Facebook page reviews and display them anywhere on your blog. For this, you need the Facebook Reviews Pro plugin.
Once activated, simply visit the Settings » Facebook Reviews Pro page and go to the Shortcode Builder tab. You need to click on Connect to Facebook button to select your page.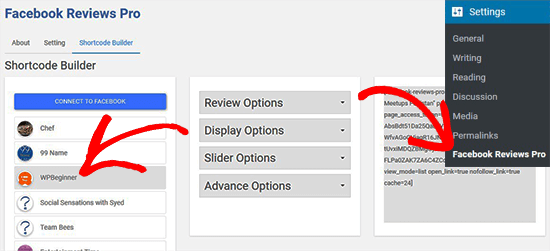 The 4 sections for managing the display of page reviews are similar to the settings in your sidebar widget. Your changes will automatically update the shortcode box that can be seen at the right side of the screen.
You can paste this shortcode in blog posts or page to display your Facebook page reviews in WordPress. After that head over to your blog to see the reviews in action.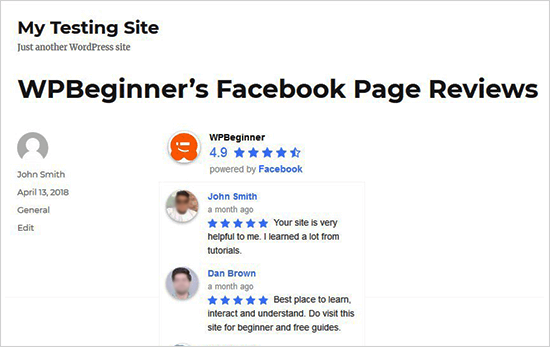 There's a lot more you can do to attract users from Facebook like automatically post to Facebook from your blog, create a custom Facebook feed for users, and also add login with Facebook in WordPress.
We hope this article helped you learn how to display your Facebook page reviews in WordPress. You may also want to see our complete list on 9 WordPress Facebook plugins to grow your blog and become popular in the industry.
If you liked this article, then please subscribe to our YouTube Channel for WordPress video tutorials. You can also find us on Twitter and Facebook.