Are you looking to add a slider in your WordPress site? Tired of going through hundreds of WordPress slider plugins to see which one is the best? Well you're in the right place. In this article, we will compare 5 of the top WordPress slider plugins based on their speed, ease of use, and overall features. The goal is to find which is the best WordPress slider plugin.
Many WPBeginner readers, quickly graduate the beginner level and step into theme customization. One of the most often asked questions by our readers is what is the best WordPress slider plugin? In this article, we will try to answer that question by comparing some of the best WordPress sliders for performance and quality.
The Problem With WordPress Sliders
Most WordPress sliders are slow. If it is not properly coded, a slider can significantly increase your page load time. If you do not have a good WordPress hosting service, your server may respond even slower than normal.
The other problem with WordPress slider plugins is ease of use. Most of them are bloated and come with a learning curve for beginners.
Last but not least, you want to make sure that your WordPress slider is responsive. A lot of them are not.
So how do you go through hundreds of sliders plugin and check for all of this? Well you don't have to. We did the research for you and below are our results for the best WordPress slider.
The Contenders for Best WordPress Slider Plugin
For the sake of this article, we chose 5 of the top and highly recommended WordPress slider plugins. While doing our research, we noticed that these slider plugins were among the most used and recommended. We decided to run some simple tests and see how each one of them performs. The criteria we are looking for is speed, ease-of-use, features, and compatibility.
Speed
Page load time and speed are an important factor to consider when adding a slider to your WordPress site. As mentioned earlier, not only a slow site affects user experience, but it also hurts your search engine rankings. This is why slider speed is our #1 priority during this test.
As you can see in the above scores, Soliloquy was the fastest loading WordPress slider in our tests. The reason why it is the fastest loading slider is that the code is optimized for speed.
The plugin also uses a neat little trick. It loads your cover slide and then rest of the slides are loaded asynchronously. It is not just fast on tests, it feels fast to your visitors too.
If you want a high performance fast WordPress site, then Soliloquy is the best WordPress slider for you.
Ease of Use
Creating sliders is not as simple as we would like it to be. The goal here is to find a plugin that even beginner level users can use to create sliders both quickly and easily.
Soliloquy
We have worked on and tested many WordPress slider plugins, but so far we have found none as easy to use as Soliloquy. Installing it and creating a slider in it is extremely simple (see our guide on how to easily create a responsive WordPress slider with Soliloquy).
The reason why it's easy to use is because it uses the WordPress coding guidelines and blends in with your native WordPress admin interface. Soliloquy has a simple but intuitive user interface to create slides using the default WordPress media uploader.
There are shortcodes, template tags, a button on post editor, and widget to add your slides to different sections of your website.
Nivo Slider
Creating a slider with Nivo Slider was easy and quite straight forward. You can choose the images from the media uploader, and upload multiple new images at once. You can also drag and rearrange slide order. Using the same media uploader interface, you can add captions, link, and alternate text to your slide images. It comes with shortcodes and template tags so you can add a slider to your posts, pages, and template files.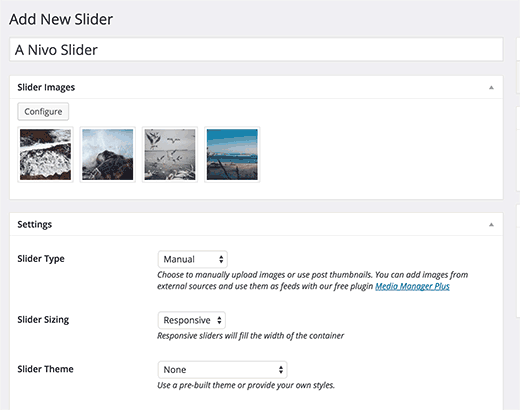 Nivo Slider does not support video and other multimedia type. Meaning this is limited to only image slideshows. It comes with a nice bundle of themes that you can use and lots of transition effects to choose from. Plugin settings, creating slideshows, and adding slides to posts/pages is all very straight forward and smooth. However, if you are counting on features and options, then Nivo falls behind Soliloquy.
Meteor Slides
When creating a slideshow with Meteor Slides you need to upload or select each slide individually. This is time consuming and many new users would probably find it confusing. After installing the plugin, go to Slides » Add New. Give this particular slide a title, and then click on set featured image to upload your slide.
If you want your slide to link to a page, then you can enter a URL. Lastly, you need to choose a Slideshow from Slideshows meta box.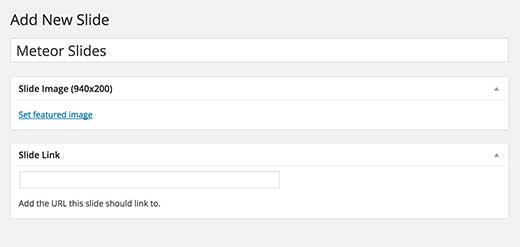 You can not arrange the slide order in a slideshow. You can not add a video slide, or add text over your slide. This makes Meteor Slide very limited in functionality. However, it is useful if all you want to do is add a simple slideshow.
Revolution Slider
Creating a slider with Revolution Slider is not as straight forward because it separates the slider and slides creation process. When create a slider, you will see all the customization options such as resizing, thumbnails, animations, etc, but you will not see the ability to add slides which is confusing.
After creating your slider, you have to come back to the slider list in order to find a button to add your slides.
The user interface looks and feels different than rest of the WordPress UI. There are way too many options and the user interface does not help you easily locate the ones you need.
LayerSlider
LayerSlider is similar to the Revolution Slider because it has it's own user interface which does not match rest of the WordPress UI. There are far too many customization options which can be good for some, but may complicate the creation process for beginners.
Creating your first slider with LayerSlider is not intuitive however there are helpful links to documentation that can help you get started.
Features
If all you want to do is create simple image slide shows, then Nivo Slider and Meteor Slides are both good enough to work with.
Soliloquy, Revolution Slider, and LayerSlider come with a lot more features. They are fully responsive and look equally beautiful on all devices and screen sizes. All three of them support video slides, HTML 5 videos, featured content slides, themes, animations and transitions.
Revolution Slider and Layer Slider both have their own user interface that may feel complicated to new users specially since these plugins bundle all the features in one.
On the other hand, Soliloquy offers a much easier and friendlier user interface to take advantage of all the features. Instead of packing everything in one plugin, Soliloquy uses addons for advanced features which allows you to install only what you need and keep your site bloat free.
Pricing
Another decisive factor that might help users choose a slider plugin for their site is pricing. Here is the price for a single site license of these plugins. Meteor Slider is a free plugin so it is not listed here:
After comparing these plugins we feel that the best WordPress slider plugin award goes to:
Soliloquy is by far the fastest WordPress slider plugin in the market. It follows all of the coding best practices, it is very well documented, it is easy to extend for developers and even easier to use for users, and last but not least it is also the cheapest.
Use our Soliloquy Coupon to get an extra 25% off.
We hope this article answers the questions regarding the best WordPress slider plugin in terms of performance and quality. Which is your favorite WordPress slider plugin? Let us know by sending a tweet to @wpbeginner on Twitter.