Are you looking for a way to use videos as background for your WordPress website?
Background videos can make your landing pages more attractive. If used carefully, a moving background can instantly grab the attention of your visitors and increase engagement.
In this article, we will show you how to add YouTube video as fullscreen background in WordPress.
Why Use YouTube Video as Fullscreen Background?
When visitors first land on your WordPress website, you only have a few seconds to grab their attention and get them to stay on your site.
A great way to do that is to use YouTube videos in the background. A moving background color gives your site a trendy and modern look while emphasizing your brand message.
You can also use YouTube background videos to personalize your website and make it different from your competitors. It can also help highlight your call to action (CTA) buttons and boost conversions.
There are many different WordPress themes that support video backgrounds. However, if your theme doesn't have background video support, then you can easily use videos as fullscreen backgrounds using a WordPress plugin.
Let's take a look at how you can use YouTube videos as your site's background.
Adding YouTube Video as Fullscreen Background
mb.YTPlayer for background videos is a free WordPress video background plugin. It lets you play YouTube videos as background for your blog post or pages. The plugin is very easy to use and works on popular browsers.
The first thing you'll need to do is install and activate the mb.YTPlayer for background videos plugin. For more information, please see our guide on how to install a WordPress plugin.
Upon activation, you can head over to mb.ideas » YTPlayer from your WordPress admin area to configure the settings.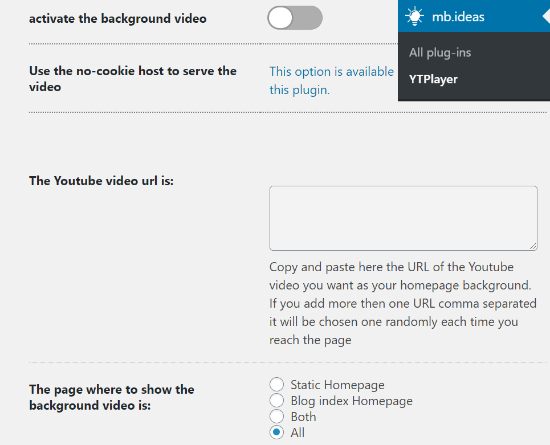 Start by entering the URL of the YouTube video you want to add as the background in the 'The YouTube video url is' box.
You can enter more than one URL, and the plugin will randomly choose the video to play in the background.
The plugin also lets you select the pages where the video background will be displayed. You can use the default setting where the video will play on all the pages, or choose if you want to only display background videos on the homepage.
Besides that, there is an option to play the video from the last position. Simply check the 'Remember last video position' option, and the video will start playing from where you left last time.
Lastly, you can also add a delay of a few seconds before the video starts to play in the background. Adding a delay helps solve any conflicts mb.YTPlayer might have with your site's theme and other WordPress plugins.
Once you've made these settings, don't forget to click the toggle for 'activate the background video' and then click the 'Save Changes' button.
You can now preview your site to see the background video in action.
We hope this article helped you learn how to add YouTube video as background in WordPress. You may also want to check out our guide on how to choose the best blogging platform and the best MailChimp alternatives.
If you liked this article, then please subscribe to our YouTube Channel for WordPress video tutorials. You can also find us on Twitter and Facebook.