Do you want to promote your Facebook page in WordPress with a popup? Lightbox popups work really well to convert visitors into subscribers, and they work even better when promoting your Facebook page. In this article, we will show you how to effectively promote your Facebook page in WordPress with a lightbox popup without annoying your users.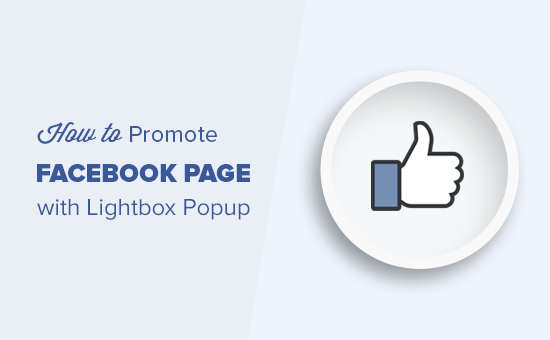 Why Use a Facebook Page Popup in WordPress?
Lightbox popups are frequently used for email list building and lead generation. They convert really well and that's why you see them everywhere.
However, they are not just limited to email list building. You can displaying photos in a lightbox popup, offer content upgrades, display a contact form popup, and more.
While you can easily add the Facebook like box in your sidebar, it is less noticeable thus does not get you good results.
On the other hand, a lightbox popup is more noticeable and requires users to take action. This helps you quickly get more likes for your Facebook page.
That being said, let's see how to add a lightbox popup to promote your Facebook page in WordPress.
Video Tutorial
If you don't like the video or need more instructions, then continue reading.
Creating Lightbox Popup For Your Facebook Page in WordPress
For this tutorial, we'll be using OptinMonster. It is the best WordPress popup plugin and lead generation software in the market because it helps you convert abandoning website visitors into subscribers and followers.
First thing you need to do is signup for an OptinMonster account. You'll need at least the pro plan to use their canvas feature.
Next, you need to install and activate the OptinMonster plugin. For more details, see our step by step guide on how to install a WordPress plugin.
It is a connector plugin that helps connect your WordPress site to your OptinMonster account.
Upon activation, you need to click on the OptinMonster menu in your WordPress admin bar to enter your license key.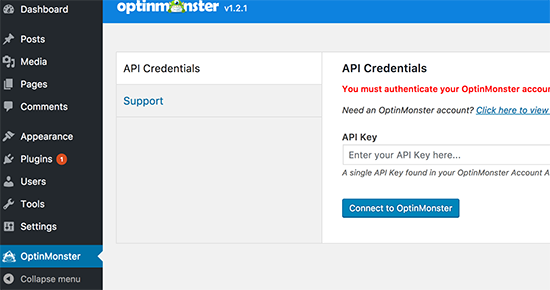 You can find this information from your account dashboard on the OptinMonster website.
After entering your license key, you need to click on the 'Create New Optin' button at the top.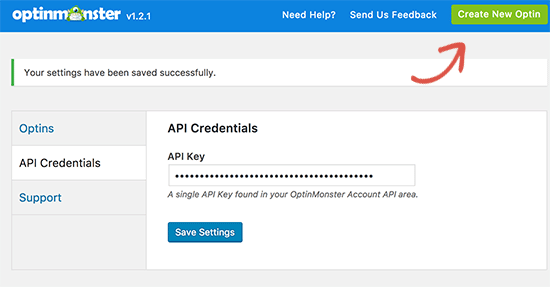 This will take you to the create new campaign page on OptinMonster website.
Now you need to select Lighbox as your campaign type and Canvas as your campaign template.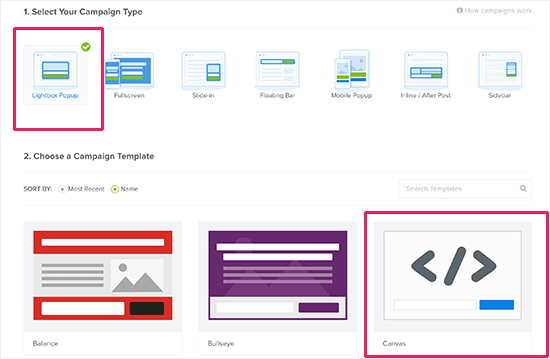 OptinMonster will now you to enter a name for your campaign. This name will help you identify your campaign in your OptinMonster dashboard.
After that, OptinMonster will launch its campaign builder interface. You will see a live preview of your blank canvas template on the right and OM options on the left.
First you need to add the website where you will be running this campaign.
After that, click on the 'Optin' tab to start designing your Facebook lightbox popup.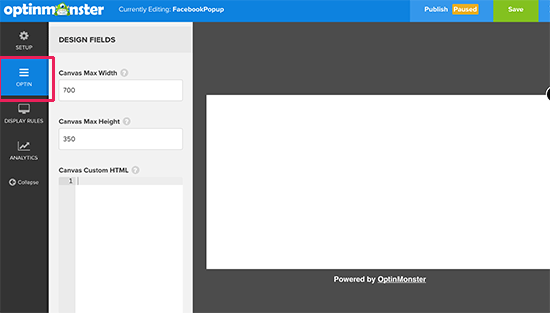 At this point, you will need the embed code for your Facebook page. You can get that by visiting the Facebook Page Plugin website in a new browser tab.
You will need to enter the URL of your Facebook page and adjust the width, height, and other display options for your like box. We recommend using 600px width and 350px height.
After that, click on the Get Code button.
This will bring up a popup where you need to click on the iFrame tab and copy the code.
Now switch back to the OptinMonster builder and paste the code under 'Canvas custom HTML' box.
You'll be able to immediately see the preview of your Facebook like box.
Next, click on the Save button at the top to store your changes and then click on the publish button to continue.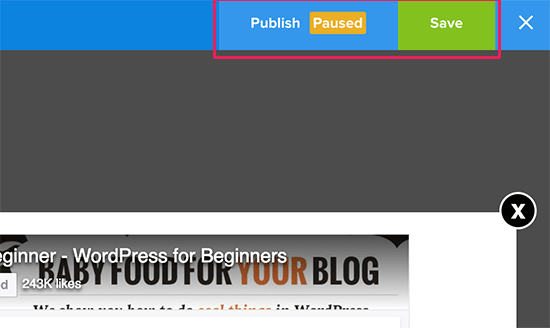 This will take you to the publish settings page for your optin. Toggle Status button to live to make this optin available for your website.
Your Facebook lightbox popup is now ready to be displayed on your WordPress site.
Display Facebook Page Lightbox Popup in WordPress
Switch back to the WordPress admin area of your website and click on the OptinMonster tab. You will now see your newly created optin listed there. If you don't see it, then click on the 'Refresh Optins' button.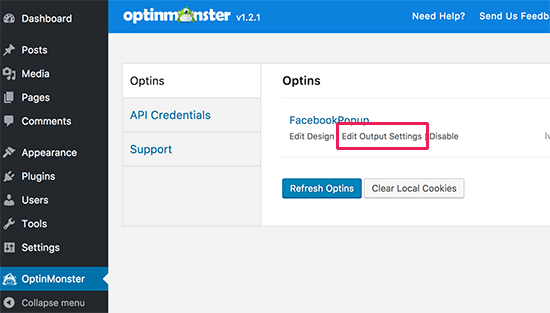 Click on the 'Edit output settings' link below your optin to continue.
On the next screen, make sure that the box next to 'Enable optin on site?' option is checked.
Don't forget to click on the save settings button.
OptinMonster also allows you to selectively display popup on different pages, posts, categories, or tags. You can also show or hide it from logged in users.
Once you are done, you can visit your website to see your Facebook Page displayed in a lightbox popup.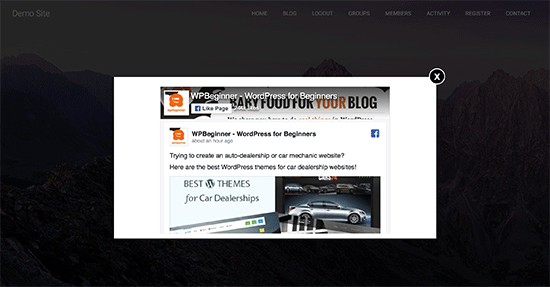 We hope this article helped you learn how to promote your Facebook page in WordPress with a lightbox popup. You may also want to see our list of WordPress plugins that will quickly help you get more traffic.
If you liked this article, then please subscribe to our YouTube Channel for WordPress video tutorials. You can also find us on Twitter and Facebook.