Do want to improve the product search in your WooCommerce store?
WooCommerce has a built-in search feature, but it is not very good at finding products. Replacing it with a smarter and faster search can improve the user experience and bring in more sales.
In this article, we will show you how to make a smart WooCommerce product search for your online store.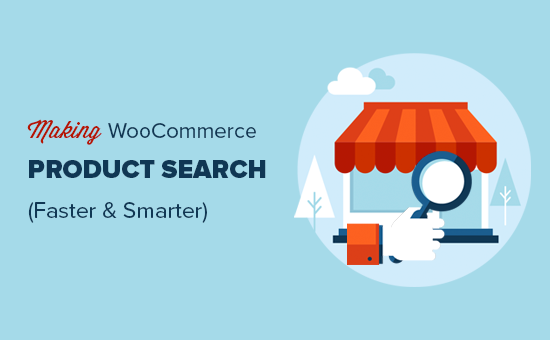 Why Add a Smart WooCommerce Product Search to Your Store?
By default, WooCommerce comes with a built-in product search, but it is very limited.
It does not look for matches in product attributes, reviews, custom fields, or the product description. It is also very slow and doesn't provide a good user experience.
This can stop shoppers from finding the products they want to buy on your online store, and you will lose potential sales.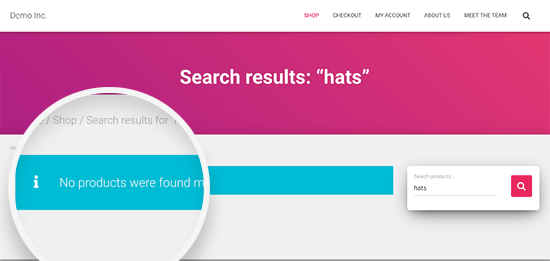 Luckily, there are some excellent WooCommerce plugins that you can use to create a smarter product search. This will allow you to show more helpful search results, fetch them faster, and get more sales.
That being said, let's take a look at how to easily add a smart WooCommerce product search feature to your online store.
How to Make a Smart WooCommerce Product Search
The easiest way to create a smart WooCommerce product search is by using SearchWP.
SearchWP is the best WordPress search plugin on the market and puts you in complete control of your WordPress search algorithm. You can create your own relevance scale and adjust the algorithm without writing any code.
SearchWP can search content that the built-in search ignores by default such as PDFs and blog comments. It also comes with a WooCommerce addon so you can improve the WooCommerce product search too.
First thing you need to do is install and activate the SearchWP plugin. For more details, see our step by step guide on how to install a WordPress plugin.
Upon activation, you need to head over to the Settings » SearchWP page and click on the 'License' tab to enter your license key.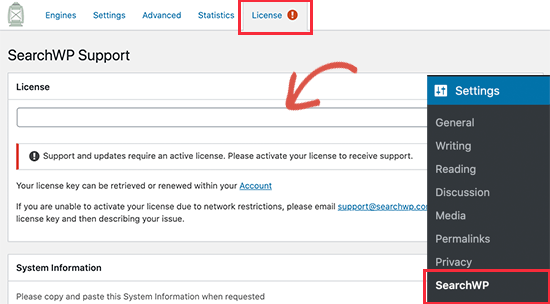 You can find this information by logging into your SearchWP account or checking the purchase confirmation email.
Next, you need to install and activate the WooCommerce Integration extension. You can download it by logging into your SearchWP account and then clicking on the 'Downloads' tab.
Then, click on 'WooCommerce Integration,' which opens a new tab.
In the new tab, click on the 'Download Extension' button.
After that, you can install SearchWP just like you would any other WordPress plugin.

Once you have the extension, you're ready to create a custom search engine for your WordPress blog. This gives you complete over the content that SearchWP looks at, and how it shows the results to shoppers.
To get started, go to Settings » SearchWP. Then, click on the 'Sources & Settings' button.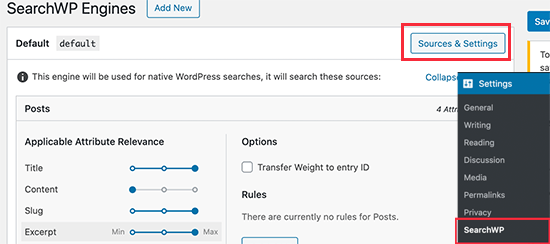 This will open a popup where you can tell SearchWP what content to include in its searches.
Since we want to improve the WooCommerce search, check the box next to 'Products.'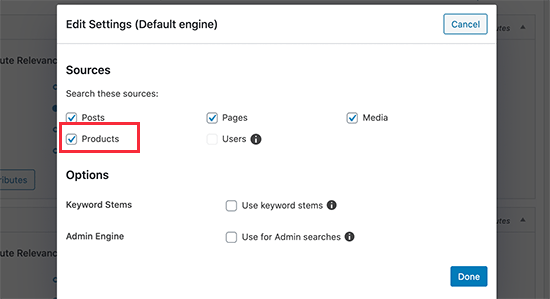 After that, click on the 'Done' button to close the popup. Now, if you scroll down you'll see a new 'Products' section.
By default, SearchWP will look at the product title, content (description), slug, and excerpt (short description) for matches. You can extend this to include other content such as product reviews by clicking on the 'Add/Remove Attributes' button.

This will open a popup where you can check the box next to 'Reviews' or select custom fields and taxonomies.
In the following image we've added 'color' and 'size' as custom fields, and product tags in the taxonomies field. SearchWP will now search each product's color, size, and tags.
When you're happy with the product attributes that you've selected, click on 'Done.'
Each attribute has a 'Attribute Relevance' slider that changes how the search engine values and ranks your products. For example, if you want to value the product title higher than the product slug, then you can adjust the slider accordingly.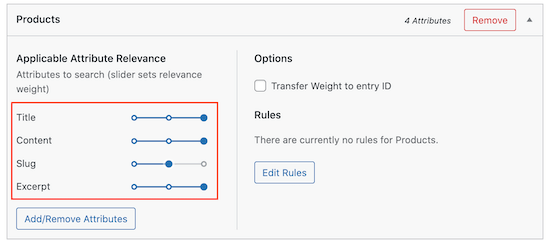 After you're done customizing the default search engine settings, make sure to click the 'Save Engines' button.
Once it's indexed your content, SearchWP will replace the default WooCommerce product search with your new and improved search.
If your WooCommerce theme already has a search box, then you don't need to make any changes. If your theme doesn't have a search box, then you can see our guide on how to add a search bar to the WordPress menu.
You can go to your website to try out the search feature. You should notice that it's returning more accurate and helpful search results.
We hope this article helped you learn how to easily make a smart WooCommerce product search for your online store. You may also want to see our pick of the best business phone services and how to create an email newsletter.
If you liked this article, then please subscribe to our YouTube Channel for WordPress video tutorials. You can also find us on Twitter and Facebook.