We get questions like how can I update facebook from my WordPress blog. Or how can I automatically tweet every time I publish a new blog post. There are tons of plugins for that, but we are about to show you a method that doesn't require any plugins. IFTTT is a robust service that lets you create simple "if this then that" actions. If you can think of an action (trigger), then you can have IFTTT do something else (re-actions) as a result. While it is impossible to automate WordPress and social media entirely, IFTTT really puts the internet to work for you. In this article, we will show you how to automate WordPress and social media with IFTTT.
What is IFTTT?
IFTTT stands for "if this then that". It is a service that lets you create powerful actions using triggers and actions. The image below will explain it all: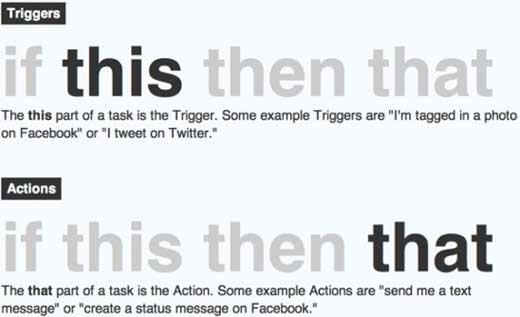 How can you use it?
This service goes way beyond WordPress. You can select from one of the many available channels to automate your online life. You can automatically tweet your new posts. You can automatically share your new posts on facebook page or profile. You can pull posts from RSS into WordPress etc. Below is a list of few channels they have: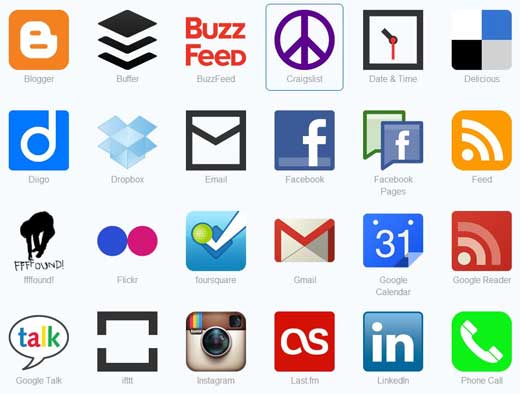 Video Tutorial
If you don't like the video or need more instructions, then continue reading.
How to use IFTTT with WordPress?
Go to IFTTT and create your account. IFTTT works with all WordPress.org self-hosted blogs (version 3.x and above) and WordPress.com blogs as well. You MUST have XML-RPC enabled to work with IFTTT.
Go to Settings » Writing and enable XML-RPC

Once you have done that, you are ready to go and use WordPress as the trigger.
Possible Use Cases:
Below is a list of possible use cases with WordPress. For more look at IFTTT WordPress Channel.
WordPress to Facebook Fan Page
WordPress to Facebook Profile
WordPress to Twitter
WordPress to Google+
WordPress to Tumblr
WordPress to Evernote
WordPress to LinkedIn
WordPress to Delicious
WordPress to Blogspot (Blogger)
WordPress to Diigo
WordPress to Buffer
WordPress to DropBox (Backup each post)
WordPress to Google Drive (Backup each post)
WordPress to Flickr
WordPress to Zootool
WordPress to Hootsuite
WordPress to Google Calendar
WordPress to Bitly
WordPress to Instapaper
WordPress to Read Later
WordPress to SkyDrive (backup each post)
WordPress to App.net
WordPress to SMS
WordPress to Phone Call
And the list could probably go on. By the way, a lot of those could be reversed in order as well. For example, RSS to WordPress, Twitter to WordPress, FB to WordPress etc.
Conclusion
IFTTT is a great tool, and we can see a lot of good coming out of it. Just from a list above, you can easily delete a few plugins that you may have running on your site and have IFTTT do those tasks. In what ways are you going to use IFTTT? Will you use IFTTT? Why or Why not. Let us know in the comments.