Do you want to embed audio files in your WordPress blog posts?
Adding your podcasts, music tracks, and seminar recordings to your website is a great way to add value and increase user engagement.
In this article, we'll show you how to add SoundCloud audio to your WordPress posts using a feature called oEmbed.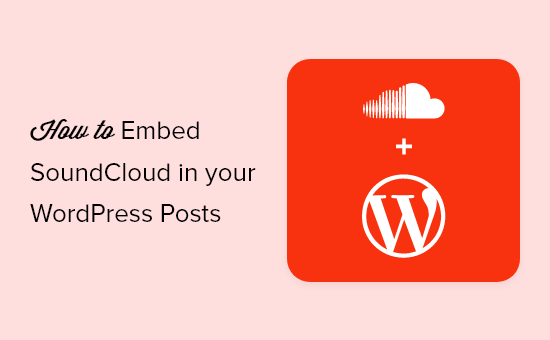 Why Embed SoundCloud Audio in WordPress?
SoundCloud is a popular music and podcast hosting platform. All of your audio files are stored on their servers and streamed to your listeners.
SoundCloud is free for up to 3 hours of uploads. Their free plan gives a good starting point for beginners who want to see if it meets their needs.
But you don't want your audience to have to visit a third-party website to access your content. Now that you've made a WordPress website, you'll want to make your audio available there too.
The good thing is that you can embed any podcast episode from SoundCloud by simply placing the URL anywhere in your WordPress posts and pages.
That's because a feature called oEmbed recognizes URLs from popular media services and displays the content instead of the URL. Instead of making you add complex code, it translates the URL into the right code automatically.
The way you embed SoundCloud audio into your posts depends on which WordPress editor you use. Simply click the link below to skip to the method that best suits your needs:
Method 1: Embed SoundCloud in WordPress Using the Block Editor
Adding SoundCloud to your WordPress posts isn't difficult. In fact, the block editor now offers a SoundCloud block that makes it simpler than ever.
First, you need to copy the URL of the SoundCloud track you want to share in your blog post. It could be one of your own tracks or a public track created by someone else. Playlist and album URLs work too.
Once you've located the track on SoundCloud, you need to copy its URL from your browser's address bar.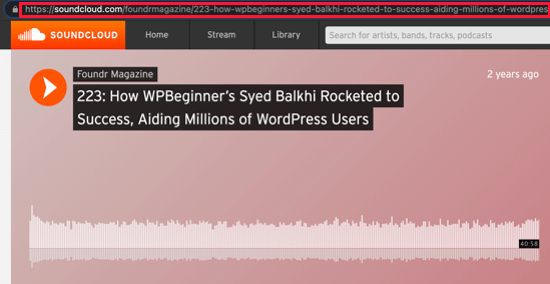 Next, go to your website and edit the WordPress post or page where you want to add the video. Now, simply paste the URL in the content area.
As soon as you paste the SoundCloud URL, WordPress will fetch the embed code and display the audio player inside the content editor.
You can now save your post and click on the preview button to see the embedded player in your blog post.
Wasn't that easy?
After you've added the track, you can change its settings from the block toolbar and settings column on the right.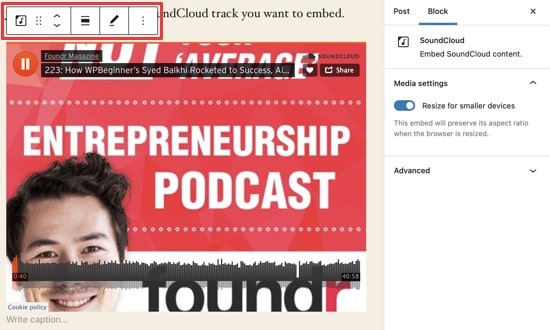 You can adjust the video width, make it full-width, change alignment, and more. You can also add a caption or turn off the automatic resizing for mobile devices.
Method 2: Embed SoundCloud in WordPress Using Old Classic Editor
If you are still using the WordPress classic editor, then you can embed SoundCloud audio the same way.
Start by copying the link to the SoundCloud track, album, or playlist from your browser's address bar.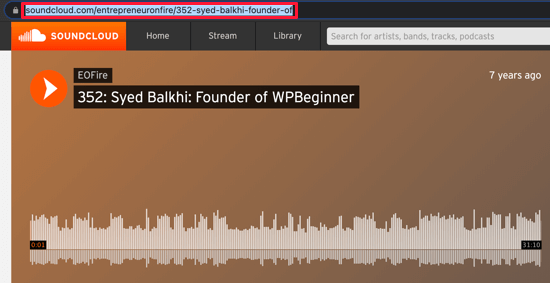 Once you've done that, find the place in your blog post that you would like to embed the track. Then simply paste the link into your post on a line of its own.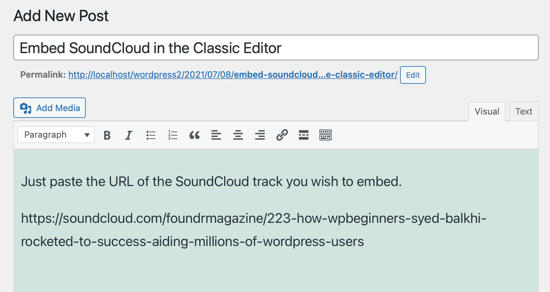 If you are using the visual editor, then a preview of the SoundCloud audio player will be automatically displayed.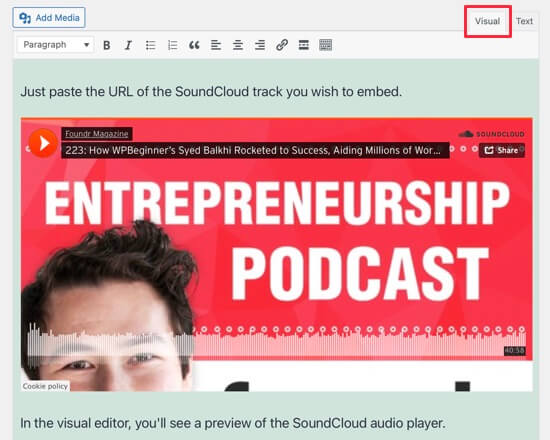 However, you will not be able to use the width adjustment and other options that you can use in the new WordPress block editor.
We hope this article helped you learn how to embed SoundCloud audio in your WordPress posts. Next, see our guide on how to start your own podcast, or check out our list of must have WordPress plugins for podcasters.
If you liked this article, then please subscribe to our YouTube Channel for WordPress video tutorials. You can also find us on Twitter and Facebook.