Are you looking for the best ad management plugins and tools for WordPress?
Many WordPress site owners rely on advertisements to monetize their websites.
In this article, we will share the best ad management plugins and solutions for WordPress to optimize your advertising revenue.
Why Use an Ad Management Plugin in WordPress?
Many WordPress websites rely heavily on advertisements to make money online with their content. By default, WordPress does not come with an easy way to manage your ads.
Most WordPress themes don't even have dedicated spots to display ads. This means you often have to edit theme files to insert ad code into your website.
A WordPress ad management plugin allows you to easily insert ads anywhere on your website. This lets you optimize ad placement and make the most out of your advertising real estate.
That being said, let's take a look at some of the top ad management WordPress plugins and how they can help you boost your earnings.
AdSanity is a beginner friendly WordPress ad management plugin. It allows you to easily insert ads anywhere on your website using widgets and an ad inserter button in the visual editor.
It supports both hosted ads (banner ads managed and sold directly by you) as well as external ad networks like Google Adsense. It also comes with powerful features like ad scheduling, ad groups, inserting a single ad or ad group, and monitoring views and stats.
You can create as many ads as you want and easily add them with custom widgets, shortcodes, or using the button on the post editor.
You can also insert ad blocks in specific posts in WordPress. This allows you to optimize ad performance without editing your WordPress theme files.
To learn more, see our article on how to manage ads in WordPress with AdSanity.

AdRotate is another powerful WordPress ad management plugin suitable for beginners as well as advanced users. It supports both hosted ads with rotating banner ads and network ads.
It allows you to easily create ads and ad groups and insert them into your WordPress posts using shortcodes. You can also insert ads into sidebars using custom widgets.
AdRotate offers basic stats to monitor ad impressions, which is particularly helpful if you are directly selling advertisements on your website.
It is available as a free plugin, which works fine for most small blogs and websites. You will need their pro version if you want to use advanced features like scheduling, geo-targeting, Adblock disguise, mobile adverts, media and asset management, and more.
For details, see our article on managing ads in WordPress with AdRotate.
Advanced Ads is an easy to use ad manager plugin that lets you create, manage, and schedule as many ads as you like. Ads can be anchored to different positions on the page or placed in a grid, and you can have them match the language set in your visitor's web browser.
Advanced Ads works with all ad types, including Google AdSense, Google Ad Manager, and Amazon Ads. While a free plugin is available, the premium version offers additional features.
For example, the premium version has click fraud protection built-in. This stops bots and spammers from making invalid clicks on your ads, which could potentially get your AdSense account suspended.
It also includes ad refresh, a feature that lets you rotate ads in the same location as visitors browse your website. This simple change can increase your total ad impressions and overall ad revenue.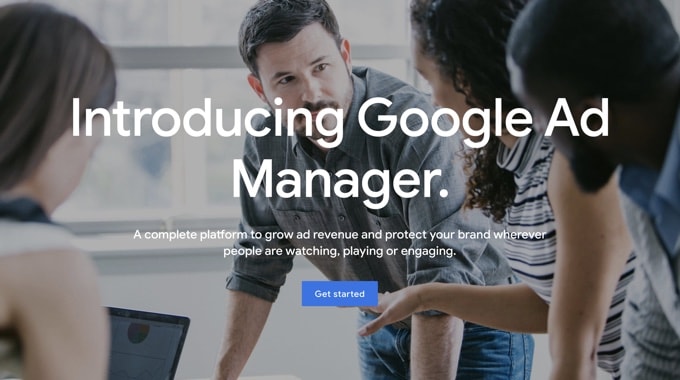 Google Ad Manager is a web-based ad selling and serving platform for publishers. It combines the best of Google's previous advertising products, DoubleClick and Ad Exchange, giving it an edge over other platforms in terms of reliability and cost effectiveness.
Google Ad Manager is most suitable for larger websites. It lets Google AdSense and other advertising networks compete against each other on price, and automatically chooses the best paying ad to display on your website.
Google Ad Manager also includes great reporting tools that allow you to measure ad performance more accurately than other solutions. Despite its effectiveness, it's a bit complicated to get started with.
Ad Inserter is a WordPress ad management plugin available in free and paid versions. The free version is good enough to be used as your primary ad management tool, but for advanced features, you would want to upgrade to their paid version.
It allows you to create multiple ad blocks and choose how to automatically insert each block. For example, you can insert the ad block inside your post content, before and after the post content, between posts, before or after the post excerpt, and more.
You can also individually disable automatic ad insertion in posts and pages, home, categories, and archive pages. Ad Inserter is fairly easy to use and can be used for both hosted and third-party ad networks.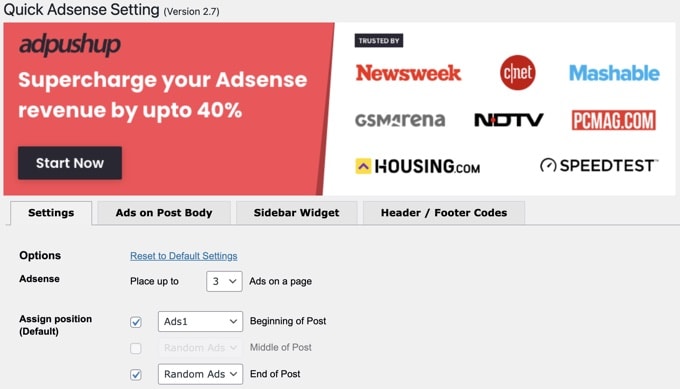 Quick Adsense is a popular free WordPress ad management plugin. Despite its name, the plugin can be used to display any kind of ads including hosted ads and third-party ad networks including Google Adsense.
It comes with an easy to use settings page where you can manage your ad codes and select how and where you want to display them. The plugin can automatically display ads before or after articles, inside post content, after the excerpt, and more.
It has custom ad widgets that will display ads in sidebars and other widget ready areas.
It does not have many advanced features you find in some other plugins on this list. Another limitation is that you can only save up to 10 ad codes at a time.
We hope this article helped you find the best ad management plugins and solutions for WordPress. You may also want to see our list of the best affiliate marketing tools and plugins for WordPress, or check out our list of must have plugins to grow your site.
If you liked this article, then please subscribe to our YouTube Channel for WordPress video tutorials. You can also find us on Twitter and Facebook.