Do you want to integrate Slack with your WordPress website or WooCommerce store?
Slack is a powerful communicate tool that helps remote teams collaborate. However, you can get even more out of Slack by creating automatic notifications for different events.
In this article, we'll show you how how to easily integrate Slack with WordPress and WooCommerce so you get push notifications in your Slack channels.
Why Integrate Slack with WordPress?
Slack lets people message each other in real time, no matter what their location. Teams can also search and archive all Slack messages, which makes it a great tool for bloggers, businesses, and remote teams.
At WPBeginner, we use Slack for our own team, and we have many Slack integrations that save us time and improve our workflow.
You can use automated workflows to post all kinds of notifications and alerts to Slack, and keep your entire team up to date. This allows you to respond quickly to important events, which can improve the customer experience or even help you spot security breaches.
For example, you might create a workflow that automatically posts to Slack every time:
The following image shows an example of an automated Slack notification.
Now let's take a look at how to add automatic WordPress notifications in Slack.
Here is a quick overview of the topics we'll cover in this guide:
Video Tutorial
If you'd prefer written instructions, just keep reading.
Connecting Slack to WordPress
The easiest way to connect Slack with WordPress is by using Uncanny Automator. It is the best WordPress automation plugin that helps you create automated tasks and workflows without writing any code.
It acts as a bridge so you can get different WordPress plugins talking to each other. For example, every time someone completes a form you could automatically add them to your email list.
Think of it like Zapier, but for WordPress websites.
To learn more, see our article on how to create automated workflows in WordPress with Uncanny Automator.
There is a free Uncanny Automator plugin that lets you automate many common tasks. However, we'll be using Uncanny Automator pro because it has a Slack integration.
First thing you need to do is install and activate the Uncanny Automator plugin. For more details, see our step by step guide on how to install a WordPress plugin.
Upon activation, you will also be asked to install the free version of Uncanny Automator core. The free plugin has limited features but it's used as the base for the pro version.
After that, you need to head over to Automator » Settings and enter your license key.
Now that Uncanny Automator is set up, let's connect it to your Slack workspace by clicking on the 'Premium Integrations' tab.
In the left-hand menu, select 'Slack' and then click on 'Connect Slack workspace.'
This opens a screen where you can sign into your Slack workspace.
Simply type in the workspace you want to connect to, and then click on 'Continue.'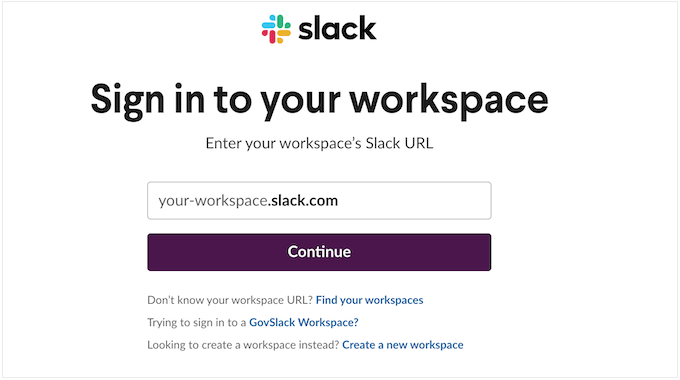 After choosing a workspace, Uncanny Automator will show some information about the data it will have access to, and the actions it can perform in your Slack workspace.
If you're happy to go ahead, then click on 'Allow.'
This will take you back to the Slack settings page on your WordPress website with a message confirming that Uncanny Automator now has access to Slack.
You will also see a preview of how Uncanny Automator's messages will appear in Slack.
If you want, then you can change the bot name and icon using the settings in 'Bot setup.'
That's all, you have successfully connected your WordPress website to Slack. If you visit your Slack workspace now, then you'll see Uncanny Automator in the sidebar.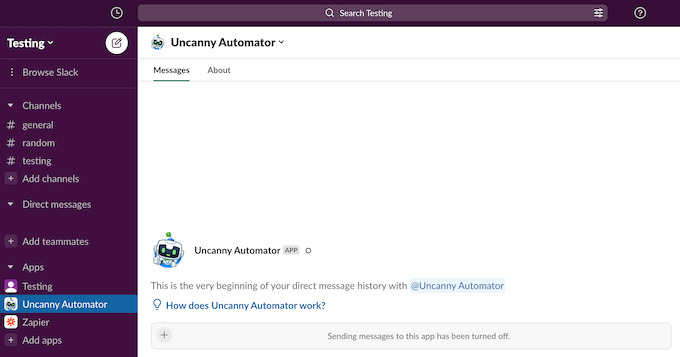 Creating Automation Recipes for Slack in WordPress
You're now ready to create an automated workflow using Slack and WordPress. To get started, go to Automator » Add New. You'll be asked whether you want to create a 'Logged-in' recipe or an 'Everyone' recipe.
Logged-in recipes can only be triggered by logged-in users, but anyone can trigger 'Everyone' recipes.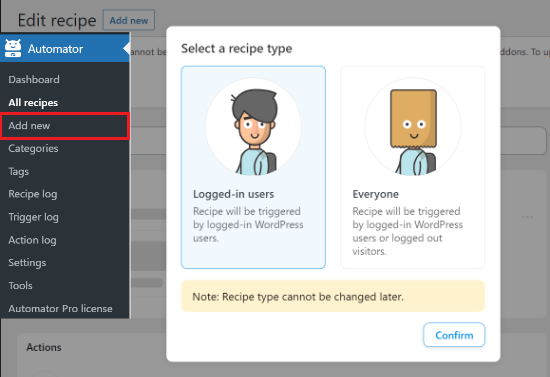 For this guide, we will be creating a Logged-in users recipe that sends a Slack message to a channel when ever a post gets updated on your WordPress blog.
After choosing 'Logged-in users,' select 'Confirm.'
Next, type in a title for the recipe. This title is just for your reference so you can use anything you want.
Each Uncanny Automator recipe has two parts: triggers and actions.
A trigger is any event that starts the automated workflow, such as someone updating a post on your WordPress website. Actions are the tasks the recipe will perform, for example posting a new message to Slack.
First, you need to set the trigger part of the recipe by choosing an integration.
Uncanny Automator will automatically detect any integrations that you've already installed on your website. As you can see in the image below, it has automatically detected WordPress Core, OptinMonster, WooCommerce, and WPForms.
To start, click on the 'WordPress' integration.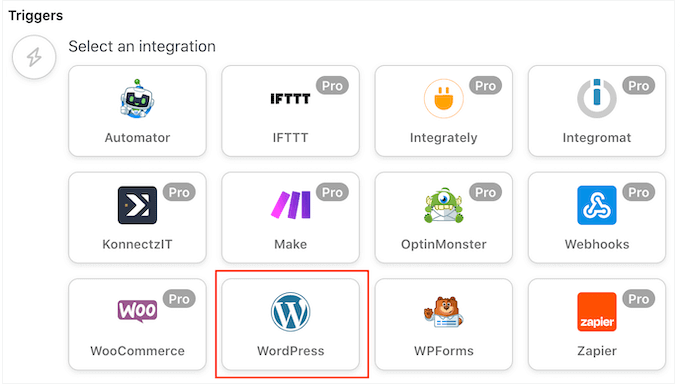 Next, you need to select the event that will trigger the recipe.
Go ahead and choose 'A user updates a post' as the trigger event.
Next, you can choose the post types that will trigger the recipe. If you only want to notify users when a blog is updated, then open the 'Post Type' dropdown and select 'Post.'
You can leave the 'Post' dropdown set to 'Any Post' as this will notify us about all blogs on our WordPress website.
After that, click on the 'Save' button.
Once you've setup the trigger event, the next step is configuring the action. Simply click on the 'Add action' button to continue.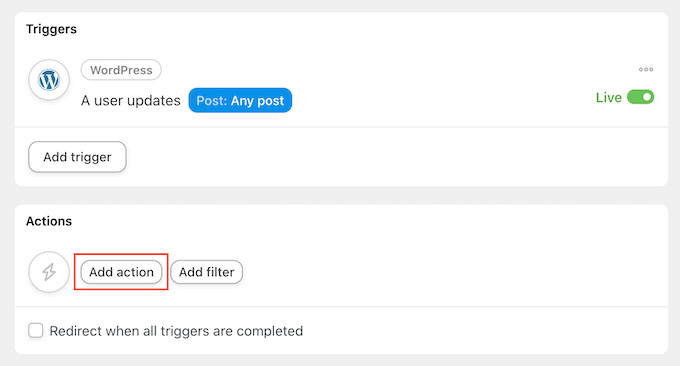 You can now choose 'Slack' as your integration.
After that, you will need to select an action event. We're going to choose 'Send a message to a channel.'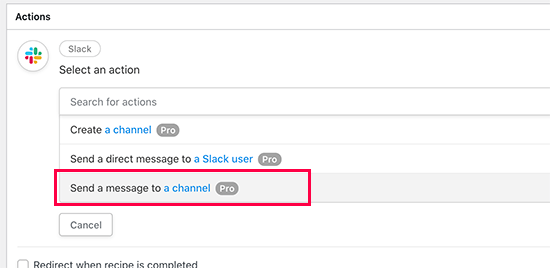 You can now open the 'Slack Channel' dropdown and choose where the message will appear.
After that, type the message into the 'Message' box.
You can use plain text and tokens, which Uncanny Automator will replace with real values. For example, you'll usually want to include a link to the new post so that people can visit it easily.
To add a token, simply click on the 'Asterix' symbol. Then, click on the trigger action, which in this case is 'A user updates any post.'
You can now click to add any token to the message.
When you're happy with the message, click on the 'Save' button to store your changes.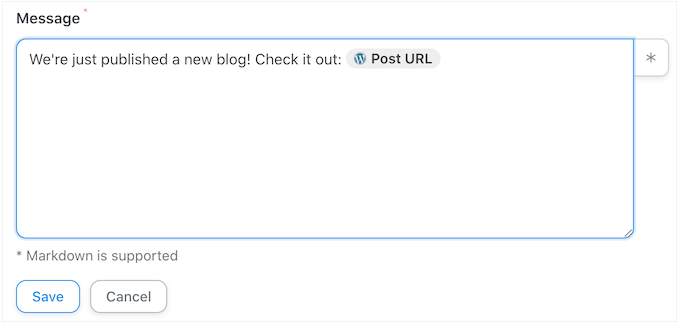 After that, you can go ahead and make the recipe active. In the 'Recipe' box, click the 'Draft' switch so that it shows 'Live' instead.
Now, every time you update a blog post the recipe will run and post a message to Slack.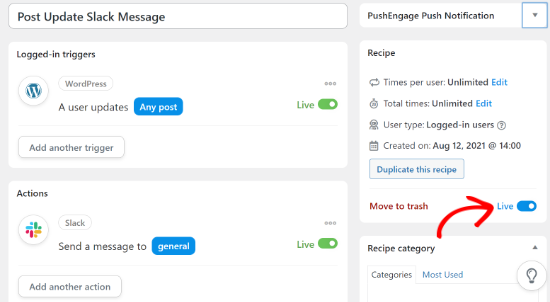 Integrating Slack with WooCommerce
Uncanny Automator works with all of the must have WordPress plugins including WooCommerce. If you run an eCommerce store, then you want to be notified about new orders so you can start processing those orders right away.
Let's create a recipe that posts to Slack every time a customer buys a product.
To get started, simply head over to Automator » Add New.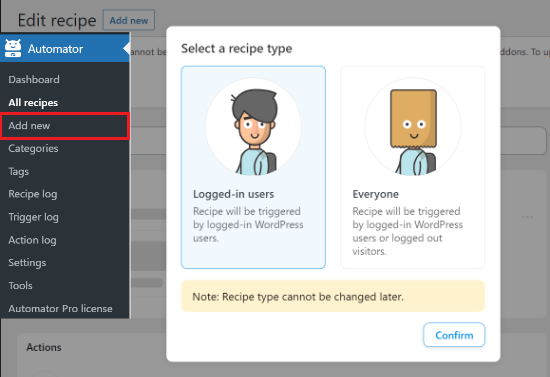 Here, choose 'Logged-in' users and click the 'Confirm' button.
You can then type in a title for your recipe and choose WooCommerce as the trigger.
In the Trigger' dropdown, choose: 'A user completes, pays for, lands on a thank you page for an order with a purchases'.
You can then open the 'Triggers' dropdown and choose 'Completes.'
After that, go ahead and click on the 'Add Action' button.
You can now choose 'Slack' as your integration.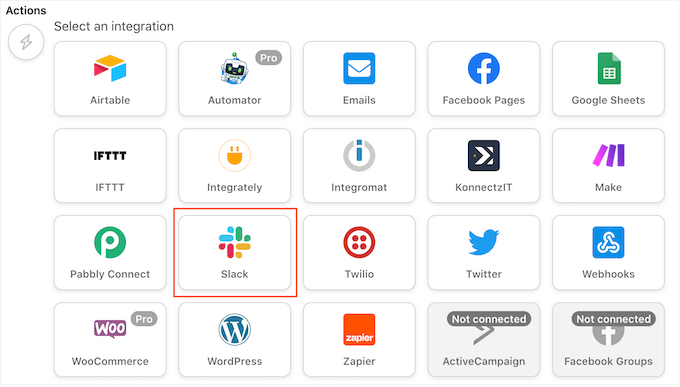 After that, select 'Send a message to a channel' as your action and choose the channel where you want to post the notifications.
For example, in the following image we're posting to a channel called 'General.'
After that, you can create the message you want to post.
You can type in plain text, or add tokens by clicking on the 'Asterix' button.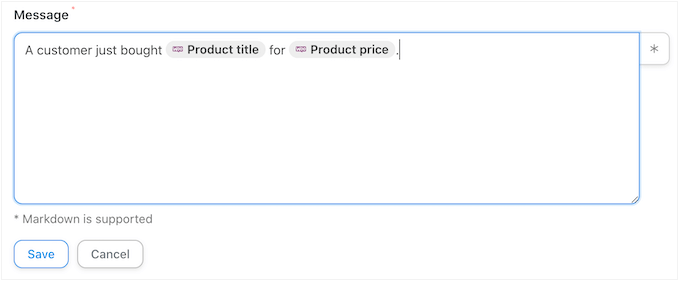 When you're happy with the message you've created, don't forget to click on the 'Save' button to store your changes.
You can now make your recipe live by clicking on the 'Draft' toggle so it shows 'Live.'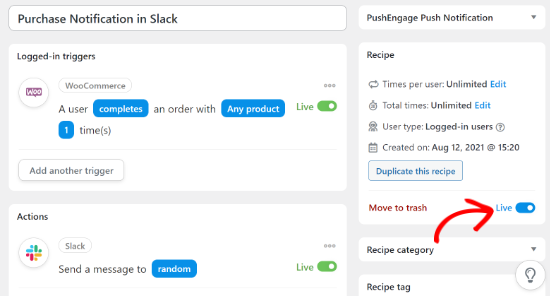 Now, Slack will post a message to Slack every time someone buys a product on your WooCommerce store.
Other Slack Integration Ideas for WordPress via Uncanny Automator
Uncanny Automator allows your WordPress website and your plugins to speak with Slack. Now you've connected these two apps, there are countless ways to save yourself time and boost your productivity.
Here's just a few recipes you can create:
Send a message to Slack when a new user joins your WordPress website
Send content update messages to Slack and keep an eye on drafts, published posts, and page changes
Get a message every time someone purchases your online course using MemberPress
Get new lead notifications when someone submits your WordPress contact form
Apart from Slack, you can use Uncanny Automator to create countless other recipes for all different plugins and thousands of other apps.
We hope this article helped you learn how to integrate Slack with WordPress. You may also want to see our list of the best live chat software for small businesses and our guide on how to track website visitors.
If you liked this article, then please subscribe to our YouTube Channel for WordPress video tutorials. You can also find us on Twitter and Facebook.