There are some wonderful live chat options available for WordPress. However, most of them are paid and the free ones are not so great. Live chat can be used to answer customer queries, interact with visitors, provide support for products and services. In this article we will show you how to add free live chat in WordPress. We will look at some solutions that are free, reliable, and efficient.
1. Chat Room
We have previously written about how to create chat rooms in WordPress. Chat Room is a free WordPress plugin that allows you to create chat rooms in WordPress.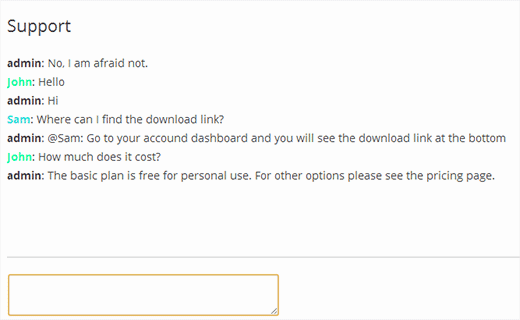 First thing you need to do is install and activate Chat Room plugin. Upon activation the plugin adds a Chat Rooms menu icon in your WordPress admin sidebar. Clicking on it will take you to chat rooms list. Click on Add New to create a chatroom.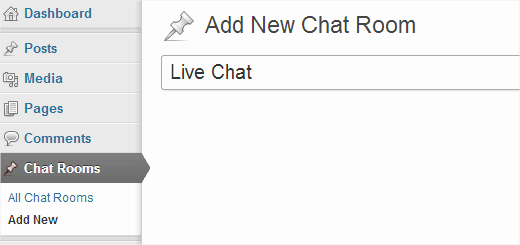 Simply enter a name for your chat room and click the publish button. To make your chat room accessible by users you need to place it in your site's front end menu. Go to Appearance » Menus, select the room you want to add click on 'Add to menu' button. If you do not see Chat Rooms in menus, then click on screen options on the top right corner of the screen and check chat rooms to show on screen.
Your chat room is now live and available for users. While chat room is a great plugin there are a few things that you should keep it in mind. First of all only registered users on your site can participate in a chat room. Your chat room is public to all registered users and they can jump into conversations at any time. Lastly, it needs direct PHP filesystem access, which may not be available on all WordPress hosting environments. However, it is neat, simple, and without any third party logo or advertisements.
2. Adding a Web IRC Client in WordPress
Internet Relay chat or IRC is a technology from good old days of the internet. Just like email, it is still widely used. There are many IRC clients available for different platforms, including the web. Using a web based app you can add IRC chat in your WordPress site.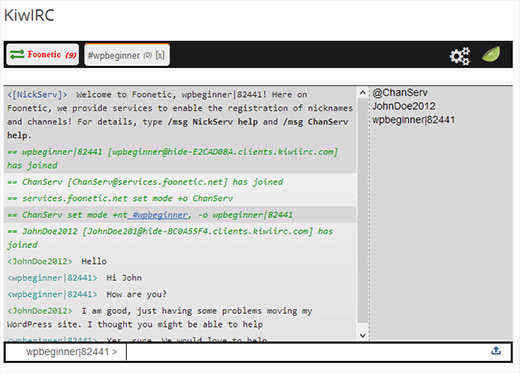 First thing you need to do is go to KiwiIRC's widgets page, and create a widget for your website. In the server we recommend adding Foonetic, e.g. 'irc.foonetic.net'. It is a free to use IRC network where you can create your own room (we will get to that part later). In the default channel enter the name of chat room that you will be creating on Foonetic, for e.g. #wpbeginner. Enter anything in the nickname field, it is a default nick name and KiwiIRC will allow your users to choose their own nicks. Lastly choose a theme, in the above screenshot we are using relaxed theme.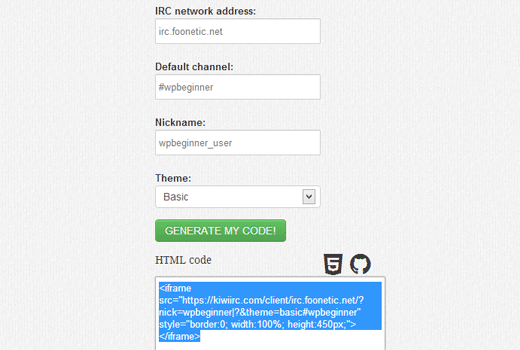 Click on Generate Code button and KiwiIRC will show you a piece of code. Copy this code and go to you WordPress site. Create a new page and paste the code inside it. Give your page any suitable title, for e.g. Live Chat. Publish your page. Open the published page and you will see KiwiIRC in action.
Registering an IRC Channel and Nickname
On IRC, chat rooms are called channels and are represented with a # sign. On most IRC networks you can create a channel by simply entering it. Using /join #mynewchannel command will create a temporary chat room for you where you will be the temporary operator. However, if you want to run your own chat room then you need to register it with the IRC network and you also need a registered nickname. Use this command to register the nickname you are currently connected with.
/nickserv register <password> &ltemail_address>
Example: /nickserv register SiU4N3tpo john@example.com
You will then receive an email from your Foonetic network with a verification command. Simply copy the verification command and enter it in KiwiIRC. Your nick is now registered. Let's register your chat room or channel as they call it.
/chanserv register #channel_name
Example: /chanserv register #wpbeginner
This will register your chatroom and a chanserv bot will enter your room. You will be the owner of the chatroom and whenever you join this chatroom with the same nick you will be able to kick and ban people from the room, set topic, and do lots of other things. More help on using IRC is available on IRChelp website.
Adding a Skype Status Button in WordPress
You can not integrate Skype into your website. However, you can integrate a button on your WordPress site to show your Skype contact and display your availability. We have written a detailed tutorial about that, see how to show Skype Contact and Skype Status in WordPress.
Step 1. First thing you need to do is install and activate Neat Skype Status plugin. Upon activation, go to Settings » Neat Skype Status, enter your Skype ID and save settings.
Step 2. Go to Appearance » Widgets and drag and drop Neat Skype Status v1 widget to your sidebar. Save your widget settings.
Step 3 Open Skype on your computer and sign in with your ID. Go to Tools » Options and click on Privacy tab. Under Allow IMs from option check anyone so that people who are not in your contact list can chat with you. After that check the option 'Allow my online status to be shown on the web'

If you are using the full screen desktop Skype App on Windows 8, then take your mouse to the right corner of the screen and then click Settings » Options.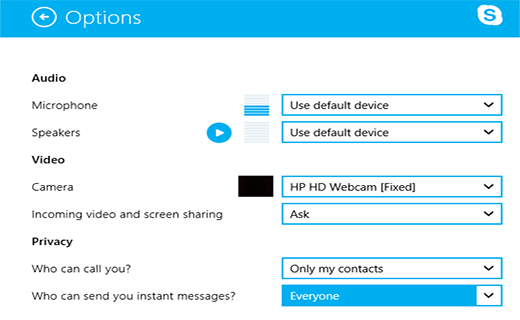 That's all users can now see you online on your website and click on the button to start chatting with you on Skype.
Using Twitter as a Live Chat Alternative in WordPress
Recently we showed you how to show selective tweets in WordPress and how to add the official Twitter follow button in WordPress. Just like the official Twitter follow button, Twitter also offers a Tweet to me button. Adding a tweet to me button will allow visitors on your website to send a tweet to you directly from your website.
Step 1. Go to Official Twitter buttons website. Click on mention button. This will open configuration settings for the button.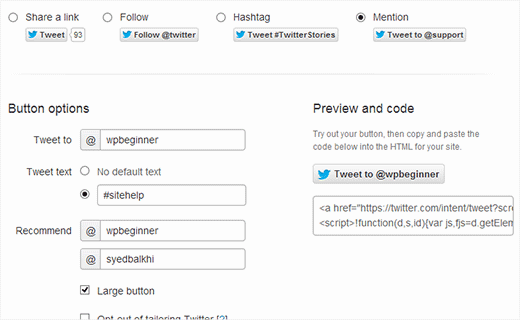 Step 2 Enter your twitter handle. In the text field you can set a default text, we recommend using a hashtag like #sitehelp or something. This will help you sort tweets later if you need. In the recommend fields you can enter two twitter handles you'd recommend users to follow. You can enter your personal and your sit's twitter handles here.
Step 3. Copy the button code, go to your WordPress site's Appearance » Widgets Screen. Drag and drop a text widget to your sidebar and paste the code inside it.
That's all, your website will now have a tweet to me button which users can use to reach you on Twitter.
We hope that you found this article helpful and one of these solutions helped you add live chat system in WordPress. We would recommend that you try each one of them and weigh their pros and cons yourself. For feedback and questions, you can leave us a comment below or find us on Twitter.