Creating a membership site can be a complicated task. First you need to set right user roles and permissions, then you need to allow users to safely sign up, login, and interact with the website. If you paid membership options, then you also need to set up payment gateways, orders, receipts, etc. This sounds like a lot of work, but what if we told you that all of this can be made simple? Wouldn't it be great if you could do all this from a single dashboard? In this article, we will show you how to create a membership site with WordPress using Premise.
[Update 1/16/2013] Premise is no longer available for purchase. CopyBlogger Media has taken it down for the time being. Let's see what they have coming next. Until that time, this article is no longer useful if you don't already have a copy of Premise.
Why Create a Membership Site with Premise?
Premise is a WordPress membership plugin that makes it easy to create membership sites and landing pages. It is created by Copyblogger media, the same folks behind the Genesis Theme framework and StudioPress. Premise is easy to use, and made specifically for people who want to run membership sites with paid subscriptions or the ability to sell digital downloads. It works smoothly, and people who created it use it on their own websites for the same purpose. Here is a list of some cool features of Premise:
It works with any WordPress theme or Theme Framework.
Allows you to create a subscription site where content is visible to registered or paid subscribers only.
Automatically accept recurring payments on your website.
Drip content out to your users on a pre-defined schedule.
Sell digital goods such as e-books, music, software, etc.
Offer discounts and coupons to market your products.
Control access to content and digital downloads with access levels.
Create dedicated forum areas for premium members by connecting Premise with vBulletin
How to Install Premise to Create a Membership Site
We are assuming that you already have installed WordPress and setup your site. First thing you need to do is purchase a license of Premise. It is currently available for a one time payment of $165. This includes unlimited usage (you can install it on as many sites as you want), free updates, tutorials, support, and copywriting advice from the Copyblogger team.
After downloading Premise, you need to install and activate it (how to install a WordPress plugin). Upon activation, you will notice two new menu items in your WordPress admin sidebar, Premise and Landing pages. Clicking on Premise will take you to the Main Settings page.
You will be asked to enter an API key to activate Premise membership module. You can find this API key in your Premise account that you created when purchasing the plugin. Copy and paste the key and save settings. This will activate Member Access module, which will now appear in your WordPress admin sidebar.
Setting up your Membership Site with Premise
Go to Member Access » Settings to set up membership settings on your site. First thing you need to do is to set up checkout, login and member profile pages.
Go to Pages » Add New to create a new page. Give this page any title, we would recommend using Checkout as the title for easy identification. Add shortcode [checkout-form] in the post editor and publish the page. Create another new page for login and enter the shortcode [login-form] before publishing the page. Lastly, create another page to be used as member profile page with the following code:
Welcome back [member-first-name] [member-last-name]
<h3>Your Purchases</h3>
[member_products]
<h3>Your Account Profile</h3>
[member_profile]
The official plugin documentation has more shortcodes which you can use to further customize your checkout, login, and member profile pages. Once you have created these pages come back to the Member Access settings page and select these pages under the general settings.
Configuring Payment Gateway in Premise
One of the powerful features of Premise is the ability to accept recurring payments. To enable this feature, check the recurring payment checkbox on the Member Access » Settings page. Next option on the page is to choose a currency.
By default Premise comes with Authorize.net, PayPal Express checkout, and PayPal web payments pro. Apart from that you can also download other payment gateways as additional add-on plugins. Currently there are PayPal standard gateway, Braintree, 2Checkout, Stripe and Clickbank gateways available. Provide your payment gateway details such as login credentials or API key. By default your payment gateway will be enabled in Test mode, and you will have to change this to Live when you are ready to launch your website.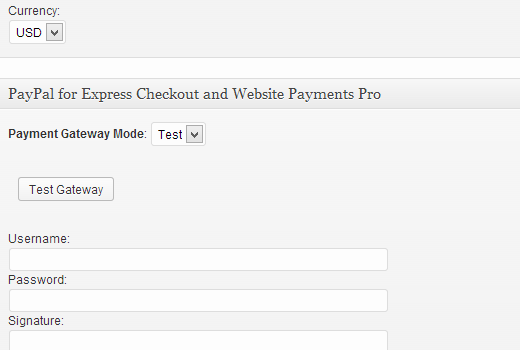 Adding Products in Premise
Next step in setting up your membership site would be to add products. These products can be your subscription plans, digital downloads like ebooks, apps, music, etc. Go to Member Access » Products and click on Create New Product link to add a product.
Enter product title, description, and then choose product thank you page. A product thank you page is where users will be redirected to after they have made the payment. Simply create a normal WordPress page and use the Premise shortcodes to customize it. If you are selling digital downloads, then this page could also have the link to the product download, but we will come to that part later in the tutorial. You can also make a free product.
Next you can create an email template that users will receive as their receipt for the purchase. Again there are a number of shortcodes available which you can use in your email template.
Lastly there are access levels. Access levels allow you to create different membership groups. For example, you can add access level "free" for users downloading free products. These users will only have access to all free content. Then you can add an additional access level called "Plus" where you can offer additional goodies to only those who purchased the plus membership subscription. After adding access level to your product, you can publish it.
Creating a Product Page in Premise
Once you have added your product, you will get the product ID in your browser's address bar. You can also get the product ID by editing an existing product, and the product ID will show up in the URL, like this:

Note the product id and create a WordPress page (or post if you want). There are a number of shortcodes available for the products page. These shortcodes will allow you to display product information and a link to the checkout page where users can make the payment. Here is a simple product page with shortcodes.
[product_description productid="5"]
<strong>Price:</strong>[product_price productid="5"]
[product_purchase productid="5"]Buy Now[/product_purchase]
Replace 5 with your own product id. Finally, here is how your product page would look like:
Controlling Members Access with Access Levels in Premise
Premise comes with excellent access control using access levels. You create the access levels while adding products or manually from Member Access » Access Levels. Access levels are assigned to users automatically when they purchase an item associated with particular access levels on your website. For example, a new user purchases an e-book with access level PHP. They will be automatically marked under the same access level. You can also manually change a user's access level from Members Access » Members.
Access levels also allow you to show or hide content through out your WordPress website using shortcode. For example:
[show_to accesslevel='PHP' noaccess='Please log in to read more']Your content goes here...[/show_to]
Apart from shortcode you can also control access to all your WordPress posts from post editor. Premise adds a Membership access box to WordPress post edit screen. Allowing you to control member access using access levels.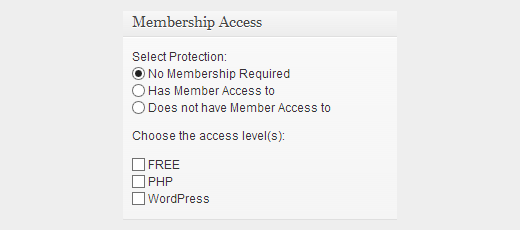 Creating Coupons in Premise
You can create coupons to offer discounts on your products, membership and subscription plans. To create a coupon, go to Member Access » Coupons and then click on Create New Coupon link.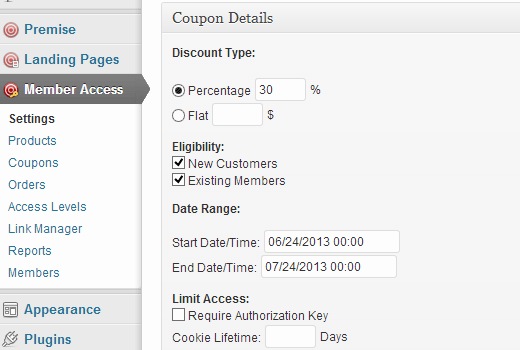 You can choose between flat or percentage based discounts. Set eligibility criteria, whether it is applicable for new members only or existing members can also avail this discount on their future purchases. Set an starting date and an expiration date for the coupon. You can make this coupon applicable on all products or choose selective products.
File Protection and Link Manager
If you are selling digital goods, then you might want to upload your digital content in a secure directory, so that only the members with proper access level can download files. Premise allows you to create a secure directory for your uploads. Go to Member Access » Settings and scroll down to File Protection Settings section. By default, Premise creates member-access directory in the media uploads folder. You can use that or create another directory.

You can directly upload your files to the directory using FTP. Alternately, you can also upload a file while creating a secure download link for it. To create secure download links for your files, go to Member Access » Link Manager and click on Create New Link.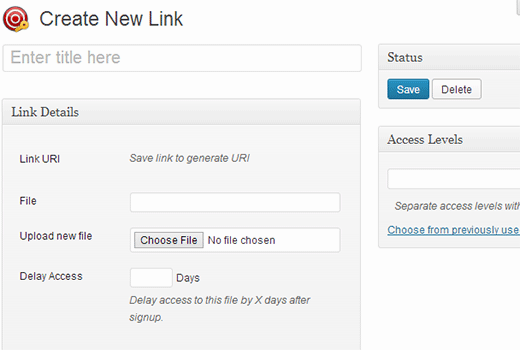 Provide a title for the link. If you have already uplaoded the file in the protected files folder, then simply enter the file name, or upload a new file. Choose the access levels for the file and then save your link. Saving the link will generate a URL for that particular download. You can put this URL in the Email receipt of that particular product or add the URL on thank you page.
Creating Premium Members Forums with vBulletin and Premise
vBulletin is a popular forum software used to create highly customizable and powerful online forums. Using Premise, you can connect your WordPress website with vBulletin and have a premium section for Premise members. Simply go to Member Access » Settings and scroll down to Forum Settings section. Check the box next to Enable vBulletin Bridge and then provide user group for Premise members and the user group where Premise members will be moved to when their subscriptions are canceled. Remember that vBulletin is not included in Premise, it is a separate software which you can purchase from vBulletin website.
Premise is a powerful tool created by some of the best internet marketers. It is secure, comes with great documentation, and it is very easy to set up and use. We hope this guide helped you create a membership site in WordPress using Premise. If you have any questions or feedback then please leave a comment.